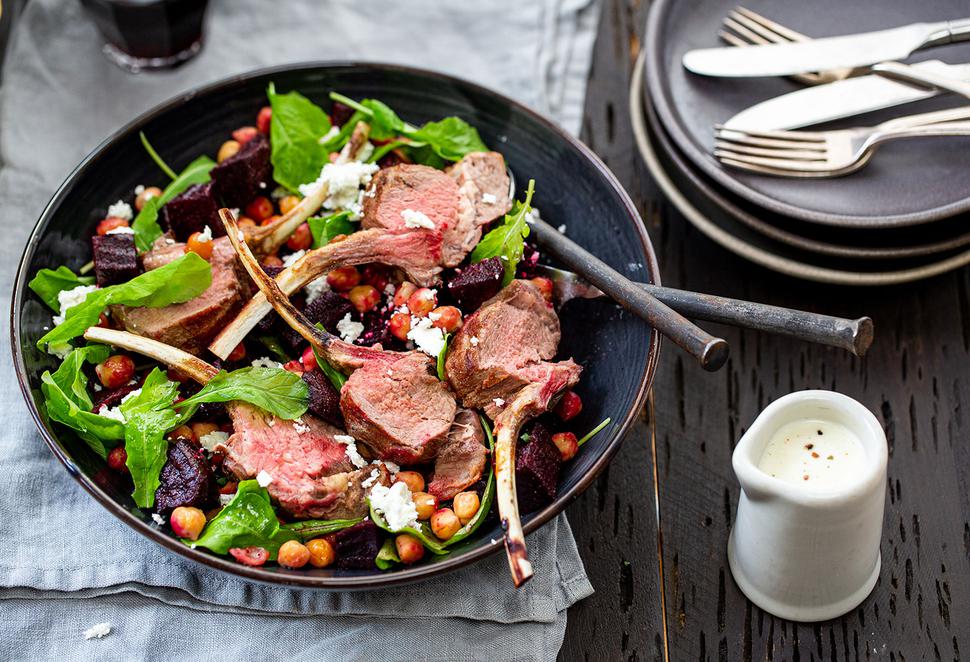 Warm Lamb, Beetroot & Chickpea Salad Recipe
Try this lamb salad recipe with beetroot and chickpeas coated in spices for an extra hit of flavour
Sunday July 19, 2020
Searing the lamb before placing it in the oven will help contain all the succulent juices, and add extra flavour. The chickpeas and beetroot are coated in spicy goodness, making them extra punchy.
WARM LAMB, BEETROOT AND CHICKPEA SALAD
Serves 4
2 large beetroot, peeled and diced
½ tsp ground cumin
1 tsp ground coriander
½ tsp smoked paprika
2 Tbsp olive oil plus 1 Tbsp
400g tin chickpeas, drained
1-2 racks of lamb (3 cutlets each)
Salt and pepper
150g feta, crumbled
2 cups rocket leaves
Dressing
¼ cup Greek yoghurt
2 Tbsp aioli
1. Preheat oven to 180C. Line a baking tray with paper.
2. Place the beetroot on the baking tray, sprinkle over the cumin, coriander and smoked paprika and drizzle over the oil, combining well. Place in the oven for 30 minutes until softened. Toss through the chickpeas and bake for a further 10 minutes. Remove from the oven and turn heat to 200C.
3. Season the lamb racks and rub with oil. Sear the sides in a hot frying pan then place in the oven for 15-20 minutes depending on how you like your lamb. Remove and leave to rest for 10 minutes.
4. Combine the yoghurt and aioli in a small bowl.
5. Add the feta and rocket to the beetroot, season with salt and pepper, slice the lamb and gently combine to serve.
Share this:
More Food & Drink / Recipes