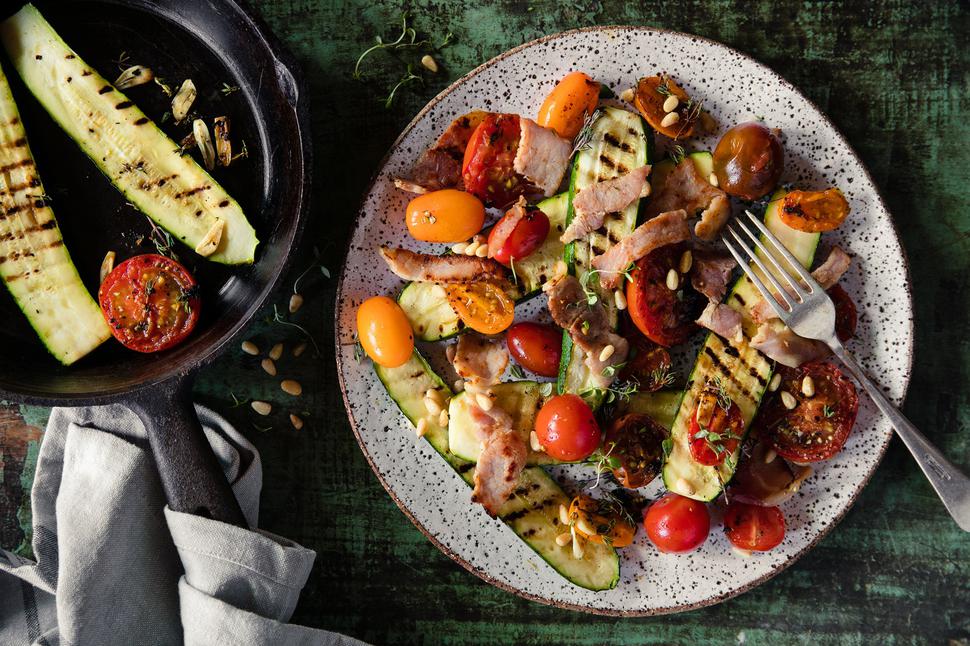 Warm Tomato, Courgette & Bacon Salad
All it takes is 10 minutes to throw this simply delicious salad together
Friday Feb. 22, 2019
Too simple for words, this warm tomato and courgette salad recipe is a meal in 10 minutes. The smell of the bacon cooking will have you salivating. Add a fried egg on top if that tickles your fancy. Embrace the freshest of tomatoes while the summer is here.
WARM TOMATO, COURGETTE & BACON SALAD RECIPE
Serves 4
2 Tbsp olive oil
2 medium-sized courgettes, sliced lengthways
3 slices bacon, chopped roughly
300g mixed tomatoes, cut various ways
2 Tbsp thyme leaves
1/4 cup toasted pine nuts
Olive oil to drizzle
Salt and freshly ground pepper
1. Heat the oil in a large frying pan. Cook the courgettes for 4 or 5 minutes until golden. Set aside. Add the bacon to the pan cooking for a few minutes until beginning to crisp up. Add the tomatoes, tossing until some are softened and others not so much.
2. Mix through the thyme for a couple of minutes. Season with salt and pepper.
3. Serve warm with a sprinkle of pine nuts and a drizzle of olive oil.
Share this: