Wasabi Fish Recipe with Garden Greens
Gluten-free and light, this recipe is a summer go-tos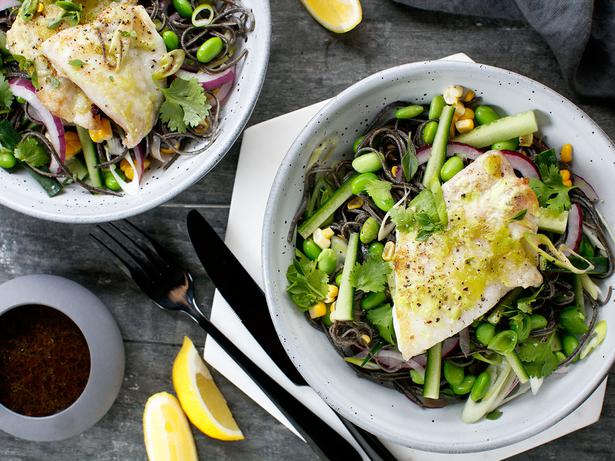 Thursday Jan. 28, 2016
The black bean spaghetti I have used in today's salad is proving to be one of my favourite summer go-to's. Gluten-free and light, it adds a fresh twist to any occasion. You will find it in specialty stores, or you can use a more traditional spaghetti. When wasabi is cooked it loses its heat, so don't be scared off by the amount I have smothered over the fish. Get the salad dressed 15 minutes before serving to enhance the flavours. Then simply pan-fry the fish and place on top.

WASABI FISH RECIPE WITH GARDEN GREENS
Serves 4
Dressing
¼ cup flavourless oil
2 Tbsp white vinegar
2 Tbsp soy sauce
1 tsp brown sugar
1 tsp fish sauce
1 tsp grated ginger
Salad
200g black bean spaghetti, cooked and drained
1 cup cooked edamame beans
1 cup corn kernels
½ cucumber sliced into sticks
2 spring onions, chopped
½ red onion, sliced thinly
1 cup coriander leaves
Salt and freshly ground black pepper
4 x 150g fish fillets
2 Tbsp wasabi
1 Tbsp oil
1. To make the dressing into a jar place the oil, vinegar, soy, sugar, fish sauce and ginger shaking well.
2. To create the salad into a large bowl place the spaghetti, beans, corn, cucumber, spring onions, red onion, and coriander. Pour over the dressing and toss well. Season with salt and pepper if needed.
3. Smother the wasabi over the fish fillets. Heat the oil in a frying pan and cook the fish for 3 minutes each side or longer depending on the thickness of the fish.
4. Serve the salad into bowls and place a piece of fish onto each.
Share this:
More Food & Drink / Recipes