Watermelon Panzanella Recipe
Try Angela Casley's fresh watermelon panzella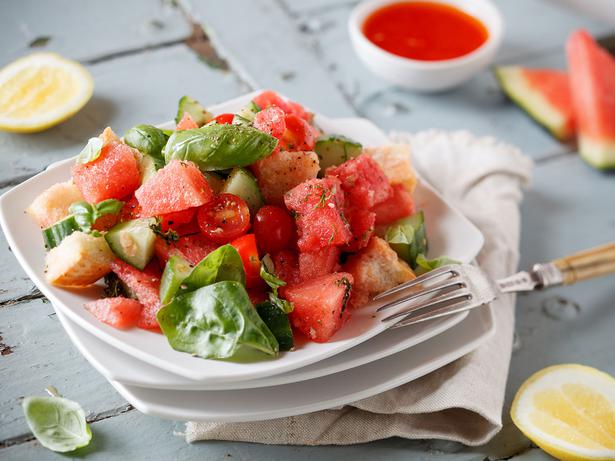 Friday April 15, 2016
I had a large watermelon on hand, so turned that into a panzanella with herbs from the garden and croutons from the pantry. It's fresh and a perfect accompaniment. The rest of the watermelon makes wonderful juice. Of course, not many kitchens have all this on hand but hopefully you'll have more time to plan.

WATERMELON PANZANELLA RECIPE
Serves 4
• 4 cups watermelon, cubed
• 2 spring onions, chopped
• ½ cucumber, cut into cubes
• 1 cup cherry tomatoes, halved
• 2 cups croutons
• 1 cup basil leaves
Dressing
• 2 Tbsp olive oil
• 1 Tbsp white wine vinegar
• 1 tsp lemon zest
• Freshly ground pepper
1. For the dressing: squash 1 cup of watermelon with a fork in a small bowl. Whisk in the olive oil, vinegar and zest. Set aside.
2. Place the remaining watermelon, spring onions, cucumber, tomatoes and croutons in a large bowl. Pour over the dressing, reserving a little as extra on the side. Toss the salad and allow to sit for 10 minutes. The bread will absorb the flavours.
3. Toss through the basil leaves and season with freshly ground pepper.
Share this:
More Food & Drink / Recipes