Where NZ's Top Chefs and Restaurateurs Eat
Some of New Zealand's top food personalities share their favourite spots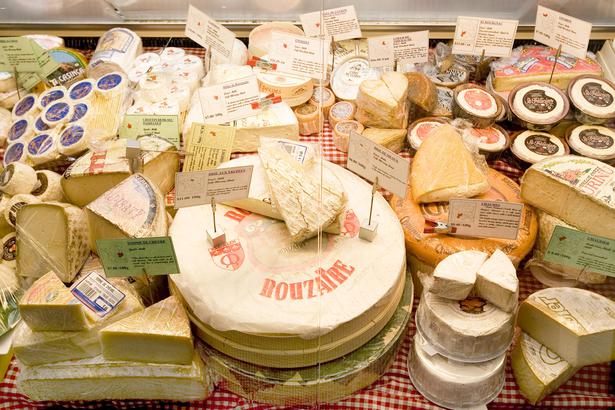 Wednesday June 1, 2016
MAISON VAURON
Chosen by Nick Honeyman, chef and owner of restaurant Paris Butter, Herne Bay
After years spent working in France, I have a solid passion for French cooking. I chef each year over the French summer at Le Petit Leon (my seasonal pop-up restaurant) and a big part of the French food culture there is wine and cheese! Newmarket's Maison Vauron is a little slice of France in Auckland. Part of this place is La Fromagerie downstairs, which is ripe with the amazing smells of French cheese and coffee... What's not to love! I like wandering the aisles, getting lost in the wine regions which gives you a feeling of being back in France. It is a one stop shop for the best French wine and cheese you can find. I always try to take home something that I love and something I don't know. It's been amazing to watch our guests at Paris Butter experiment with the imported French cheese and wine we have on offer alongside our finest Kiwi produce. It's combining the two cultures that makes me really excited and creates unique taste experiences.
• 5 McColl St, Newmarket. Visit mvauron.co.nz

GOODIES FROM THE GORGE
Chosen by Jonathan Rogers, head chef at Matakauri Lodge, Queenstown
The one place I love to visit on my days off, is this small organic fruit and vegetable farm just outside of Cromwell. They grow the most amazing produce that I have ever come across throughout my years of travel and work in New Zealand and around the globe, including various types of heirloom tomatoes and berries, figs, rhubarb, globe artichokes, stonefruit and quince. And, my personal favourite, blackboy peaches. I have had the good fortune to have worked closely with the owners Jeni Steele-White and her late husband David White for just over the last decade and they now grow certain produce exclusively for the Lodge. To me it is a small oasis to escape to from the pressures of running a world class restaurant. I always leave feeling refreshed and inspired after re-establishing that connection to the land that provides me with such stunning raw ingredients.
• 582 Kawarau Gorge, SH6, just outside Cromwell heading towards Queenstown. Visit goodiesfromthegorge.co.nz

GREY LYNN
Chosen by Renee Coulter, co-owner of Coco's Cantina, K Rd
I am very particular about who and what I am drawn to. I like to support owner operators who have a high level of consciousness and intent around the way they run their business. I don't get to eat out as much as I'd like as I work nights and have a young midget, however one day that is always dedicated to food and supporting our local foodies is Sunday and it's generally spent mooching around Grey Lynn. We have lived in this area for the last 15 years and watched it grow and change and a great addition has to be the Grey Lynn Farmers Markets. We make a day of it: head to the market to get our fruit and veg from the small stalls and chat to the producers and stall holders, before moving on to grab a loaf of bread and a juice from Were Bros and admiring the floral arrangements and knick knacks that Muck Floral has on display. After this we head to Harvest Wholefoods for our bulk dry goods, then back across the road for a Sunday afternoon roast at Siostra, where our beautiful friends and sister act Becky and Esther reside.
• Grey Lynn Farmer's Markets, 510 Richmond Rd, Sundays 9am -12.30pm; Were Bros, 480 Richmond Rd; Harvest Wholefoods, 403-407 Richmond Rd; Siostra, 472 Richmond Rd, Grey Lynn. siostra.co.nz

CARO'S
Chosen by Sip Mounlath owner of Bolaven
Caro's wines holds a special place in my heart. John and Richard Caro are my favourite people in the wine industry. Their stores in Parnell and Ponsonby are simply beautiful; raw timber shelves stocked with a well curated selection from boutique wineries across New Zealand and the world. I bought my first bottle of wine from John 10 years ago and I believe he is solely responsible for my fine wine 'habit'.
• 114 St Georges Bay Rd, Parnell. Visit caros.co.nz

MEDITERRANEAN MARKET
Chosen by Annabel Langbein, food writer and television personality
One of the things that makes Wanaka such a fabulous place to live — geography, climate and community aside — is the Mediterranean Market. It's the icing on the cake, as often when you live in a small town you can't access specialty ethnic ingredients, well-aged meats or uber fresh vegetables and fruit. Having the Med Market, as it is fondly known, is such a bonus. The people are all so friendly, helpful and knowledgeable, and they will order anything in for me if I need it.
Sharon and Brendon Wilson started the business when Wanaka was just a tiny little town about 13 years ago. Over the years they have grown it into a real foodie hub (it's now part of Bidvest but has none of that big-business feel). They support a lot of local and New Zealand artisan producers, from amazing chocolates to preserves and local wines. Whether you want Asian dry goods or Moroccan specialty spices or gluten-free items, or for that matter really good buffalo yoghurt, fresh stocks and chef's pates, pestos and sauces, big containers of fresh lime juice and lemon juice… it's all too fab. This week they had fresh horseradish in the chiller.
They also have a proper meat-ageing fridge so you can get beef that has been aged for 28 or 40 days, as well as really good house-made sausages, fresh cheeses and fish. Additionally, they have lots of bulk catering supplies, so if you're feeding a crowd you can buy huge cans of beans or giant packets of corn chips. It's really a one-stop-shop that means you pretty much don't need to go to the supermarket — well at least not for food. I order meat for special occasions here — the standing rib of beef gets a standing ovation every time. On Saturdays they get special pastries in from one of the non-retail local patisserie specialists, and over the winter Catherine and Tanya, who are real foodies, run cooking classes which people seem to love. I'm always popping in just to see what they have on offer. Wanaka wouldn't be Wanaka without the Med!
• 20 Ardmore St, Wanaka, ph (03) 443 0118.

DEMOLITION DELI
Chosen by Jess Daniell, owner of Jess' Underground Kitchen, Herne Bay
With my newly-opened deli in Herne Bay, I don't have much down time at the moment. So when I do, I like to stay pretty close to home. I live out West, and my favourite place is Demolition Deli. The staff are friendly and greet me by name, the coffee is strong, and their housemade savoury brioche rolls are heaven-sent on a stormy Saturday morning. Kate James, the owner, has very similar food philosophies to me — healthy, homemade, locally-sourced — and we often end up chatting about her latest discoveries. The cheese cabinet is bursting with deliciousness, and you can also pick up free range meats and other deli items. My only gripe? They're closed on Sundays!
• 570B Te Atatu Rd, Te Atatu Peninsula. Ph 021 649 240.

PONSONBY ROAD BISTRO
Chosen by Adele Jenner, owner of cafe Catroux, Westmere
If I like a place, I will order the same thing time and time again and refuse to go off the beaten track. It takes a lot of effort to put 'real clothes' on after you have been in the kitchen all day. I love Ponsonby Road Bistro on late Saturday evenings and have been going here for what feels like years. I am naughty and generally ring on the day/night trying my luck for a table. When I first started going, I was called the Catroux Girl — we are now on a real name basis. Melissa, the owner, is great; she is one of the loveliest managers around and always makes you feel special. In winter, a table by the fire is pure bliss. It's dark, sexy and just what you need after a long day. I always get the clams for an entree to share, then eye fillet with salad and jus. Typically not on the menu, but hey I'm fussy.
• Ponsonby Road Bistro, 165 Ponsonby Rd. ponsonbyroadbistro.co.nz
Share this: