Where to Go: Orphans Kitchen for brunch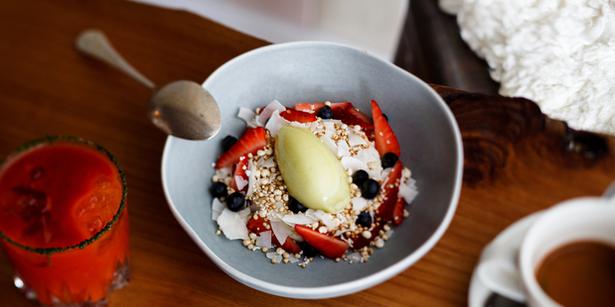 Wednesday Oct. 22, 2014
A passion for the first meal of the day, and the lure of becoming a local have inspired Tom Hishon and Josh Helm of Ponsonby's Orphans Kitchen to launch their breakfast and lunch service. Staying firmly away from eggs benedict, the mouthwatering menu includes breakfast panna cotta with kiwifruit and buffalo milk (pictured), a fried duck egg with asparagus, roe and sunflower seeds and house-made crumpets served with honey from Orphans' rooftop hive.
Drinks are just as diverse, from coffee brewed in a Fetco by top Supreme barista Van Lindsay, to breakfast cocktails, cold-pressed juices and young coconut water. Have this last option with the half grapefruit and you're sure to feel fashionably detoxed after your bloody good Mary.
Slight changes to the staff kit - off-white aprons designed by Georgia Currie of local label Georgia Alice - and dining by daylight lend the early service its own vibe, but it still says Orphans Kitchen loud and clear.

• Orphans Kitchen brunch, Wednesday to Sunday 7am-2pm, 118 Ponsonby Rd.
Share this:
More Food & Drink / Favourite Cafes