Where to go: The Lunchroom on Queen St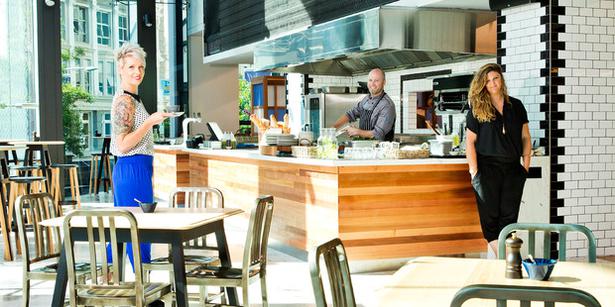 Wednesday Jan. 28, 2015
Queen St is often overlooked as a central city lunch destination - with most dining hotspots tucked down side streets or in devoted precincts.
Now, however, appropriately nestled above the new luxury shopping destination of Prada, Dior and Swarovski, you'll find weekday eatery The Lunchroom.
There's a wealth of experience behind the cafe, which is housed in AMP's level one lobby and owned by J.J. Holland, former executive chef for the Hip Group's Kohi Corner and head chef at St Heliers Bay Cafe & Bistro. The light, open fit-out and floor- to-ceiling windows are courtesy of Ignite Architects and Ctrl Space's Chris Stevens.
Kokako's Mike Murphy is responsible for the espresso bar. Managing the cafe are general manager Christine Viljoen (ex-Baduzzi and Odettes), and duty manager Domi Gillanders (ex-Takapuna Beach Cafe).
Holland has crafted a concise menu with a focus on suppliers - for example the Duck Creek olive oil and Pacific Skye apple and grape juice are from the Clevedon Village Farmers' Market.
"It is easy to cook good food when you start with amazing products," he says. "You don't need to do much more than chop it up and put it on a plate. With The Lunchroom I am trying to promote organics as premium products and do away with the 'hippie' stigma that many still hold. I take a huge amount of pleasure in crediting a wonderful meal to the quality of its ingredients."
• 7am- 4pm, Mon-Fri. Level 1, 45 Queen St, City.
Share this:
More Food & Drink / Favourite Cafes