Where to Shop: Good Grocer, Kohimarama
This new store is bringing old-school grocery shopping to Kohimarama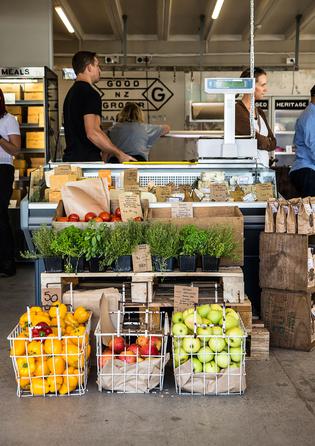 Find yourself close to conniption in the supermarket? Now there's an alternative bringing old-school charm to the scene.
Good Grocer in Kohimarama is the newest addition to Hipgroup's ever-expanding portfolio of cafes and restaurants. Like a week-round farmers' market, Good Grocer is an antidote to the production line nature of the bulk buy, and unlike the large gourmet outfits, everything on offer is locally sourced and seasonal.
That means you won't get bananas, or even tomatoes in a few weeks. What you will get is inexpensive capsicums that might have the odd tiny blemish, chioggia (a radish-like beetroot), and if you're lucky, free apples, all sourced from Kiwi farmers, and the company's farm in Kumeu.
The site has its own deli and butcher, selling New Zealand meats and cheeses, and a section devoted to their famous Milse gelato and iceblocks. The focus on provenance, sustainability and community extends to their biodegradable packaging, repurposed cardboard signs and the fact that if you buy a cut of meat, they'll cook it up for you in the bar next store.
No idea what to do with that kohlrabi, which sauce works best with the calamarata pasta or whether you should add their Cafe de Paris butter to the dry-aged Shorthorn? Keep an eye out for store manager and chef Julie Le Clerc, who roams the store giving tips. (Quite by coincidence, the grocer is in the same seaside location as her great-grandmother's 1930s tea shop.)
Or grab one of their ready-to-go food boxes, to make your own Ortolana or Rosie-style meal at home. Coming soon: refillable macadamia milk bottles, the ultimate hipster accessory.
"If you were living in France, this is how you'd shop," explains the Good Grocer director Scott Brown. "Why can't we do it here in New Zealand?"

• Good Grocer, 237 Tamaki Drive, Kohimarama, open 7am-8pm daily.
Share this:
More Food & Drink / The Latest