The Best Way to Sample a Dram of Whisky
Ahead of Ardbeg Day, local expert Tash McGill shares her whisky-tasting tips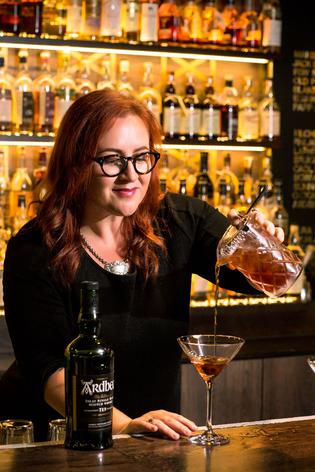 One of the biggest events of the year for whisky drinkers across the globe is Ardbeg Day, held on the last Saturday of the Islay Whisky Festival, Feis Ile, in Scotland. The day is celebrated at Ardbeg Embassies worldwide, and this year, on Saturday, June 3, Aucklanders will be among the first people in the world to try the limited edition 2017 bottling, Ardbeg Kelpie at The Jefferson on Fort Lane. 
The distillery sits on the southern coast of the Isle of Islay, and the new single malt, aged in virgin Black Sea oak casks, is named for the "kelpie" — a water demon said to live in the waters surrounding it.
We spoke to local expert Tash McGill about Ardbeg Day, and sought her whisky-tasting tips.
Why is Ardbeg Day such a big deal?
Ardbeg is one of those distilleries that gets under your skin and right up your nostrils, if you know what I mean. Whether you're a fan of big, peaty Scotch monsters or not, it has a wild, exploratory side to it. Dr Bill Lumsden is the master distiller for Ardbeg, and he's the kindest, fiercest, nutty professor you'll ever meet. He loves to experiment, and the Ardbeg Day bottling is usually the result of Dr Bill trying something unusual or unheard of. The largest aspect of Ardbeg Day for true whisky fans is that it marks the annual Feis Ile. For a week, the tiny island of Islay, known for producing these bold, smokey whiskies, throws a festival. You can squeeze about 10,000 people on to Islay, but Ardbeg Day stretches that across global borders through releasing their Ardbeg Day bottling to a worldwide committee of whisky lovers.
For the complete novice, could you give us a step-by-step guide how to taste whisky?
The best way is to find a bar or club hosting a tasting where someone can introduce you to a range of whiskies. Or find a bar with a good selection where the bar staff can help you find something specific to your palate. Tuesdays and Wednesdays tend to be a little quieter and you'll get more quality time than if you're trying to get a personalised tasting from a bartender four mojitos deep on a Friday night. I have dozens of tasting notes on my website (whiskygirl.co.nz) with plenty of tips and suggestions. Here are a few:

1. Start with the nose and go gently.
Don't swish and swirl like a glass of wine or stick your nose all the way in — you'll singe your nose hairs! Instead, keep a couple of inches between your nose and the glass and breathe in gently with your mouth open. You'll smell far more of the flavours in that whisky. Take a look at the spirit for viscosity, colour and oils to get a sense of the alcohol volume, fattiness of the spirit and the type of finishing, aging and maturing that it has been through.
READ: Meet Dr Bill Lumsden, the Rockstar of the Whisky World
2. Taste just a little at first, enough to coat the tongue.
Let it linger to get a sense of how long the finish is and whether it is dry, smooth, chocolatey or grainy. Then add a few drops of water at a time, tasting between until you've added up to 30-40 per cent water. I always, always do this when tasting a whisky for the first time. This will remove the alcohol burn and allow you to taste more of the subtle flavours of honey, florals, salt and seaweed, heather and chocolate or coffee.
3. Head in the direction of your natural palate.
Whether that's citrus, honey, raisins and sherry or a big smoky whisky. In the case of smoke-lovers, I'll always lead them to Ardbeg or one of the Islay whiskies. Also, don't be afraid to ask for a premium spirit in a suitable cocktail (anything with Coca-Cola is not a cocktail!). Ardbeg 10-year-old makes a refreshing and complex whisky sour and I also love a Rob Roy cocktail — a twist on the classic Manhattan, using Scotch instead of bourbon and paired with vermouth and bitters for a rich, late-night sipper.
TRY: Tash McGill's Whisky Cocktail Recipes
You've been writing about whisky for 10 years — how did you get started?
Whisky was such a love of mine, it was easy to write about in travel stories — you know, the romance of winding down a day of adventure in a strange but inspiring city with a beautiful drink. But truthfully, that's just my everyday life no matter where I am in the world. So I started by including my love of whisky in what I was already writing, until people started to ask me specifically to write about whisky. And wine, cocktails, all sorts of other things.
What are some of the trends you've noticed?
People are more interested and curious about the new expressions and ways of making whisky, including regions of whisky that we're not so familiar with. While I understand and love the traditions of a Scotch whisky like Ardbeg, I also love the experimentation and brave new frontiers that people like Dr Bill Lumsden and many other talented distillers are doing. Even here in New Zealand, distillers are using uniquely New Zealand ingredients to make whisky that is all our own. And you can taste those whiskies from the Pacific Northwest of the United States, Norway, India, Taiwan — really from all over. That's the exciting trend for me. It's all about finding the expression that suits your palate and celebrating that.
From the outside it seems to be a very male-dominated industry. Is this a correct assumption?
I've never felt alone for a minute but when it comes to whisky, there are fewer [women] in the business. Overseas, women whisky writers and ambassadors are far more commonplace. The industry here has never been hostile, but people have tended to wait and see whether I can hold my own and how I posture myself. Mostly, there's a novelty factor, especially when I perhaps have a story or an insight into a particular dram to share. The important thing, regardless of whether you are male or female, is to maintain a learning posture. Every tasting event I go to or lead, any cocktail competition I'm part of, I'm always looking to learn something from people in the room. I learned that from my favourite bartender and it's the mark of success of anyone in the business, because our industry is still changing and growing so rapidly. We have to stay humble and keep learning from each other. In particular, I've experienced a special sort of kinship with female bartenders and the women behind New Zealand distilling who are doing incredible things here and overseas.

READ: The Do's and Don'ts of Bar-Hopping
What trends have you noticed among female whisky drinkers?
What's changing here in New Zealand is awareness — many women feel bolder to go and learn about whisky or try it in groups. And likewise, I'm noticing a change in awareness in bartenders too, which makes it easier. For example, we sold out a Women & Whisky introductory tasting last year and already have requests for more this year. Drinking trends are always shifting but I think the expectation that hard spirits are somehow gendered has finally passed us by — see you later Sex and the City, and hello Mad Men. Either way, I'm just happy that more women are picking up a dram and trying it for themselves, rather than having drinking styles prescribed. It's still my favourite thing to introduce people to whisky they can love, regardless of whether they are men or women.
• Ardbeg Day (R18) is at The Jefferson, 7 Fort Lane, Auckland Central, on Saturday June 3 from 7.30pm. Free. Guests will enjoy a exclusive virtual reality tasting, games and paired canapes.
Share this:
More Food & Drink / Wine & Drink