White and Dark Chocolate Brownie Recipe
Angela Casley makes a chunky chocolate brownie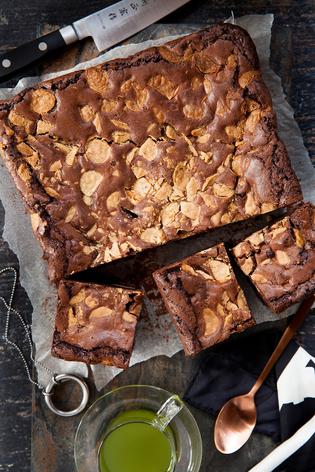 One doesn't need an excuse to make a squidgy chocolate brownie. It is good at any time of day. Cut into the size that suits you — perhaps smaller pieces to follow an evening meal or larger chunks for keeping your energy up at work. Try heating a piece for 20 seconds in the microwave and serving with vanilla bean ice cream, or slicing in half horizontally and filling with ice cream.

WHITE AND DARK CHOCOLATE BROWNIE RECIPE
Makes 20 pieces
180g butter, cut into cubes
180g dark chocolate
3 large eggs
250g caster sugar
1 tsp vanilla
85g flour
½ cup cocoa
1 cup white chocolate pieces
1. Preheat oven to 170C. Line a 20 x 20cm tin with baking paper.
2. Into a microwave-proof bowl place butter and chocolate. Heat on high for 1 minute, stir, and heat again for another minute. Remove and stir until smooth. Cool for 10 minutes.
3. Beat until pale eggs, sugar and vanilla. Add chocolate and mix until well combined. Add flour and cocoa, then fold in white chocolate pieces, reserving ¼ cup. Pour into tin and sprinkle with remaining chocolate.
4. Place into oven for 35 minutes until just cooked. Remove and cool before cutting.
Share this:
More Food & Drink / Recipes