White Chocolate and Avocado Tarts Recipe
For a last minute, no-bake, decadent dessert, try these tarts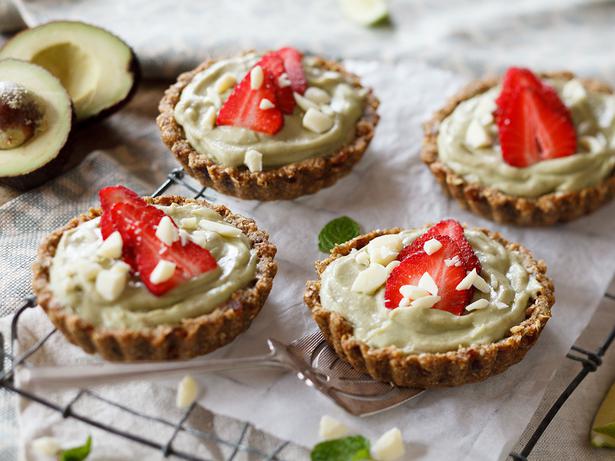 Wednesday Sept. 9, 2015
WHITE CHOCOLATE AND AVOCADO TARTS
Makes 4
Base
• 1 cup dates, soaked for 10 minutes in hot water
• ½ cup coconut
• 1 cup rolled oats
• ¼ cup pumpkin seeds
• ½ tsp ground ginger
• 1 Tbsp maple syrup
Filling
• 1 avocado
• 1 Tbsp lemon juice
• 1 cup white chocolate bits
• ½ cup coconut cream
1. Blend the drained dates, coconut, oats, pumpkin seeds, ginger and maple syrup until well combined and the mixture sticks together. Spread into the base and sides of four 10cm tart tins evenly. Line the tins with baking paper if necessary. Place into the fridge to cool.
2. Mash the avocado with the lemon juice until well combined.
3. Place the chocolate bits into a bowl. Bring the coconut cream to the boil then pour over the chocolate and stir until smooth.
4. Blitz together the chocolate and avocado until smooth. Spoon into your four tart cases. Cover and freeze for about 30 minutes.
5. Decorate with extra chocolate bits and fresh fruit before serving.
Share this:
More Food & Drink / Recipes