White Chocolate Cheesecake Recipe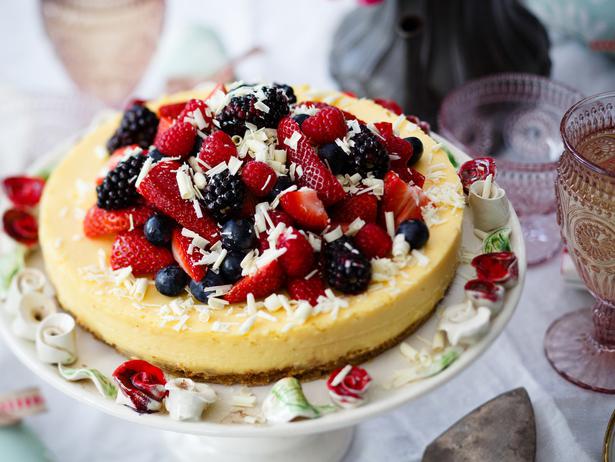 Friday Dec. 5, 2014
WHITE CHOCOLATE CHEESECAKE
Serves 10
• 200g wholemeal digestives
• 80g butter, melted
• ½ tsp cinnamon
• 200ml cream
• 450g white chocolate
• 50ml condensed milk
• 4 eggs
• 400g cream cheese
• 1 tsp vanilla
• 3 cups berries, tossed in 2 Tbsp liquor (optional)
• Mint leaves to garnish
1. Heat oven to 170C. Line base of a 23cm spring form tin.
2. Into a kitchen processor place biscuits and whizz until they resemble fine breadcrumbs. Add butter and cinnamon and whizz again. Tip into lined tin and press to cover base evenly. Put into oven for 10 minutes then remove and cool. Turn the oven to 150C. Wrap base of tin in two layers of tinfoil; this will prevent water seeping into the tin. Then place tin in a deep baking tray.
3. To make the filling - place cream in a small pot and bring to boil.
Add chocolate and stir until smooth. Cool for 10 minutes.
4. Into a kitchen processor place condensed milk, eggs, cream cheese and vanilla. Blitz until smooth. Add chocolate mixture and blend until very well combined. Pour over biscuit base. Pour hot water into baking tray to reach a third of the way up the tin.
5. Bake for 1 hour 15 minutes. Turn the oven off and leave cheesecake inside to cool for an hour. It will set further as it cools.
6. Remove from oven and continue to cool in tin. Refrigerate overnight or for several hours.
7. When ready to serve remove from tin and pile berries on top. Garnish with mint leaves.
Share this:
More Food & Drink / Recipes