White Chocolate Fudge Recipe
Fudge is always a hit - try this delicious white chocolate and hazelnut version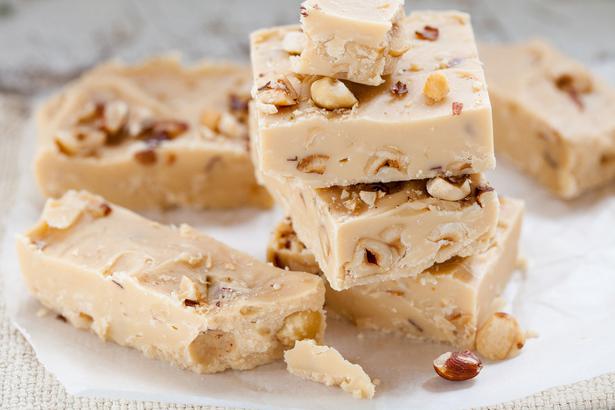 Friday Sept. 9, 2016
I start this white chocolate fudge recipe in the microwave to hurry the process. It also saves you stirring for quite so long. Have your tin lined ready and waiting. When roasting hazelnuts, place in a preheated oven for 10 minutes, then roll in a tea towel to remove most of the skins. A few left on is fine. You can also use other nuts, such as pistachios. Store the fudge an airtight jar — if you leave it on the bench and turn your back it is sure to disappear.
WHITE CHOCOLATE FUDGE RECIPE WITH HAZELNUTS
Makes 20 pieces
1 can condensed milk
100g butter, cut into cubes
1 ¼ cup caster sugar
1 Tbsp golden syrup
150g white chocolate bits
½ cup roughly chopped roasted hazelnuts
1. Line a 20 x 20cm tin with baking paper.
2. Into a large microwave-proof bowl place the condensed milk, butter, sugar and golden syrup. Cook for 2 minutes, stir and then another 2 minutes, continue until it is all completely smooth.
3. Then pour into a clean pot, place on a very low heat and slowly bring to the boil, stirring continuously. Don't get distracted or it will stick on the bottom. Boil for 8-10 minutes, then dribble a little of the fudge into a small bowl of water. If you can roll it into a ball, it is done. If not cook for a further 2 minutes and check again.
4. Remove from the heat and stir through the chocolate until smooth, then add the nuts, reserving a few for the top. Pour into the tin, spreading evenly, and sprinkle with remaining nuts. Allow to cool before cutting into small squares.
Share this:
More Food & Drink / Recipes