Gluten-Free White Chocolate, Orange and Mango Cheesecake Recipe
Velvety with a hint of orange zest, this gluten-free cheesecake is guaranteed to win over your guests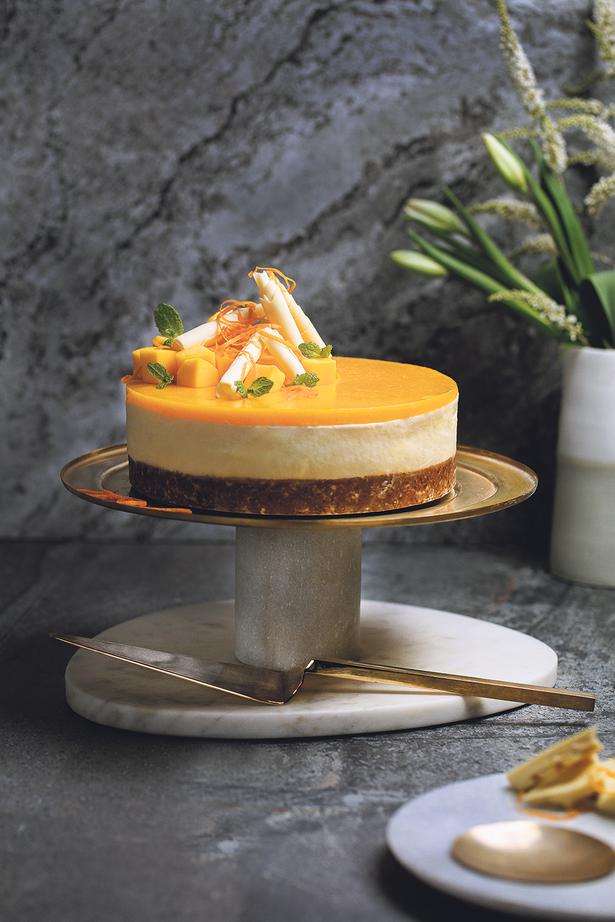 Wednesday Aug. 16, 2017
Velvety with a hint of orange zest, this white chocolate cheesecake is guaranteed to win over your guests or family. Prepared ahead of time, it is perfect for any occasion.
I have pureed mango to put on the top for decoration. If they are not available, fresh or frozen berries will look just as gorgeous. I haven't added any extra sugar to the fruit, though you can add a little if needed.
WHITE CHOCOLATE, ORANGE AND MANGO CHEESECAKE RECIPE
Serves 10
200g gluten-free gingernut biscuits, crushed to crumbs
70g melted butter
Filling
2 tsp gelatin, sprinkled over 2 Tbsp cold water
250g cream cheese
200g sour cream
2 tsp sugar
250g white chocolate, melted and cooled slightly
250ml lightly whipped cream
1 Tbsp orange zest
Topping
1 cup chopped mango
To decorate, extra chocolate, cubes of mango, and orange zest
1. Line a 20cm loose-bottomed tin with baking paper.
2. In a large bowl, combine well the gingernut biscuit crumbs with the butter. Press onto the base of your tin. Refrigerate for 15 minutes.
3. Heat the gelatin in the microwave for 30 seconds or until clear.
4. Beat the cream cheese, sour cream and sugar until smooth. Add the melted chocolate and gelatin, mixing through well. Lastly add the whipped cream and orange zest, and mix until smooth. Pour over your biscuit base and refrigerate for a few hours or overnight.
5. Puree the mango until perfectly smooth.
6. Remove the cheesecake from the tin by running a warm knife around the inside of the tin. Pour over the mango before serving.
7. Decorate with extra chocolate, mango and orange zest.
Share this:
More Food & Drink / Recipes