White Chocolate Panforte Recipe
Try this tasty panforte with crunchy macadamia, a hint of ginger and gooey white chocolate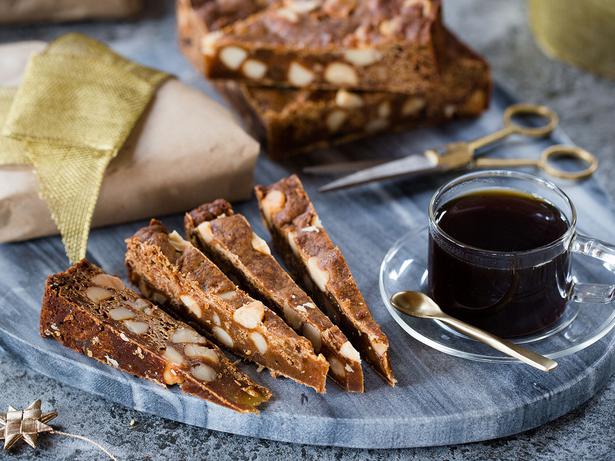 Friday Dec. 2, 2016
This white chocolate panforte is deliciously decadent. I confess, I had planned on keeping this one for Christmas, but at home we've been slicing a bit off it each night to have with our coffee. It's a real treat — crunchy macadamia, with a hint of ginger and gooey white chocolate. You could make smaller serves to wrap individually for under the tree.
WHITE CHOCOLATE, GINGER AND MACADAMIA PANFORTE
Makes 1 large panforte
300g white chocolate, broken into pieces
½ cup runny honey
1 tsp vanilla bean paste
1 cup plain flour
1 tsp allspice
½ tsp each cinnamon and ginger
¼ cup chopped glaze ginger
1 ½ cup macadamia nuts, roughly chopped
1. Preheat oven to 160C. Line a 22cm tin with baking paper.
2. Into a heatproof bowl place the chocolate, honey and vanilla. Place over a pot of simmering water ensuring it is not touching the water. Stir until completely smooth. Set aside.
3. In a large bowl sift the flour, allspice, cinnamon and ginger. Add the ginger and nuts and stir though. Pour in the chocolate mixture and combine with a wooden spoon vigorously.
4. Press it evenly into the tin using the spoon or your hands. Place into the oven for 50 minutes. A little soft in the middle is fine. Cover with tinfoil if starting to brown too much.
5. Remove and cool, then cut into wedges for serving.
Share this:
More Food & Drink / Recipes