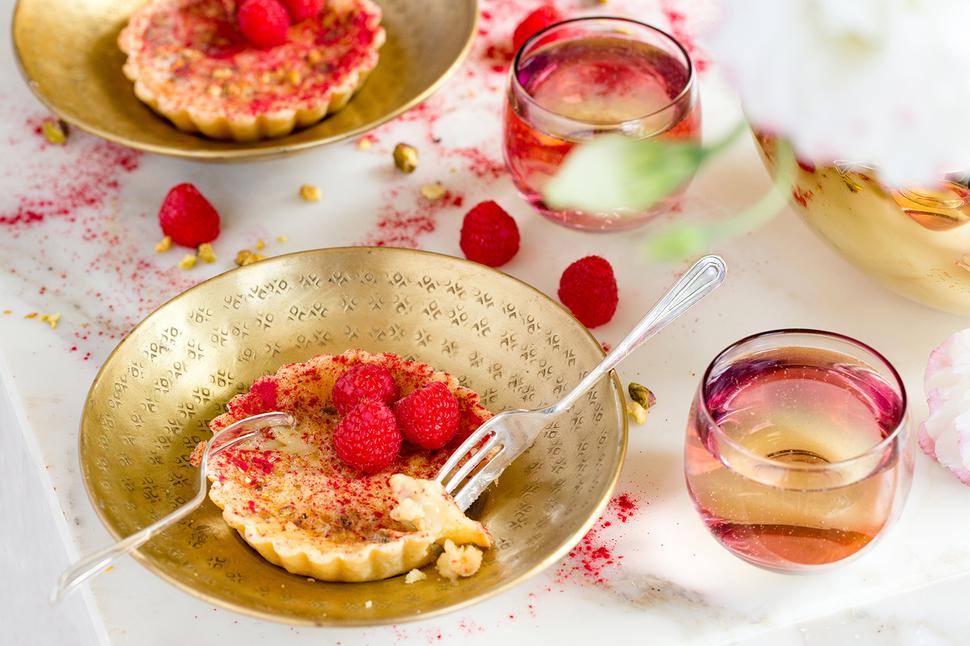 White Chocolate & Pistachio Tarts
Serve these delightful little tarts as the sweet grand finale to a special meal
Friday Feb. 9, 2018
For something special and pretty, you can't go past these tarts made with white chocolate and fresh pink raspberries. Give them as a gift or serve as a grand finale after a meal.
WHITE CHOCOLATE AND PISTACHIO TARTS
Makes 8
200g sweet short pastry
300ml cream
200g white chocolate, chopped
¼ cup caster sugar
1 egg
¼ tsp ground cardamom
½ cup toasted pistachios, chopped small
To garnish, fresh raspberries and dried raspberry powder
1. Preheat an oven to 180C.
2. Roll pastry on a lightly floured board to about 3-4mm thick and line 8 x 10cm tart tins. Bake blind for 15 minutes. Turn oven to 160C.
3. To make the filling, heat the cream to boiling point then pour over the chocolate and stir until completely smooth.
4. Whisk the egg with the sugar and cardamom, then pour in the cream mixture. Add half the pistachios. Place into a pouring jug and divide the mixture evenly between the pastry cases. Bake in the oven for 20 minutes until just set. Remove and cool completely before removing from the tins.
5. Serve with fresh raspberries, a dusting of raspberry powder and the remaining pistachios.
Share this:
More Food & Drink / Recipes