Wholemeal Bread Recipe
It doesn't get better than the smell of homemade bread - try Angela Casley's recipe for a wholemeal loaf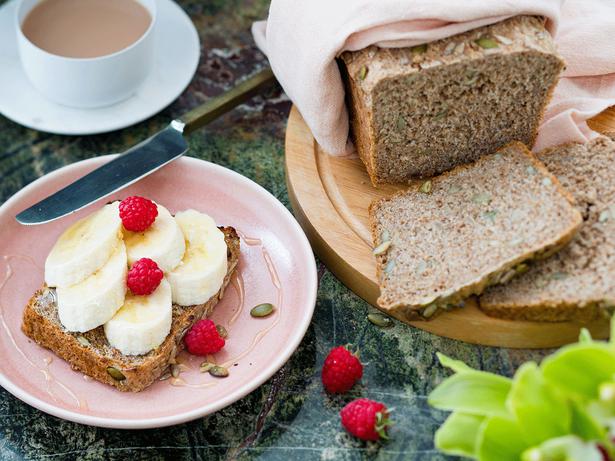 Friday Nov. 11, 2016
The smell of yeast and hot bread baking has to be one of my favourite smells in the kitchen. Nibbling on a piece of my aunt's bread, toasted and topped with Marmite, avocado and tomato is a heavenly way to start the day. This loaf has only one rising time, so can be executed on a whim, then served hot for lunch. I double it and slice one loaf to freeze, ready for hungry mouths looking for a quick bite to eat. It is wholesome and filling. Add extra seeds and nuts if you desire.
WHOLEMEAL BREAD
Makes 1 loaf
1 tsp brown sugar
1 Tbsp yeast granules
1 cup tepid water
450g wholemeal flour
1 tsp salt
½ cup mixed seeds, pumpkin, sunflower, sesame
¼ cup olive oil
Topping — banana and runny honey with a sprinkle of raspberries
1. Grease a loaf tin with oil.
2. Combine the brown sugar and yeast, then sprinkle them over the tepid water. Allow to sit in a warm place until frothy.
3. Into a large bowl place the flour, salt and seeds, saving 1 tablespoon of seeds for the top.
4. Add the oil to the yeast then pour the mixture into the middle of the flour. Stir to combine, then knead on a lightly floured bench for 10 minutes. Place the dough into the loaf tin pressing into the corners, sprinkle over the remaining seeds and press in gently. Cover with plastic wrap and place in a warm place for 1 hour or until doubled in size.
5. Preheat an oven to 180C.
6. Bake the loaf for 35 minutes until it sounds hollow when tapped. Cool for 10 minutes before tipping out of the tin on to a rack to cool, then add topping.
Share this: