Wholemeal Date and Lemon Scone Wheel Recipe
There is nothing nicer than coming home to find fresh baking on the bench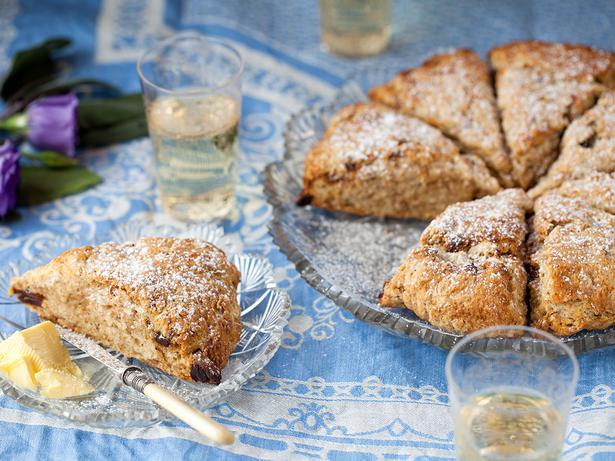 Friday May 6, 2016
There is nothing nicer for Mum than coming home to find fresh baking on the bench and the kitchen tidy, just when she is dying for a cuppa. Date scones are my favourite, but they must be bulging with dates. Here I have added some cinnamon and lemon — yum. Make the scones in a wheel for a change — it's really quick and gives you lots of crunchy sides which are my favourite bits. Butter is a must.

WHOLEMEAL DATE AND LEMON SCONE WHEEL RECIPE
Makes 8-10
• 2 cups dried dates, cut into thirds
• 1 ½ cups plain flour
• 1 ½ cups wholemeal flour
• 2 Tbsp sugar
• Pinch salt
• 6 tsp baking powder
• Zest of 1 lemon
• ½ tsp cinnamon
• 100g butter, cut into cubes
• 1 cup milk
• Icing sugar to dust
1. Preheat an oven to 200C.
2. Place the dates in a bowl and cover with boiling water for 10 minutes. Drain well.
3. Place the flours, sugar, salt, baking powder, zest, cinnamon and butter in a large bowl. Using your fingers, rub the butter into the flours until it forms breadcrumb-sized bits. Add the dates and mix through.
4. Pour the milk in the middle and mix through, using a knife with a cutting motion.
5. Place the mixture on a lightly floured bench and press into a circle. Cut into 8 or 10 wedges. Transfer to a baking tray and bake for 15 minutes, until golden and cooked through.
6. Serve warm, dusted with icing sugar and with butter on the side.
Share this:
More Food & Drink / Recipes