Wholesome Recipes for a Kid's Party
Petite Kitchen's Eleanor Ozich shares her recipes for wholesome and delicious children's party food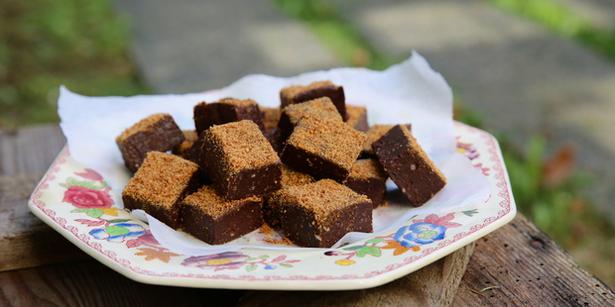 Thursday May 8, 2014
On Sunday afternoon we celebrated my daughter's 6th birthday by having a lovely afternoon tea in our backyard. I made delicious and wholesome little bites to eat, including raw Brazil nut and chocolate slice, banana mini-pancakes and a honey ricotta dip, perfect with crackers.
Read on for the recipes.

RAW BRAZIL NUT & CHOCOLATE SLICE SPRINKLED WITH COCONUT SUGAR
1 cup brazil nuts*
1 cup medjool dates, pitted
½ cup cocoa or cacao powder
Juice of half an orange
Coconut sugar for sprinkling
*Most types of nuts would work well.
1. In a food processor, grind the Brazil nuts to a dense flour. Add the remaining ingredients, and continue to process until the mixture starts to come together like a dough.
2. Press the mixture into a greased or lined slice tin, then sprinkle with coconut sugar. Place in the refrigerator for at least half an hour to set.
3. Once set, slice in small bite-size slices and serve.
Makes around 25 small slices. Will keep for 3-4 days. Best kept in the fridge.
* gluten-free
* dairy-free
* refined sugar-free

BANANA MINI-PANCAKES TOPPED WITH CREAM & CHIA SEED JAM
1. In a blender, put 2 large bananas, 4 large free-range eggs and ½ cup of rice flour, then blend until smooth.
2. Grill small spoonsful of the batter in a skillet greased with ghee, butter or coconut oil for a minute or so until golden on both sides.
3. Leave to cool, then top with whipped cream and a little chia seed jam - recipe below.
CHIA SEED JAM
Will last for 2-3 weeks in the fridge.
2 cups of frozen or fresh fruit
¼ cup water
3 Tbsp chia seeds
2 Tbsp honey, maple or agave syrup (optional)
1. Put fruit, water and honey in a food processor or blender. Pulse until just blended. This helps to get the juices going. You could also do this in a large bowl, using a potato masher or fork.
2. Transfer to a glass jar. Add the chia seeds and mix well, making sure they are well incorporated in the fruit.
3. Place in the refrigerator to set. This takes at least an hour or so.
Makes enough to fill a small jar.
*gluten-free
*dairy-free
*refined sugar-free

HONEY RICOTTA DIP WITH THYME, LEMON ZEST & OLIVE OIL
1 cup ricotta
1 Tbsp runny honey
Zest of one lemon
1 Tbsp extra-virgin olive oil
A small handful of thyme, roughly chopped
1. Place the ricotta in a small serving bowl. Top with the honey, lemon zest, extra-virgin olive oil and thyme. Season with a little sea salt and pepper.
*gluten-free
*vegetarian
Share this: