Why Growlers Are The 'Future Of Craft Beer' & Where To Fill Yours
It's the best way to get fresh beer and the environment will thank you — here's all you need to know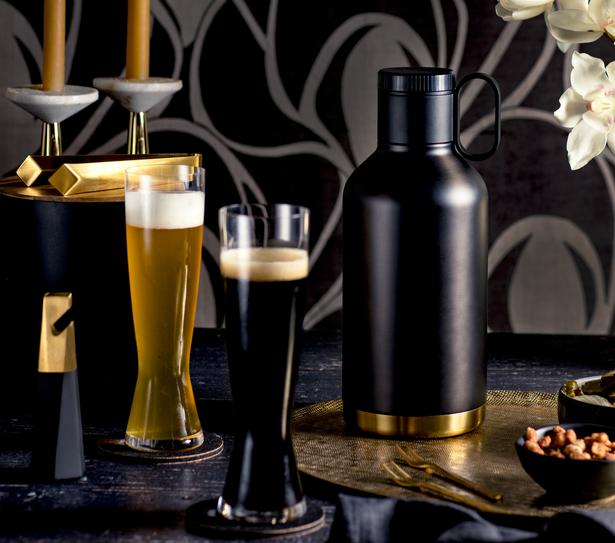 Wednesday June 13, 2018
With so many places offering an array of craft beers to suit every taste, a popular option is taking in your own flagon or "growler" along to a taproom and filling it with a fresh brew.
George Daroux, who manages Garage Project's new Kingsland cellar door says he's glad the idea is picking up speed among customers.
"Growlers are generally the most economical way to buy beer, with the added perk that usually you can try the beers before you decide on your fill," he says.
READ: The Viva Team's Favourite Happy Hour Spots For Top-Notch Drinks
"They're great if you are looking for something to take to a dinner or event to share among friends as you can grab a couple of different bottles for the table in volumes of your choice."
As a bonus, you cut out waste by taking back your own vessel each time and, just as a good barista will remember your coffee order, the staff at your local taproom are likely to get to know your taste.
Bruce Turner, a director of Urbanaut Brewing Co, says it's the best way to make sure "you're getting the freshest beer available, straight from the source".
"With the general move away from packaging waste and the preference to recycling, the growler is the way forward," he says.
"It also gives beer lovers the chance to engage with the brewery staff, learn about the beers and process first hand. Plus at Urbanaut we release our new beers at the cellar door first, unannounced, so keen growler drinkers get the first taste."
We asked George and Bruce to share a few tips for those who're new to the growler game.
READ: A Beginner's Guide to Craft Beer
Are growlers a popular option? What do people like about it?
Bruce: In Auckland we're seeing its popularity grow as people learn about the benefits in cost and flavour. Commonly customers live within 2kms of the brewery and are keen to support local business. The concept harks back to days of flagon filling from the 70s and 80s, which bring back memories of outings with family to the beach, cricket or rugby. The flagon suitcase complete two growlers and four glasses might make a comeback! The only downside of growlers is that once opened the beer needs to be consumed in one session, as it goes flat if left for a day. 
George: This is a very popular option! People love being able to come and try a bunch of things off the taps before they fill. It feels good to have your own flagon that you fill each week, we get to know people who have their regular beer day and we know to point out new beers that we know they'll be into. Cutting down on excess packaging comes into it as well.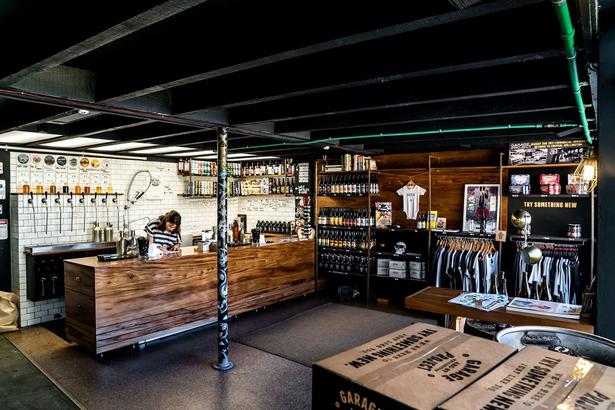 Garage Project's Wellington taproom. Photo / Supplied

How long will beer keep in a growler?
Bruce: Comfortably, three days, but drinking it sooner is always better, so enjoy it fresh. Once opened it should be had in one session.

George: A lot of this depends on the quality of the fill. If the vessel is clean it'll last a bit longer if the bottles are cleared of oxygen before it is filled it will last a bit longer, and some places use counter-pressure filling to extend that again. It also depends on how the beer is stored once it leaves the shop — beer that is chilled right away and until it is consumed will last a lot better. Generally, we say growlers are at their best in an unopened flagon for one week. Some beers last better than others — hoppy beers, for example, are the first to start deteriorating. Once a vessel is opened it will go flat and oxidise overnight, so best to hunker down and commit once you crack into it (and to judge the volume of your bottle carefully!). 

What's the price difference when compared to buying bottled beer?
Bruce: It's cheaper by around 20 per cent. Customers don't need to pay for additional packaging as seen with a six-pack of cans or bottles. Also, you have a reusable vessel so won't be creating more packaging waste.

READ: Q&A With World-Famous Bartender Charles Schumann

What should you look for when purchasing a growler/vessel? Do they have different features?
Bruce: Cleanability is a priority, so it should be easy to rinse and have the occasional brush. Also ensure a good seal is formed when the lid is closed, so the carbonation is maintained. Avoid clear glass as light changes the flavour of the beer when it becomes 'light-struck' and gives a skunk-like aroma in hoppy beers. Also, choose a size that suits your consumption, common sizes are 1L, 1.25L and 2L.

George: There are a lot of options! Clear and green bottles won't protect beer from UV light which causes it to skunk (and get that distinctive dank aroma), so best to opt for a brown or opaque bottle. Glass can be less resilient to the changing pressure of beer warming and cooling inside of it, so this is something to keep in mind. But really, the world is your oyster — we have had flagons come through that have their own tap attached to the side. That's a pretty nifty feature. 

Tips for filling your own from a tap?
Bruce: Use a long tube attached to the tap if possible, which reaches to the bottom of the bottle, so it is filled from the bottom up. Then get a good lean on the bottle as filling. Avoid filling into a hot bottle. Rinsing with water right before filling creates a smooth surface for beer flow, reducing any carbonation breaking out making the beer flat.

READ: The Chicest Glassware To Buy

George: Make sure your vessel is clean! Best to rinse it with cold water before you fill it. Leave a bit of headspace at the top to allow for pressure in the bottle, but make sure this headspace is foam — you don't want any oxygen hanging about in there, and topping it with foam makes sure that headspace is filled with CO2 instead. Cap it as soon as it is filled for maximum freshness. Filling with a tap hose (usually stainless steel) stops the beer from foaming up as it goes into the bottle. 

What's the difference between this and a crowler?
A crowler is a can filled from taps to order and sealed behind the counter (can meets growler, thus the name). Depending on the filling conditions (whether the can is clean, and if it get purged with CO2) it lasts a little longer than a typical growler. The only downside of crowlers is that they can't be refilled and so are one-use (but are recyclable!).

WHERE TO FILL YOUR GROWLER
• Hopscotch, 57a Wolverton St, Avondale
• Brothers Beer, City Works Depot, 90 Wellesley St West
• Urbanaut, 547 New North Rd, Kingsland
• Garage Project, 357 New North Rd, Kingsland
• Fine Wine Delivery Co, 42 Lunn Ave, Mount Wellington

Share this: