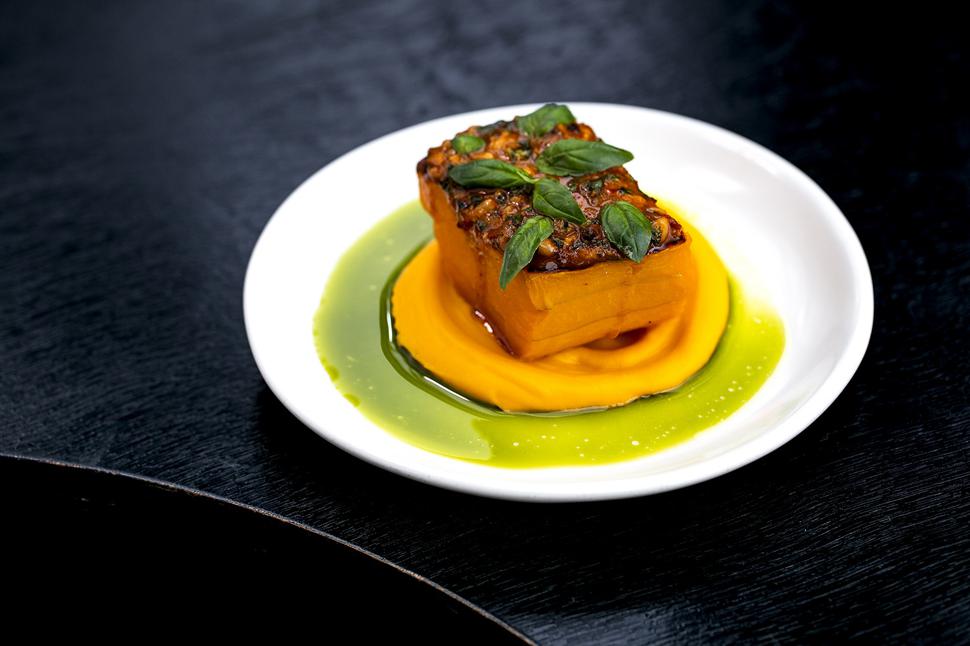 When Did Vegetables Become The Star Of The Show At Top New Zealand Restaurants?
With more diners going meat-free, vegetables are transitioning from side dish to the main event
Saturday Dec. 4, 2021
There was a time when the only cauliflower that graced our tables was steamed and burdened with white sauce, often served as a side to a mass of roast beef.
These days, the blonde brassica is the aspirational star of the vegetable world. Fried and tossed in buffalo sauce, turned into rice and pizza crusts, roasted whole and presented centre stage at the dinner table — there's nothing cauliflower can't do.
Its climb to fame can be attributed to a number of things — the rise of keto and paleo diets, gluten intolerance, and people eating less meat.
In a survey last year, the Restaurant Association of New Zealand found that chefs were writing more vegetable-centric menus and incorporating more plant-based dishes in their cooking — a change driven mostly by diners aiming to reduce their meat consumption for the sake of the environment, especially younger diners.
As a nation largely raised on meat and three veges, the cries of, "Where's the meat?!" are being drowned out by a generation who are staring down the barrel of an uninhabitable earth and wanting to eat differently.
The modern diet is changing, and the change has never been easier to make, thanks to chefs who are lionising vegetables in tasty and creative ways.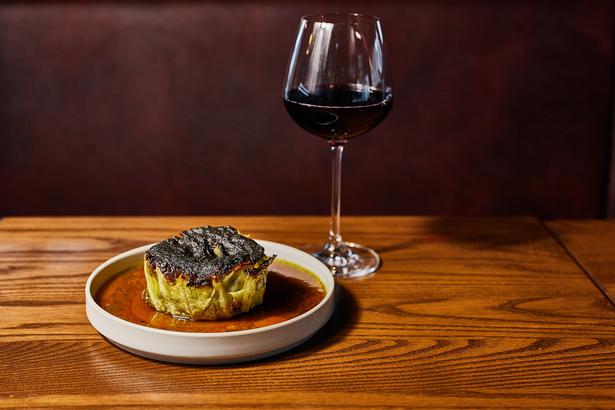 For chefs, cooking with vegetables is not about keeping up with trends, or creating ersatz meat. It's about bringing out the best produce and celebrating its purest form, paying respect to the resources that went into the growing, and finding limitless inspiration in the scope of varieties available each season.
Anybody can slap a piece of meat on the grill, but it takes courage to serve a charred slab of cabbage, and much more skill and imagination to make it the most delicious thing on the table.
Like at Auckland's Gochu, where white cabbage is blackened and slicked with roasted seaweed butter; or the butternut pumpkin at Apero, which is charred to a sweetened crisp, spiced Vadouvan butter pooling in its creases. Or at Sidart, where the vegetarian tasting menu will have you dreaming of beetroot kissed with vindaloo spices, and the flaky kumara and goat's cheese tart with green chilli cream for weeks to follow.
Where's the meat? You won't even notice it's missing when food tastes this good.
Georgia van Prehn, owner and head chef at Alta (ex-Clay) on Auckland's Karangahape Road says she believes in creating vegetable dishes that stand up to meat, rather than being a side or a secondary thought.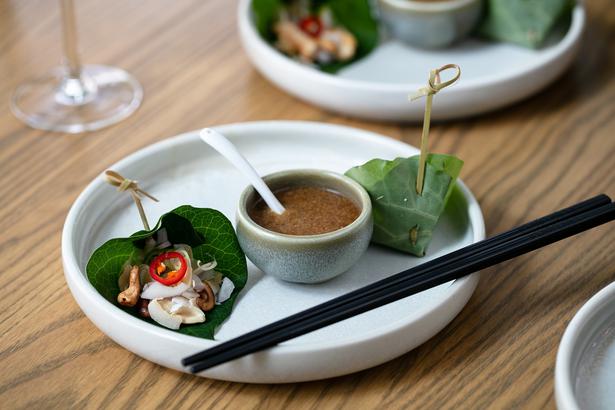 Betel leaf miang kham from East.

"You've got so many vegetables in the world and they all taste different. As a chef, that's a whole range of different flavours you can play with. It's a whole new world when you think about it from that perspective, as opposed to being like, 'I've got a piece of meat, what vegetables are going to go alongside it?'."

At her tasting menu-only restaurant, there will be meat, but the focus is on seafood and innovative vegetable dishes, much like the ones she was cooking at Clay and Scotch in Blenheim, such as beetroot 'ravioli' stuffed with smoked yoghurt and covered in a beetroot sauce.

In Christchurch, Gatherings originally opened as a vegetarian restaurant in 2017. Owner Alex Davies had worked in an organic vegetable farm for a year and wanted to highlight the work that goes into growing beautiful produce.

He has since introduced sustainable, line-caught fish, but says he prefers the challenge of cooking with vegetables, which still make up a large part of the menu.

"People are a bit more conscious about the amount of meat they consume so they are definitely more open to it now. More restaurants are focusing on vegetables and as a result, people are trusting vegetable dishes in restaurants. We've gone past the eggplant stack, we're doing so much more than that now."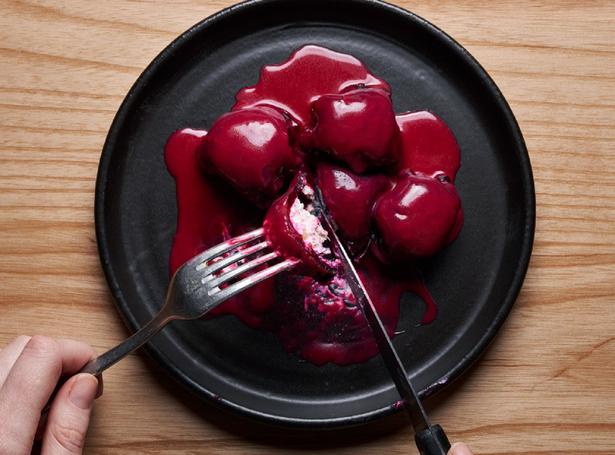 Beetroot ravioli from Alta. Photo / Supplied

There's a version of cauliflower cheese on the menu here, but not as you know it — it's roasted golden and moreish, served with a gouda sauce and earthy black walnut ketchup. When developing dishes at Gatherings, Alex says he never tries to replicate meat, but rather the sensation that people crave from eating it through techniques such as grilling, charring, smoking or braising in oil and butter.

"As soon as you put something like that in your mouth there's an instant connotation of meat," he says. "Most people have grown up eating a lot of it, and most of us are realising we shouldn't be eating that much, so if we can bring in those associations, then you are going to get that nostalgia, which is really important for people when they eat."

Nostalgia is something that inspires Kelda Hains' cooking at her restaurant Rita in Wellington where a three-course vegetarian tasting menu is offered each night alongside the regular menu.

She says when you throw out that antiquated structure of "meat plus garnish" it's fun to construct a dish when meat isn't acting as the centrepiece.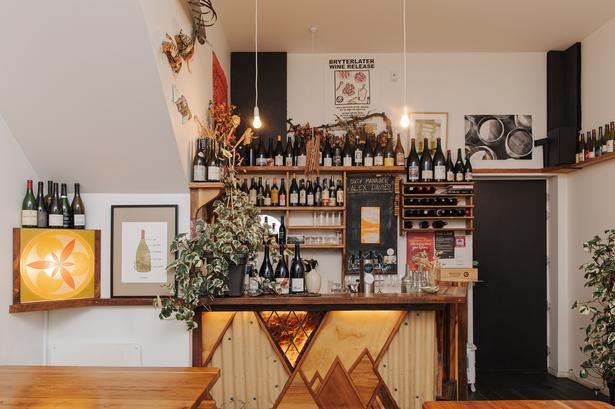 She sees pairing vegetables with pasta or grains as the easy option and instead chooses a vegetable as the central ingredient and builds flavour around that — such as a buttery braised celeriac, bathed with stock, herbs and garlic throughout the cooking and accompanied by a sauce made from caramelised parsnip, mushrooms and dried summer tomatoes, layered with flavour in the same way you would make a meat jus.
Kelda says the scarcity of winter can be trying; the past few months have seen them go on a deep dive into all the things you can do with root vegetables, but it's helped along by a good stock of ferments and preserves from summer that she says add a welcome brightness to her dishes.
"The nice thing about fermented food is that it brings a sense of depth and umami and acidity into your dish, which makes things more exciting."
At Auckland's Hello Beasty, where the food takes inspiration from the flavours of Japan and Korea, owner and head chef Stuart Rogan says they too have witnessed an increase in diners eating less meat, and offer dedicated vegan and vegetarian menus so people don't have to ask for modifications.
"Our vegetarian dishes are just as good as our protein ones," he says. "That's always been the aim and it's a big challenge for us. It keeps you on your toes with the seasonality and figuring out how to turn produce into something that's really delicious and as good, if not better, than a protein dish."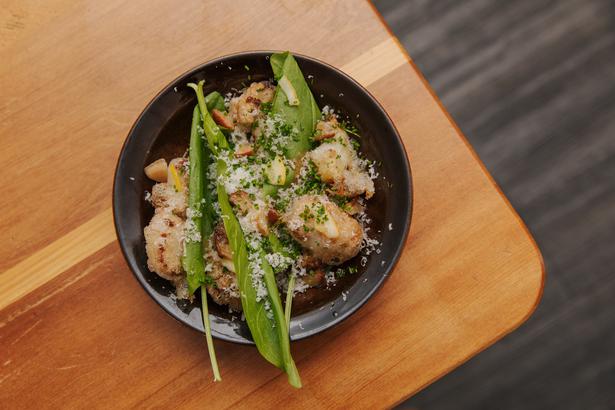 The vegetable dishes here are bold and balanced with the texture, richness and savouriness we often seek from meat. Stuart says he strips back the ingredients to understand how they change when cooked and how they react to flavours from Japan or Korea.
The butternut pumpkin, for example, is peeled and steamed, the bottom end becoming a vibrant puree and the stem cut in meaty slabs which are slowly roasted and caramelised, topped with a Korean pesto of basil, pine nuts, kimchi, gochujang and lime juice; the fried Brussels sprouts sit on a bright and velvety spring onion puree, topped with white miso dressing and house furikake providing crunch.
READ: The Vegetarian Dishes We Can't Stop Making
We've also seen a rise in restaurants serving strictly vegetarian menus, like Auckland's Forest, where chef Plabita Florence serves a set menu made with hyper-local ingredients, often harvested by her at nearby Kelmarna Gardens; and East, where dishes from all over Asia get a plant-based makeover.
In 2018 Wellington's Hillside Kitchen went entirely meat-free, a move that owner Asher Boote says was met with some trepidation from the public, but they retained the vast majority of their customer base.
"We're not just a restaurant for vegans or vegetarians, we're a restaurant for everyone and we're still doing things to the same standard that any restaurant would, no matter what we serve," he says.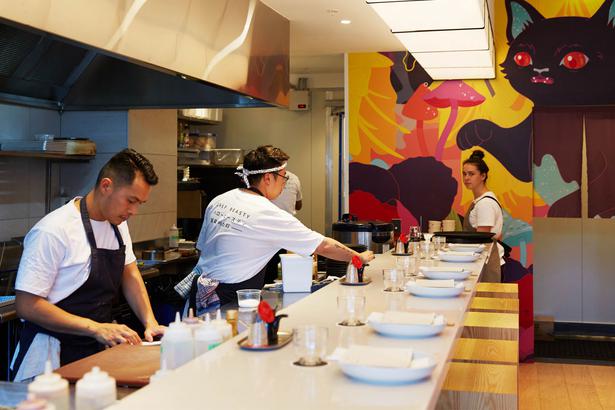 "You still need the same core skills and knowledge to be able to create good food. At the end of the day if it's good food we want, maybe we should be a little less worried about what category we're focusing on and more worried about it being high quality and good-tasting."
Though the ability to turn vegetables into centrepiece-worthy dishes may seem reserved for qualified chefs, it's a step in the right direction if we want to see it trickle down into home kitchens.
READ: Where Chefs Eat: 8 Expert Chefs Share Their Favourite Restaurants
Hopefully, we'll see tables laden with vegetables more frequently than meat.
In Christchurch, Alex hopes he can share the ethos of Gatherings with children to effect this change. He has been visiting local schools to educate primary-aged students on the joys of vegetable cookery.
"It's important to get people's heads around it while they're young before they have been indoctrinated into thinking that meat is the only way forward," he says. "And it's just really cool watching kids get excited about yams and pumpkin."
This story was originally published in Viva Magazine – Volume Five
Share this: