Why you need to try barbecued bone marrow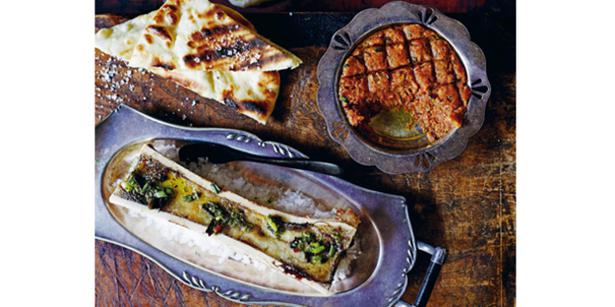 Tuesday Oct. 7, 2014
Elvis Abrahanowicz and Ben Milgate, the Sydney-based chefs behind Bodega and Porteno, share their barbecued marrow recipe with Viva, as seen in their cook book Recipes For A Good Time.

PORTENO'S BARBECUED MARROW AND LAMB TARTARE WITH FLATBREAD 
Serves 8
Beef Shin
• 4 × 12 cm pieces of beef shin, halved lengthways (ask your butcher to do this for you)
• 8 spring onions (scallions)
• 100 ml (3 & 1/2 fl oz) chimichurri
Grilled Chewy Flatbread
• 200 ml lukewarm water
• 1 Tbsp extra virgin olive oil
• 1 tsp dried yeast
• 1 tsp caster (superfine) sugar
• 1 tsp fine sea salt
• 360 g plain (all-purpose) flour
Lamb Tartare
• 8 long red chillies
• 750g lamb leg meat, trimmed of all sinew and fat, diced
• 4 French shallots, diced
• 5 Tbsp chopped flat-leaf (Italian) parsley
• 3 Tbsp chopped mint
• 1 ½ tsp tomato paste (concentrated puree)
• 1 ½ tsp ground allspice
• 1 ½ tsp ground dried chilli
• 1 ½tsp ground cinnamon
• 1 ½ tsp sweet smoked paprika
• 3 tsp fine sea salt
• 3 tsp freshly ground black pepper
• 3 tsp hot English mustard
• 80 ml extra virgin olive oil

To prepare:
Beef Shin
Place beef shins in a bowl of icy, salted water. Cover, then refrigerate and leave to soak for 6 hours, or overnight. This will help to get rid of the blood. Remove from the water and pat dry.
Grilled Chewy Flatbread
1. Mix water, extra virgin olive oil, yeast, sugar and salt together in a bowl. Leave for 30 minutes, or until it starts to bubble.
2. Place flour in a wide bowl. Create a well in the middle and add water mixture to the flour, whisking slowly and bringing in flour from the side.
3. Once thick, use your hands to bring it all together then knead for 5-10 minutes until elastic.
4. Place in a lightly oiled bowl, cover with plastic wrap and leave in a warm place to prove for 2 hours.
5. After that, knock the dough back and return it to the bowl, covered, to prove for another 30 minutes.
Lamb Tartare
1. Get a barbecue going and cook the chillies directly over the hot coals, turning occasionally, until charred all over.
2. Remove them to a bowl, cover with plastic wrap and leave to steam. Once cool enough to handle, peel and discard the stalks, skins and seeds then finely chop.
3. Combine the chillies and the rest of the ingredients (except the English mustard and extra virgin olive oil) in a large bowl and refrigerate for 1 hour.

To serve
1. When nearly ready to serve, divide the dough for your flatbread into eight balls and let them rest on a tray for 5 minutes. Roll the dough balls into rough oval shapes about 3 mm (1/8 inch) thick. Grill over the hot coals for 40 seconds, then turn and cook for 20 seconds more, until charred.
2. Put the tartare through a mincer with a 5mm (1/4 inch) attachment. Pass it through a second time with an ice cube in each handful so the meat stays cold.
3. Taste and adjust the seasoning, add English mustard and extra virgin olive oil then put the tartare in the fridge while you finish the beef shins.
4. Grill the spring onions over the hot coals then slice them and fold through the chimichurri. Cook the beef shins over the hot coals, cut side up, for 5 minutes, or until the bones are hot. Colour up the marrow by grilling them under a salamander or preheated oven grill (broiler).
5. Drizzle the chimichurri all over the grilled beef shin and serve with the cold lamb tartare and grilled flatbread.

• From Recipes for a Good Time by Ben Milgate and Elvis Abrahanowicz, published by Murdoch Books, $75.00. The perfect accompanying wine for this hearty recipe is a full-bodied Squealing Pig pinot noir.
See Wednesday's Viva for a special Porteno and Squealing Pig giveaway.
Share this:
More Food & Drink / Recipes