Simple Ingredients Shine In This Wild Mushroom & Courgette Salad
Garlic, chilli and coriander help bring this elegant mushroom salad to life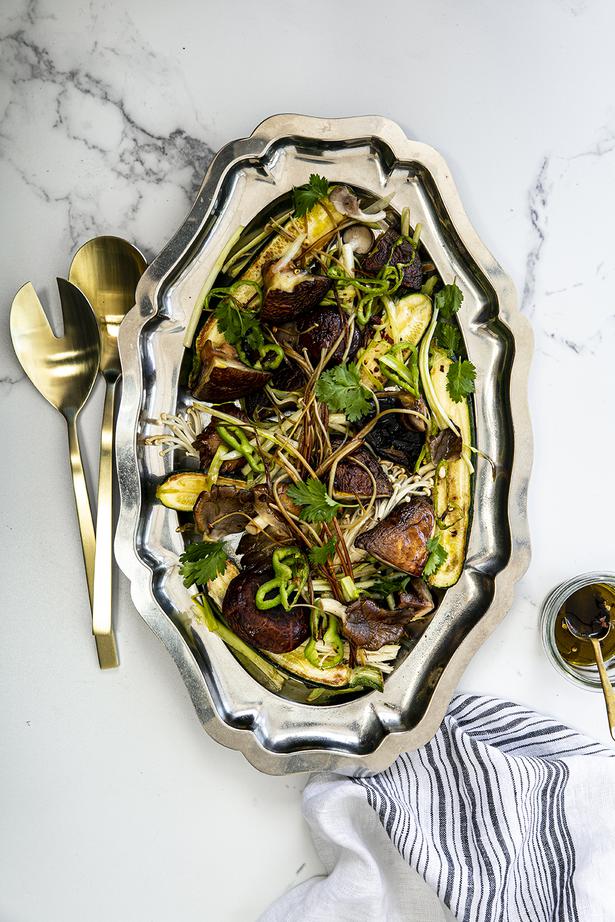 Wednesday April 13, 2022
Asian grocers are a treasure trove of hard-to-find mushrooms, try a local farmers' market, or grow your own.
WILD MUSHROOM AND COURGETTE SALAD RECIPE
Serves 6 
2 Tbsp olive oil
3 small courgettes, cut lengthways
1 tsp sesame oil
3 cloves garlic, sliced
1 green chilli, sliced
1 bunch yellow chives (Asian markets)
500g mixed mushrooms
Coriander leaves, to garnish
Dressing
2 Tbsp olive oil
2 Tbsp soy sauce
1 Tbsp fish sauce
2 Tbsp lemon juice
1 Tbsp brown sugar
1. Firstly make the dressing. In a bowl combine the oil, soy, fish sauce, lemon juice and brown sugar.
2. In a large frying pan heat 1 tablespoon of oil. Fry the courgettes for a few minutes, turning once to cook through, then remove from the pan. Add the remaining oil and sesame oil. Add the garlic, chilli and chives, cooking for 2 or 3 minutes. Add the mushrooms, tossing gently for a few minutes until just cooked. Return the courgettes to the pan with 2 tablespoons of dressing.
3. Serve on a platter with a sprinkle of coriander leaves and extra dressing on the side.
This recipe was originally published in volume seven of Viva Magazine.
Share this: