Wine: Big Bunch of Flavour
After a five-year break, winemaker John Kemble is back in the game and has a new label, writes Jo Burzynska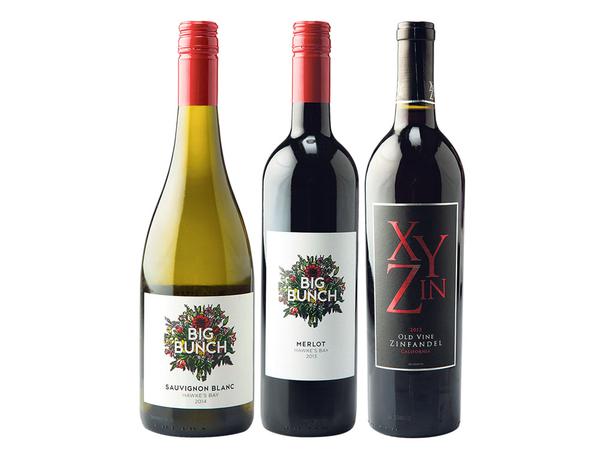 Saturday May 16, 2015
It's been a tough climate for the country's winemakers in recent times, with the global financial crisis forcing a number of well-established names out of the industry.
Kemblefield's John Kemble was one of these, but as the industry turns the corner and after his own five-year hiatus, Kemble has bounced back with the launch of Big Bunch wines.
"The downturn in the New Zealand wine market caused Kemblefield Estate to refocus and I left the business in 2010," Kemble says.
After the demise of the winery he co-founded in 1992, he's been involved in organic food production with a Hawkes Bay company.
Though he says he has "learned lots" from this work and found it "very interesting", he's glad to get among the grapes again in the creation of his Big Bunch range.
"Winemaking will always be my first passion and love," he says.
"It's great to be back in the game and I only hope people enjoy the wines as much as I have enjoyed developing them."
Kemble, who originally hails from California, arrived in New Zealand in the early 1990s. After 15 years of making wine at the famed Ravenswood Winery in Sonoma, it was a desire to make red wines in pastures new that saw him head to Hawkes Bay.
"I thought that Hawkes Bay had New Zealand's best wine-making sites and potential," he says. "And I was right!"
Kemble has had to rethink his business plan in this new chapter of his career. No longer based out of the imposing Kemblefield winery in Hastings, he's changed things to make his operations lighter on their feet.
"The new model is lean and mean, but not the wines, of course," he explains.
"The wine is made at a contract facility in Hawkes Bay, where I oversee production. I don't have vineyards, but I know a lot of growers and I used my old network to access fruit."
This model requires less capital and Kemble says he's had no problems sourcing good grapes for his wines.
"If you know who to ask there is plenty of lovely fruit out there."
The Big Bunch range includes an accessibly priced sauvignon blanc, syrah, pinot gris, chardonnay, merlot and rosé from the great 2013 and 2014 vintages in Hawkes Bay. These sport a label designed by artist and fellow Bay resident Dick Frizzell.
"The name derives from my passion to make outgoing wines, full of character, colour and a big bunch of flavour," he says. "Generous wines that aren't too expensive and are to be enjoyed without the need for cellaring. Pretty straightforward really!"
But what about the zin? Followers of Kemble's wines may well ask, given he introduced and championed the popular Californian red zinfandel in New Zealand.
"I get asked that a lot," he laughs. "I don't have access to the varietal at this point in time. It could happen someday but it's not in the five-year plan."
So what else is in the pipeline?
"I have plans, but none that I can share at the moment," he says. "I'm just happy being back in the game. World domination is on the back burner!"


BEST OF THE BUNCH
Big Bunch Hawkes Bay Sauvignon Blanc 2014 $19.95.
This attractive Hawkes Bay sauvignon expression is ripe and rounded with tropical notes of guava and mango laced with cut grass and underpinned by some zingy citrus. From advintage.co.nz, blackmarket.co.nz, Blanc, Belmont Liquor.
Big Bunch Hawkes Bay Merlot 2013 $24.95.
Another big ripe wine from John Kemble's new label, with a ripe and fairly concentrated dark-fruited palate of black cherries and blackcurrant, with notes of dark chocolate and a lick of plush tannins. From advintage.co.nz, blackmarket.co.nz, Blanc, Belmont Liquor.
XYZin Old Vines Zinfandel California, US 2013 $16.99.
For anyone missing John Kemble's zinfandels here's an extremely well-priced example from his old stomping ground of California. It's rich and juicy, with spiced and supple ripe black plum and raspberry fruit. From Glengarry and select wine retailers nationwide.
Share this:
More Food & Drink / Wine & Drink