Wine: Christmas Cheers
Jo Burzynska presents the perfect gift list for wine-lovers, hop-enthusiasts and bon vivants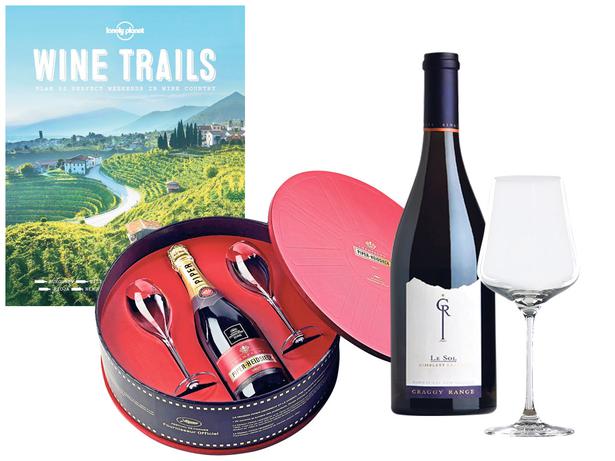 Saturday Dec. 12, 2015
For the Traveller...
Lonely Planet's Wine Trails
A book that was arguably begging to be written for wine travellers is now a reality with the recent publication of Lonely Planet's Wine Trails. This accessible guide explores 52 wine regions around the world, suggesting weekend-long itineraries in each created by its contributing travel writers, sommeliers and wine buyers.
As well as covering popular regions such as Tuscany and Champagne, the guide ventures into less well-charted territory. This includes France's emerging Jura region and its eclectic wines and Georgia's Kakheti area and its ancient winemaking traditions. Closer to home, it also covers Central Otago, Hawke's Bay and Marlborough. Presenting a good range of interesting producers in each region, alongside suggestions on where to stay and eat, notable tourist attractions and wine festivals. $36.99 from book stores.
For the Film Buff...
Piper-Heidsieck Movie Reel
One of the best looking Champagne gift sets this season is an impressive movie reel box housing a bottle of Piper-Heidsieck and two glasses. What's inside the bottle is as characterful as the packaging, with its crisp citrus and green fruit notes counterpoised by a rich toastiness and hint of lemon curd. $89.99 from Glengarry.
For the Collector...
Craggy Range Le Sol 2013 Magnum
What better gift for a sophisticated lover of local wines than one of the finest red releases from the stellar 2013 Hawke's Bay vintage in a larger format? This 1500ml collector's bottle contains the esteemed estate's top syrah; a silky textured wine that layers elegant red plum fruit with notes of sweet spice, herb and leather over a bright line of acid and fine tannins. From craggyrange.com or finewinedelivery.co.nz
For the Ultimate Host...
Gabriel Glass
One of the most stylish wine glasses on the market, the Gabriel Glass not only looks great, but was designed by Swiss wine writer Rene Gabriel to heighten the drinker's perception of a wine. Gabriel says the secret is in the "bouquet drive" at the bottom of the glass, which enhances the development of aromas in all styles of wine. After using this fine, light and slim-stemmed glass myself, I found it certainly proved the case. $30 for a single glass, $60 for two glasses in a presentation box from gabrielglass.co.nz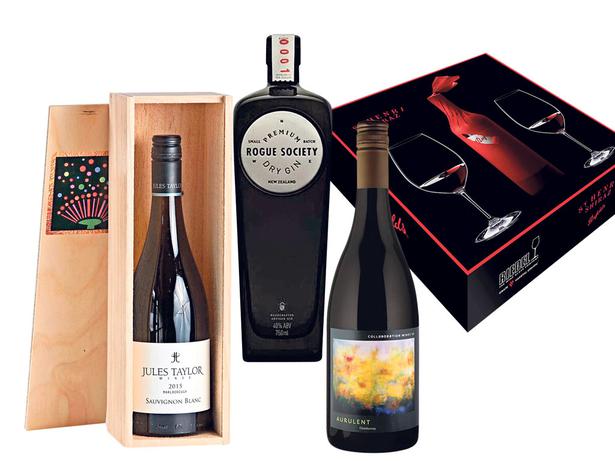 For the Sav Lover...
Jules Taylor Marlborough Sauvignon Blanc 2015 Box
Most of us will have a sauvignon blanc drinker to buy for. This classic example — with its notes of nettle, passionfruit and mineral — comes packaged in its own neat wooden gift box.
$24.99 from Glengarry.
For the Gin Fan...
Rogue Society Gin and Glasses
Gin is one of the most on-trend spirits of the moment and New Zealand is now the source of some fine examples. Rogue Society is one, boasting a well-balanced blend of botanicals in which punchy notes of juniper are to the fore. This bottle comes with a pair of appropriate glasses.
$99.99 from Glengarry.
For the Aesthete...
Collaboration "Aurulent" Hawke's Bay Chardonnay 2013
The Collaboration in question is between Hawke's Bay winemaker, Julianne Brogdan and Californian artist, Angela Tirrell. Brogdan's Aurulent is a pure and poised chardonnay, with notes of crisp grapefruit, mineral, nut and hint of toasty oak. The label sports one of Tirrell's equally attractive and richly textured abstract paintings.
$35 from The Village Winery and collaborationwines.co.nz
For the Aussie Aficionado...
Penfolds St Henri Shiraz 2012 Riedel Gift Pack
One of Australia's iconic wines, the 2012 vintage of Penfolds' St Henri Shiraz was my favourite of all the historic label's latest top collection releases. It pipped Grange to the post with its combination of ripeness and restraint, in a finely structured palate of fresh black plum fruit infused with fragrant notes of pepper and szechuan pepper, and a hint of smoke. Awesome on its own and extra special when accompanied by the two generously proportioned Riedel Vinum Shiraz glasses in this gift pack.
$149.99 from Caro's Wines, Fine Wine Delivery Company and First Glass.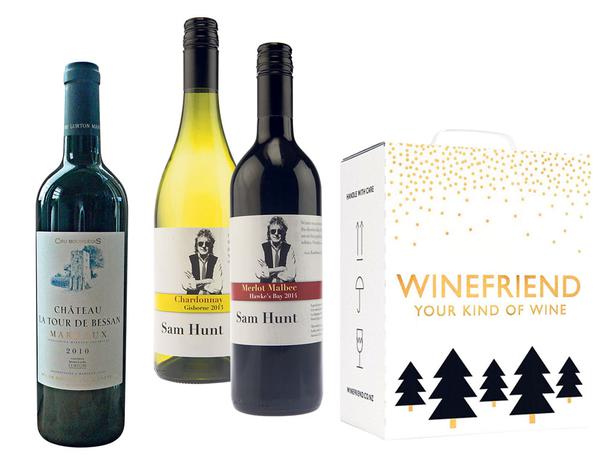 For those Who Like it Large...
Chateau La Tour de Bessan Margaux, Cru Bourgeois Bordeaux 2010 Magnum
A magnum not only offers double the joy of a standard size bottle, its lower ratio of oxygen to wine is also widely regarded as enabling wine to age more slowly and evenly. This one contains Marie Laure Lurton's classic cabernet sauvignon-dominant assemblage from Bordeaux's acclaimed 2010 vintage. It's ripe and fresh with blackcurrant and berryfruit combining with notes of dark chocolate, graphite, roasted spice and green olive, supported by supple tannins.
$80 from wineimporter.co.nz
For the Poetically Inclined...
Sam Hunt Wines
"Putting a verse on a bottle allows the poem to have another life other than being in a book locked on a shelf somewhere," says poet Sam Hunt of the idea behind his new range of wines. Its sauvignon blanc, pinot gris, chardonnay, pinot noir and merlot malbec feature lines from his poems and a QR code that takes people to a performance by Hunt with David Kilgour and The Heavy 8s. For poetry or music lovers on your Christmas list, these come as a special pack that includes two of the wines and a copy of The 9th, the album recently released by Hunt and Kilgour with the Heavy 8s.
My picks from the range are the Sam Hunt Hawke's Bay merlot malbec 2014, with its ripe and smooth dark berry fruit and the creamy Sam Hunt Gisborne chardonnay 2013 with its attractive hint of nut. $69.95 from Wine and More and winetime.co.nz
For a Wine Friend...
Wine Friend Christmas Case
Wine Friend is an online wine retailer recently launched by wine writer, Yvonne Lorkin and wine marketer, Debbie Sutton, that uses an eight-question taste survey to help it select wines that suit customers' tastes. However, "Chief Tasting Officer" Lorkin has made the selections in this special Christmas Case, based on their ability to pair with seasonal fare.
Lorkin explains that it contains a new sparkling wine to toast the season; a sauvignon blanc to serve with seafood canapes; a rich, tropical viognier to have with glazed ham or roast chicken; a silky pinot noir to pair with turkey; a merlot for red meats and a decadent dessert wine "that'll have everyone tucking in to trifle or pavlova with gusto". Each wine features a neck-tag complete with Lorkin's tasting note and "dinner party one-liners", plus festive serving suggestions. $169 including delivery from winefriend.co.nz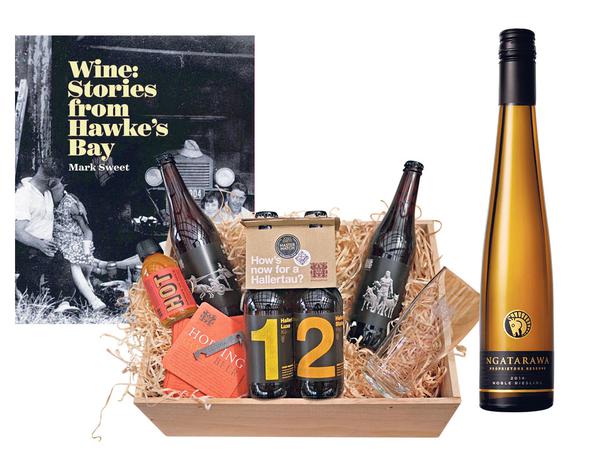 For the Historian...
Wine Stories from Hawke's Bay by Mike Sweet
As one of the country's longest-established wine regions, with its first vines planted by French missionaries in 1851, Hawke's Bay has more wine history than most. It is charted in this engaging tome that starts with the region's religious beginnings, journeys through its dark ages of unripe and dilute wines and on to its renaissance, driven by a dynamic group of winemakers from the mid-70s, before finishing with its period of "flourishing" today.
The stories are told through historical research and interviews with key contemporary figures, such as the "red queen", Jenny Dobson, Trinity Hill's John Hancock and Craggy Range's Steve Smith. These sit alongside some fascinating archival images and new photography by Tim Whittaker.
Te Mata Estate's Peter Cowley also adds a "winemaker's perspective", providing a current snapshot of the region and detailing how the soil, climate and human influence combine to create the wines of the country's second largest wine region. A good read for anyone interested in New Zealand wine past or present.
$69.00 from winestorieshb.co.nz
For the Ale Appreciator...
The Hallertau Hamper
Auckland brewery Hallertau has assembled a hamper full of hoppyness, which abounds with some of its classic beers, plus extra treats. The beers include a pack of the "First Four" numbered beers: the fresh and punchy Luxe Kolsch, herby Statesman Pale Ale, malty Copper Tart Red Ale and chocolaty Deception Scwarzbier. There's also the Maximus Humulus Lupulus India Pale Ale with its well balanced bitterness and the tropical and nettle-y Stuntman Imperial India Pale Ale.
The hamper also contains a bottle of the super-spicy Hallertau Hot Chilli Sauce (an orange habanero sauce made exclusively by Fire Dragon Chillies), a 400ml Willi Becher Hallertau branded German beer glass, a tempered steel embossed Hallertau bottle opener and a handful of Hallertau coasters.
$80 from hallertau.co.nz
For Your Sweetheart...
Ngatarawa The Proprietors Reserve Noble Riesling 2014
From one of Ngatarawa's upper wine tiers, its Proprietors Reserve Noble Riesling delivers a marvellously intense melange of honey and dried apricot wrapped in a midweight wine with a sweetness that's perfectly counterpoised by its fresh lemony acidity.
$39 from Advintage, branches of Nosh, The Village Wine Trader, Waiheke Wine Centre, Wine Villa Kelston and selected New World stores.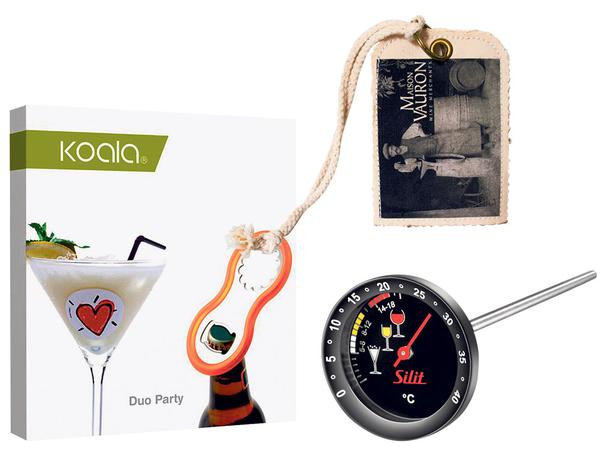 Koala Party Ready Gift Pack; Bordeaux Chateau Luggage Tags; Silit Sensero Wine Thermometer. Pictures / Supplied.
STOCKING FILLERS
Koala Party Ready Gift Pack
Ideal for summer celebrations, the Koala Party Ready Gift Pack includes a set of eight glass identity markers to ensure there's no vinous mix-ups over the festive season, as well as a funky ergonomic orange bottle opener designed for liberating both screw caps and beer closures.
$9.99 from Glengarry.
Bordeaux Chateau Luggage Tags
Featuring famous Bordeaux chateaux such as Margaux, Mouton-Rothschild, Lafite and Talbot, these fun writeable fabric tags can be used as key rings or luggage labels. $12.50 from Maison Vauron.
Silit Sensero Wine Thermometer
Recipients of this specialised thermometer can get wine serving temperatures spot-on using its accurate readings and displays of the ideal temperature ranges for sparkling, white and red wines.
$39 from michaeljoyce.co.nz
Share this:
More Food & Drink / Wine & Drink