Wine: Difference Makers
Studies continue to confirm New Zealand's special place in the world of wine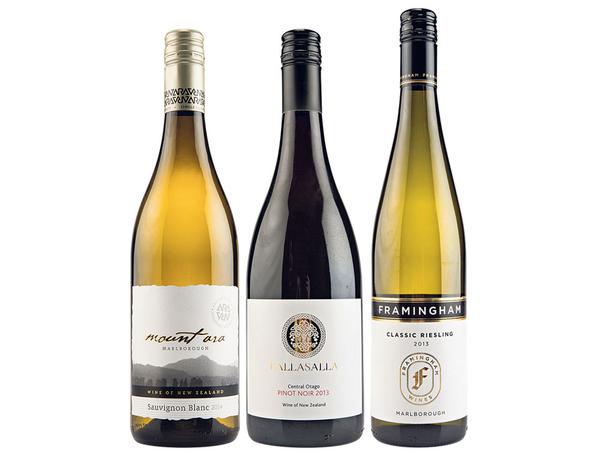 Saturday Aug. 29, 2015
There's nothing quite like New Zealand wine. It's a statement that's not just marketing puff or unsubstantiated opinion, but something supported by a growing body of scientific studies that are deconstructing our wines to understand what's behind their unique characters.
In the competitive world of premium wine, where quality has been rising across the board, it's not good enough simply to be good any more, wines need to offer something special. Fresh vibrant fruits and gutsy aromatics have been the driving force behind the success of New Zealand wines, which have gone from being zeros to international heroes in a matter of decades.
Take our sauvignon. It has achieved global superstar status and become synonymous with New Zealand as no other country makes anything like the powerful, pungent and punchy styles that Marlborough in particular can produce. This is something the multi-million-dollar government and wine industry Sauvignon Blanc Programme, which began in 2010, has sought to understand and explore.
A 2007 survey using professional and consumer tasting panels highlighted that Marlborough sauvignons really do stand out from the crowd. "Marlborough sauvignon blanc wines are noticeably distinctive in their predominance of capsicum, sweet-sweaty, passionfruit, passionfruit skin, tropical, apple and stone fruit characteristics," concluded the study by Cynthia Lund and Michelle Thompson (now Beresford).
Compounds called thiols have been identified as a crucial part of Marlborough sauvignon's singular style. Studies have revealed that levels of the thiols 3-mercaptohexanol (3MH) and 3-mercaptohexylacetate (3MHA) responsible for its characteristic tropical passionfruit notes are far higher in Marlborough sauvignon than examples of the variety from any other wine region in the world.
Pinot noir is another variety with the potential to vividly reflect the signature of place where it's grown. Its affinity with our land has resulted in an array of examples that range from the deeply coloured and fruit-driven examples of Central Otago to the more structured pinots from Martinborough.
This combination of pinot noir with varied sites and soils, which have a definite effect on the concentration of aromas and flavours, is something else that's starting to be delved into, especially as pinot noir takes on character as vines age.
Even New Zealand's yeasts are something else, as results of local research led by Dr Mat Goddard revealed. The study showed that our vineyards boast a genetically distinct population of the main wine yeast, Saccharomyces cerevisiae, which also varies subtly from region to region and may well be feeding into our wines' variety.
Rather than sitting back to bask in the popular appeal of New Zealand wines, the wine industry is busily investigating forces that shape them. It's proved they really do have something special. The fruits of these studies mean they just keep getting better.


SPECIAL STYLES
Mount Ara Marlborough Sauvignon Blanc 2004 $15.99
A gold medal winner in the recent Spiegelau Wine Competition, this lovely example of our benchmark sauvignon blanc displays mouth-filling notes of passionfruit, zesty lime and hit of herb. From Countdown.
Ballasalla Central Otago Pinot Noir 2013 $29.95
Central Otago makes the most easily identified of our pinot noir styles with its deep colour and concentrated fruit. This is an elegant and great value example with its core of dense cherry and plum fruit, tangy freshness and hint of green herb and florals. From Cambridge Fine Wines, Super Liquor Newmarket, First Glass, Frog in a Barrel.
Framingham Classic Marlborough Riesling 2013 $25
New Zealand also does well with other cool-climate varieties, such as riesling. This example from Framingham is a classic both in name and nature. Beautifully balanced and off-dry, it displays fresh and delicate peach fruit, an attractive mineral intensity and gentle grapefruit grip to its finish. From Caro's, Glengarry, Advintage.
Share this:
More Food & Drink / Wine & Drink