Wine: Dog Point's journey to greatness
Dog Point celebrates 10 years in the industry with a tasting of every wine they've ever made, writes Jo Burzynska.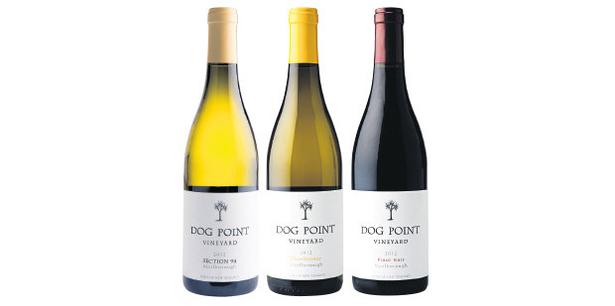 Thursday Nov. 27, 2014
"You can't call your wine a dog!" declared an Australian distributor when James Healy and Ivan Sutherland showed him plans for their new label. "We were mildly panicked for a while, but then thought 'bugger it'," recalls Healy. A decade later and Dog Point has established itself as an iconic name in New Zealand wine.
Healy and Sutherland have been celebrating 10 years of Dog Point by hosting a series of tastings featuring every wine the label has ever made from the 2004 vintage onwards. I was lucky to attend the one held last month on their home turf, in Marlborough, which offered a fascinating insight into the wines and the people behind them.
Dog Point has become such an intrinsic part of New Zealand's fine wine scene, it feels like it's been around forever. But then Healy and Sutherland are no Johnny-come-latelies and hit the ground running after honing their skills as winemaker and viticulturalist respectively at Cloudy Bay.
Sutherland and his partner, Margaret, were industry pioneers in Marlborough, planting grapes there in the late 1970s. They met Healy - who helped develop Cloudy Bay's paradigmatic oak-influenced Te Koko sauvignon - and his partner Wendy while working at Cloudy Bay, with the four of them establishing Dog Point in 2004.
In the early days Dog Point almost became synonymous with its flagship Section 94 sauvignon, a distinctive barrel fermented style with a signature of rich tropical fruits, spice and flint. As highlighted by the strong line-up of the wine dating back to 2004, it hit the right note from day one.
"Continuing on from Cloudy Bay we were a little apprehensive that we could be making another Te Koko," admits Sutherland, "so we were totally rapt when we got that grapefruit and minerality in the Section 94.
"People get surprised as it's an alternative and different expression, but now we've really got a following for it."
"I've been making these wines for 22 years and at first you throw everything at them," Healy explains of how his approach has developed. "But when you've been working with wine for such a long time you work out what you don't want to add."
In the pinot noirs in particular the tasting illustrated how Healy had been refining the winemaking, moving to less oak influence and use of the grape stems in the ferments for added structure and fragrance.
Also of importance is what's been happening in the estate's vineyards, which now number eight and include key pinot territory of the Southern Valleys.
These were converted to organics in 2009 and, like many in the region, now boast promising new clones of pinot from the variety's heartland of Burgundy.
"What you're seeing is the evolution of pinot in the valley," says Sutherland.
"This is due to clonal diversity and the age of vines, which are now well over 20 years old. We strongly believe age improves the structure of the pinots, especially with the Dijon clone influence in there."
Dog Point chardonnay is another wine that's crept in to become one of the country's finest examples. Though many tire quickly, the tasting also confirmed Dog Point's were maturing most gracefully.
"We love chardonnay and we enjoy making this wine," says Sutherland. "We've wanted to make more and will be able to from this coming vintage as we've just got another vineyard back that was previously leased."
The next generation is now coming into the business, with the vineyard team headed by dynamic younger viticulturalist Nigel Sowman and Sutherland's son, Matt, in charge of the company's international sales and marketing.
I'll desist from ending with an allusion to old dogs and new tricks, as it's clear Dog Point is all about moving forward and measured evolution - and like those initial canine concerns, this would only come back to bite me.

BE MY DOG
Dog Point Vineyard Section 94 Marlborough 2012 $36
One of my favourite vintages so far of Dog Point's flagship sauvignon, displaying classic Section 94 mouth-filling mango and papaya fruit; notes of herb, smoke, flint, a subtle toasty edge and racy grapefruity acid.
Dog Point Vineyard Marlborough Chardonnay 2012 $36
A restrained and elegant chardonnay that's still very youthful and tight with promising notes of mineral and nut supported by a powerful grapefruit acidity.
Dog Point Vineyard Marlborough Pinot Noir 2012 $42
Wonderfully fragrant floral aromatics thread the complex and supple palate of this pinot that combines notes of red and blueberry fruits with clove spice and savoury undercurrent.

• All wines available from Caro's, Farro Fresh, Glengarry, New World Devonport, Bacchus Cellars, Liquorland: Newmarket, Forrest Hill & Pukekohe, Hamilton Wine Company, Grantley's Liquor Merchants and dogpoint.co.nz.
Share this:
More Food & Drink / Wine & Drink