Wine: Georgia on my Mind
Fashionable wines bring an ancient region into the spotlight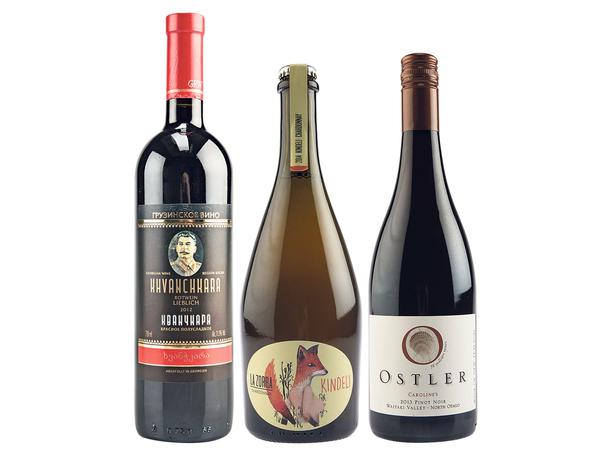 Wednesday Nov. 25, 2015
Amphorae and orange-hued wines have become the big beard and plaid shirt of wine hipsterdom. So when I catch up with clean-shaven, un-checkered winemaker Valeriani Gamtkitsulashvilis of Georgia, crossroads of western Asia and eastern Europe, I can't help but ask what he makes of the fact the ancient winemaking techniques of his country are driving an increasingly fashionable international category?
"There are so many ways of making wine. It's interesting to see people trying new things in different countries," he replies. He's here at an "Emerging Regions" wine tasting in London with a group of fellow Georgian winemakers to expand distribution for his own Twins Wine Cellar within the important UK market, and raise the profile of his historic winemaking homeland.
As one of the oldest winemaking nations in the world, with an unbroken viticultural history going back thousands of years, it seems odd that Georgia is considered "emerging".
However, under Soviet rule its wines were largely absorbed by the USSR. It was only with the Russian embargo on Georgian imports in 2006 that the country's wines were forced back on to the international stage, explains Master of Wine, Sarah Abbott at the Georgian wine masterclass she's hosting at the tasting.
"This 8000 years of history is our unique selling point," says Valeriani, while admitting it's still tough for his country's wines to enter an established market like the UK.
Twins Wine Cellar, in Georgia's main Kahketi wine region, has a long and interesting history itself. In the 1930s, Valeriani's family wine estate was confiscated by the Communists from his grandfather and made into a communal farm. Over half a decade later it was bought back by the family and Valeriani's father Gela Gamtkitsulashvilis and Gela's twin brother Gia restored the family cellar.
Along with other Georgian winemakers, the twins have been reviving some of the country's winemaking traditions. This includes fermenting white grapes with their skins to create amber-hued wines; a key reference for the current underground global trend of making "orange" wines.
"As well as extracting colour, which becomes a deeper yellow, this skin contact means you also extract fragrance," explains Eko Glonti of Lagvinari, another Georgian wine producer at the tasting. This is certainly evident in the heady perfumes of herbs and spices in the Georgian orange wines I sample, which combine the lightness of whites with the structure of reds.
Another ancient practice being embraced by the likes of Lagvinari and championed by Twins Wine Cellar is making wines in qvevri —clay amphora-like vessels buried in the ground to maintain a constant cool temperature for freshness.
During Abbott's masterclass and at the tasting I have the opportunity to compare wines from the same grape, vineyard and producer made conventionally, and from a qvevri. Conventional practices appear to result in fruitier wines, but more often than not I find I prefer those from qvevri with their more pronounced aromatics and softer tannins.
"Qvevri bring about perfume and you get more of the natural texture without the oak," Abbott says. "If you're used to drinking primarily fruity wines, these can seem a bit weird, but they're all about texture and the nakedness of the grape."
I've found Georgia's wines to be compelling in the past and this experience in London confirms how just exciting the country's wines can be. It's also testament to the fact these long practiced and refined techniques remain a highly relevant way of making wine today.
As more people adopt these methods around the world, I hope more heads will turn to the heartland of these techniques and discover the intriguing wines of Georgia that are an important part of this inspiration.

Mimino Khvanchkara Aleksandreuli, Ratscha, Georgia 2012 $29.99
There are very few Georgian wines currently available in New Zealand, but Auckland's Q-Liquid Liquor imports a selection, including this red made from the Aleksandreuli grape using conventional methods. Its label and semi-sweet style are a nod to the Soviet era. It's uncomplicated with ripe but light blackberry fruit and notes of spice and violet florals, and like many Georgian wines possesses a modest (11.5 per cent) alcohol. From skazka.co.nz, qliquidliquor.co.nz
Kindeli "La Zorra" Martinborough Chardonnay 2014 $30
A chardonnay yes, but not as you've most likely known it. This is one of a growing number of wines made in New Zealand from white grapes using the ancient technique of fermenting them with their skins. The result is an aromatic orange-tinged wine with notes of sweet spice and herb, apricot fruit and a dry grip of grapefuit zest on the finish. From alex@donwines.com
Ostler Caroline's Waitaki Valley Pinot Noir 2013 $59
From our own emerging region of the Waitaki Valley comes this wonderfully fresh and fragrant pinot noir. Notes of spice lead into a fine silken palate of bright plum and cherry fruit with an attractive savoury undercurrent. From Fine Wine Delivery Company, Point Wines.
Share this:
More Food & Drink / Wine & Drink