Wine: Gin Ag'in
Craft labels are pushing 'old timer's tipple' to the top of the cool list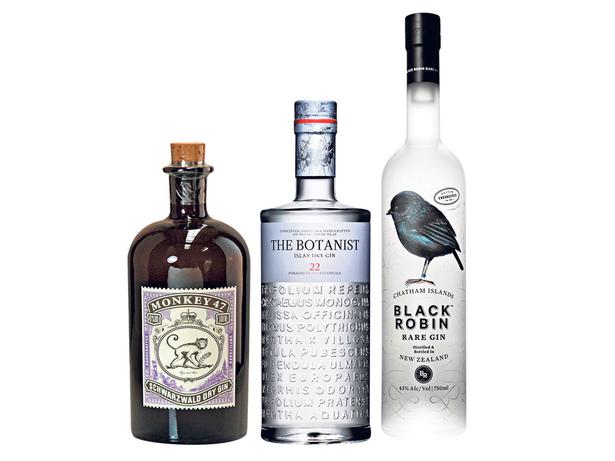 Saturday Nov. 21, 2015
It created a craze followed by censure when it appeared in the 18th Century. It was a key ingredient in cool cocktails of the Jazz Age before being written off as an old timer's tipple. Gin's history has certainly seen it ride the peaks and troughs of fashion, but today it's in the ascendant, propelled by an explosion in craft labels using an expanding array of exciting new ingredients.
"Gin is the fastest growing premium spirits category in the world," Hancocks' spirits ambassador, Matt Bradly tells me, while aptly in the middle of a series of national gin training sessions. "This is being driven by the amazing products as well as the top mixologists searching for great classic lost drinks."
"We're about three years behind here, but it's starting to catch on," he adds. "Gin is shaking off the shackles of being what your grandparents or parents drank and with these new brands, gin is becoming cool again."
Recent years have seen a proliferation of new products on the market. In the UK, whisky distillers have been diversifying into gin and making some seriously good examples. The US boasts a burgeoning craft distilling scene that's adding great new gins into the mix. And here in New Zealand, the likes of Rogue Society, Lighthouse, 1st Cut and Black Robin are producing awesome gins with a Kiwi accent.
"We use whey-based ethanol instead of grain, distill five times instead of three for softness and have a high note of horopito," says Simply Pure's Peter Darroch of the company's Black Robin Rare Gin. Since its launch less than two years ago, it's notched up numerous international awards and listings and Darroch is convinced that New Zealand has got what it takes to be a premium gin producer.
Horopito is something distinctive that New Zealand can add to gin's palate in an era that's witnessed the spirit being infused by a burgeoning array of botanicals. The juniper berries that give gin its classic flavour, and common companions such as citrus peel and coriander, are now being joined by an increasingly eclectic array of herbs, flowers and even vegetables.
"Gin could have been a boring category if it stuck to the core classic botanicals," notes James Millar of Vulcan Lane's cocktail-focused Gin Room. "The beauty of the category is the diversity of the flavours you can get, which is interesting for consumers and gives bartenders lots to play with."
Millar is part of Bombay Sapphire Gin's Project Botanicals that's running until November 22 in Parnell. He's mixing cocktails that highlight each of the gin's botanicals, which are matched further with dishes that echo this flavour.
Beyond cocktails, the diverse signature notes of these contemporary gins have inspired similarly varied garnishes for the once pedestrian gin and tonic. It's no longer just lime or lemon, but cucumber with Hendricks; thyme and lemon with The Botanist; Junipero and sugared rhubarb and Martin Miller's and mint… To name but a handful of combinations.
"If you're spending money on a good gin that doesn't contain a load of congeners and chemicals, don't go putting Schweppes in it with its sweetness and artificial flavours," advises Bradly. His preferred tonic is Fentiman's with its natural botanical flavourings. I'm personally a fan of the subtleties of Quina Fina, while Darroch recommends Black Robin with soda to maximise the taste of the botanicals.
However you like to drink yours, you'll likely have ever increasing options. New Zealand is starting to taste the renaissance happening across the globe for a spirit whose flavours are becoming as diverse as its fortunes.

MAKE MINE A…
I was lucky to attend a blind tasting of almost 30 gins from around the world. When the results were revealed, these were some of my favourites.
Monkey 47 $122
A staggering 47 botanicals go into the creation of this powerful and pungent gin from Germany's Black Forest. The result is an intriguing and complex spirit that's woody with almost medicinal herbal notes of pine and rosemary and lick of orange and lime. From Fine Wine Delivery Company.
The Botanist $89.99
This Islay gin is made using 22 local botanicals by Scotch whisky distillery, Bruichladdich. It's delicate with beguiling notes of rose and pot pourri and a zesty citrus edge. From Glengarry, West Liquor Stores and selected Liquorland and Super Liquor stores.
Black Robin Rare Gin $79.99
A beautifully balanced local gin in which juniper is joined by flavours anise, mint and citrus, root and bark, with a peppery bite from native New Zealand horopito. From Glengarry, Fine Wine Delivery Company, Super Liquor, Henry's, Herne Bay Cellars and selected Liquor King and Liquorland stores.
Share this:
More Food & Drink / Wine & Drink