Wine: Got the Love
Jo Burzynska finds sweet inspiration at a tasting of Loveblock wines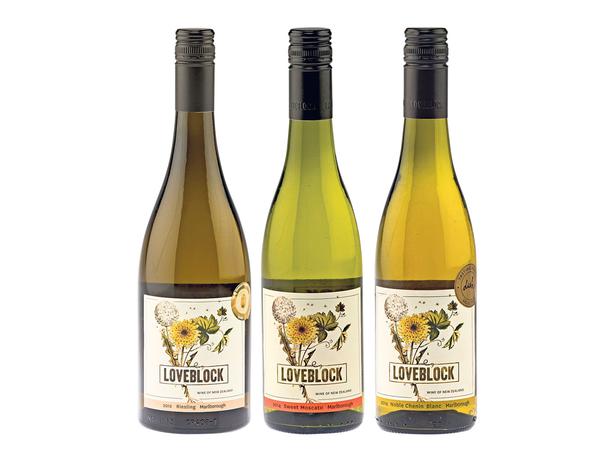 Saturday Jan. 16, 2016
I'm not a sweet person. But when an invitation arrived to an afternoon sampling Loveblock's sweeter wines with desserts created especially for them by chef Michael Meredith, the combination was just too seductive to resist.
Loveblock is the venture of Kim and Erica Crawford, started after Kim sold his eponymous brand. The couple planted vineyards and "for love and from love of wine" set aside one block perched on a high terrace in Marlborough's Awatere Valley for experimentation.
Recent seasons have seen this block — with its fruit salad of eclectic varieties from St Laurent to sauvignon gris — produce a growing range of sweeter styles. So to launch these latest lines, the couple decided to host a dessert degustation.
Sweeter wine with food is one of the trickiest pairings, as a dessert that's sweeter than a wine can make it taste sour and thin. With Loveblock's section spanning a sparkling moscato with just a touch of sugar to a luscious noble chenin blanc, I was intrigued to see what Michael would create.
"We tried the wines and came up with flavours in the desserts that complement the notes in the wines," Michael explains. "We also tried not to put too much sugar in the dessert as it takes the wine out of whack."
First up is an intriguing match of Loveblock's off-dry moscato brut with a dish of melons and tomatoes dressed with mint and citrus. On its own the moscato could do with a bit more residual sugar, but with the food it is propelled to new levels.
The mint harmonises with the wine's aromatics, the tang of the tomatoes and citrus with its acidity, while its sugar is balanced by the gentle sweetness of the melon. Wow!
In between courses the Crawfords tell us about some of the heartbreak they've experienced from this labour of a Loveblock. Initially completely organic, after bronze beetles ravaged the vineyard, they were forced back into managing some parts conventionally. High winds and springs that sprung up after an earthquake have also taken their toll, with one area decommissioned pending a rethink.
Thankfully the Loveblock wines themselves show no sign of these stresses and we embark on a fresh and floral gewurztraminer. Its spicy flavours and gentle sweetness are expertly counterpoised by Michael's dessert of buttermilk, walnut textures, grapefruit sorbet and ginger cake.
Then we move into true dessert wine territory, and this week's recommendations, with the Loveblock Marlborough Riesling 2012 ($24.99). Though Erica wanted this to be a bone-dry style, Kim had other ideas after tasting it when it was medium sweet.
It was a good call, creating a wine with notes of green fruit, spice and flint and a limey crispness that's a great foil for its soft honeyed sweetness. It is paired with a passionfruit puree, raspberries, compressed grapes and coriander flowers, which makes the wine feel even fresher and draws out more aromatics.
"In the good years New Zealand sweet wines are world-beaters," says Kim. "However, the challenge of sweet wines is balance: the acid we get in New Zealand is a gift, but needs to be balanced, in riesling for instance, with sugar."
Next is another moscato, the Loveblock Sweet Moscato Marlborough 2014 (500ml $29.99). This one's been made in a "Beaumes de Venise" style, using the same juice as the sparkling version, but fortified with spirit to 13.5 per cent while still quite sweet.
It's a beguilingly fragrant, concentrated muscat with notes of grape, lemon curd, ginger spice and nougat. Michael's match of rosemary ice cream, chamomile tea jelly, strawberries and a honeycomb waffle melds with, and further lifts, its perfumed characters.
"We need to help people select the wine and the match," says Erica, as despite the possibilities of ambrosially balanced wines and food matches like these, sweeter wines remain a hard sell. "I think it's a matter of educating ourselves and each other. Restaurants can play a major role here, as some are matching wine to specific desserts," she suggests.
We finish with the nectarous and intense "sticky", Loveblock Noble Marlborough Chenin Blanc 2014 (500ml $29.99), in which rich notes of dried apricot, baked apple and honey are cut with a wonderfully fresh line of grapefruit. For this, Michael opts for a classic juxtaposition with blue cheese, served with apple and apricot puree on a waffle that echo the flavours in the glass.
By the end of the tasting it is clear the sweet Loveblock wines have plenty of appeal by themselves.
Add well-suited accompaniments, and even someone with as savoury a palate as myself will leave resolved to reach for the dessert menu with more regularity.

• Loveblock wines are available from Glengarry and selected fine wine stores.
Share this:
More Food & Drink / Wine & Drink