Wine: Growing for Gold
The international wine community is bewitched by New Zealand sauvignon blanc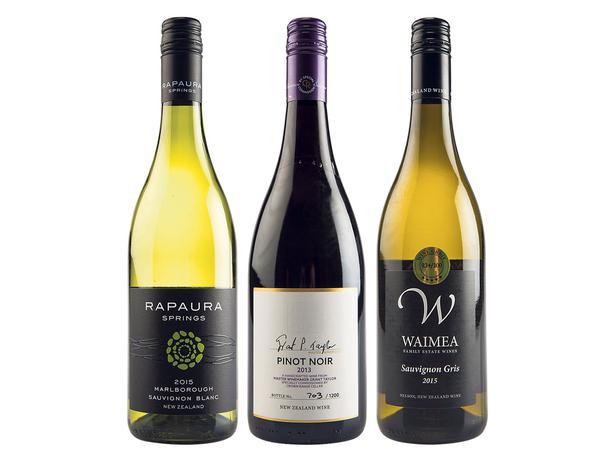 Saturday Oct. 10, 2015
There's a whiff of Harry Potter about the rapid rise of New Zealand's wines to fame. It's not the scent of "treacle tart, the woody smell of a broomstick handle, and something flowery he thought he might have smelled at the Burrow", or that the country's distinctively aromatic style of sauvignon blanc has bewitched so many of the world's wine drinkers.
Rather, it's the way the youthful protagonists of both were in danger of being typecast after portraying a single strong character so well, but are increasingly displaying their ability to take on diverse roles, something reinforced by New Zealand's recent wins at a major international wine competition.
It was a record-breaking year for this country at the Oscars of the wine world, the UK-based International Wine & Spirit Competition (IWSC). Not only did New Zealand take out the competition's top Sauvignon Blanc Trophy with Rapaura Springs Marlborough Sauvignon Blanc 2015, as well as the Pinot Noir Trophy for Crown Range Cellar Signature Selection Grant Taylor Central Otago Pinot Noir 2013, it also struck gold with one of the widest range of varieties and styles ever seen from us at the competition.
I was in Britain earlier this month as a judge and New Zealand panel chair for the competition, at which we have historically put in a strong performance, largely with sauvignon blancs and pinot noirs. However, this year it was encouraging to see that though these big stars again scooped the top awards, they were supported by a diverse cast spanning chardonnay to sparkling, pinot gris to gewurztraminer and syrah to sauvignon gris.
Local wine buffs may be well aware of the excitement currently emanating from the country's fragrant cool climate syrah, world class chardonnay, ambrosial aromatics and impressively pure expressions of varieties completely new to the country, such as sauvignon gris, gruner veltliner and albarino. But overseas, over 85 per cent of our wine exports are solely of our flagship variety. It's no wonder that for many foreign drinkers New Zealand is synonymous with sauvignon blanc.
That's no bad call, given the impressive reputation that our distinctive examples of this grape continue to maintain internationally. However, it's good to get the message out that it is just one part of the evolution of New Zealand wine that's already seen pinot noir join sauvignon as a key player.
Despite the fact that there's little over 100 hectares of sauvignon gris currently planted, it was the second year in a row that an example of this variety struck gold — this year from Waimea Estate. This pink-skinned mutation of sauvignon blanc is showing great potential, making wines that can be more richly textured and weighty than its more famous relative, while sharing a similar, if less pronounced herbal character.
Within the sauvignon blanc category itself, the competition's victors highlighted the diversity in styles now emerging within the variety. Rewind 10 years and the majority from Marlborough were made in the fruit driven ultra-pungent style with which the country made its name. Today there are more minerally versions hailing from the Awatere Valley, textural styles from the southern valleys and rich barrel-fermented examples that can be enjoyed with some age.
Our classic sauvignon blancs will continue to play a leading role in New Zealand wine, with serious parts now played by pinot noir. However, as the country graduates from its Hogwarts, the increasingly diverse and strong array of varieties beyond these will be an important part of the country's story.

• Jo Burzynska is a New Zealand judge and representative for the IWSC.


IWSC WINNERS
Star Sauvignon — Rapaura Springs Marlborough Sauvignon Blanc 2015 $14.99
A sensational sauvignon blanc that is poised and fresh with lifted aromatics of elderflower and green herb, vibrant notes of zesty lime and elegant mineral undercurrent. From the promising 2015 vintage, which Rapaura Springs owner Brendan Neylon describes as "one of the best in recent times". From Countdown stores, New World Birkenhead and Rototuna, Glengarry, Liquorland Albany and liquorlandfinewines.co.nz
Trophy Pinot — Crown Range Cellar Signature Selection Grant Taylor Central Otago Pinot Noir 2013 $150
This limited release wine made for Crown Range Cellar by Central Otago veteran and previous IWSC Pinot Noir Trophy winner Grant Taylor unfurls to reveal beautifully textured black cherry fruit infused fragrant notes of spice, herb, forest floor and smoke. Just the second vintage of this wine, which hails from a new company that commissions respected winemakers, such as Taylor, to make its wines from specially sourced fruit. From Great Little Vineyards, Glengarry and crownrangecellar.com
Outstanding Sauvignon Gris — Waimea Estates Nelson Sauvignon Gris 2015 $23
This ripe and weighty example of a lesser-planted variety was awarded Gold Outstanding.It boasts fleshy white fruit laced with notes of capsicum and herb. A fabulous, food-friendly alternative to its more famous relative. From Glengarry, First Glass and waimeaestates.co.nz
Share this:
More Food & Drink / Wine & Drink