Wine: Growing in Popularity
It's time to warm up to the wines of Spanish favourite tempranillo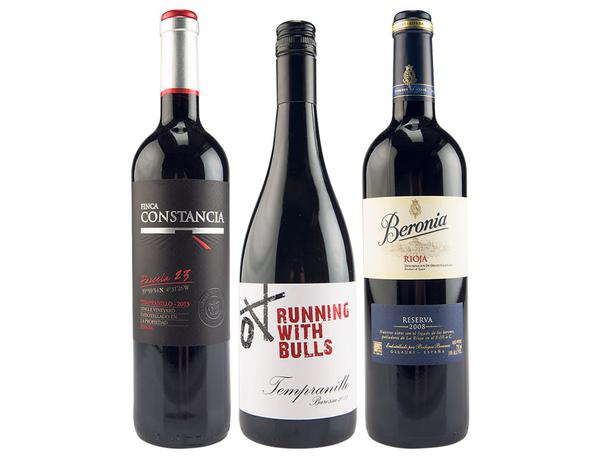 Saturday July 11, 2015
If you were asked to guess the fastest growing grape variety internationally, which has rocketed to number four in the world's winegrape charts, what would it be?
Syrah's been on a roll — or you might guess sauvignon looking at what's been happening here at home.
It is, however, tempranillo — a variety that was the subject of a recent masterclass by wine distributor Negociants.
It's a variety from Spain, which is where 85 per cent of its plantings still remain. But look at the database of regional, national and global winegrape bearing areas by variety, compiled by Adelaide University, and you can see that over the first decade of the 2000s it's been on the rise in Portugal and popped up in countries from Myanmar to Mexico.
Tempranillo has also been gaining traction in Australia and 20ha are now in production in New Zealand.
Although we didn't try examples from some of the variety's more eclectic outposts, we tasted our way through tempranillos from its classic Spanish regions, and from Australia and New Zealand. The tasting was accompanied by a commentary by Australasian winemakers working with the variety and the session's chair, Negociants' fine wine manager, Andrew Parkinson.
"There are three distinctive styles of tempranillo coming out of Spain, so it's far from homogenous, even in its home country," Parkinson explained. "As it's found in Australia and New Zealand, as well as the likes of Argentina, Chile and South Africa, we'll be seeing an even wider array of styles coming through."
This diversity was something witnessed in the wines we tasted. We started with an inexpensive example from Castilla La Mancha (see recommendations), one of Spain's largest and hottest regions, which increasingly has been the source of good value fruit-driven wines.
It was then on to rioja, one of Spain's most famous wines, in which tempranillo is a major component.
Evoked by Parkinson as "the soft cuddly red that the world understood", the two examples we tried highlighted that even within rioja, there is no single style. One was made in the more traditional style, with less focus on fruit and more on savoury characters and spicy oak. Pair this with slow-cooked meat and, for me, it's a match made in heaven, although not everyone in the room was convinced.
The other was a modern take, with a brighter fruit profile and light touch of oak, which unsurprisingly had more general appeal given local preferences for fruitier expressions.
Spain's third style was that of Ribera del Duero, a region that for years saw Vega Sicilia flying the quality flag almost alone. Though we tried an impressive example from its Bodegas Alion label, it's been joined by an increasing array of exciting producers making tempranillo wines that are cut from a more dark-fruited and firmly-structured cloth.
In New Zealand, we saw two very different examples — rich, earthy and rustic from Black Barn in Hawkes Bay and pure and peppery from Martinborough's Dry River — both strong examples in their own right.
"It's potentially a good variety for Martinborough," commented Dry River's Wilco Lam, who's holding off releasing the tempranillo he showed at the tasting until it develops more mature characters.
"We have a cooler climate and there's a cooler feel to our tempranillo."
As heat and warmth are something tempranillo needs, not all of New Zealand will be suitable for growing the variety.
This is not an issue in the warmer climes of Australia, where it's starting to take off in the vineyard and in the local market, says d'Arenberg's Toby Porter.
He noted that the greater accessibility of wines from Europe in Australia in recent years, combined with reality TV cooking shows stimulating an appetite for the exploration of new flavours, has seen new varieties such as tempranillo become more popular.
We're not quite as adventurous here ... yet. With more exciting tempranillos coming on stream from home and abroad, however, it's something we should be seeing more of and, hopefully, will embrace in the future.

Finca Constancia Parcela 23 Single Vineyard Castilla La Mancha Tempranillo, Spain 2013 $26.85
This well-priced example offers a great introduction to tempranillo with its bright, soft and juicy dark berry fruit and hit of sweet, spicy oak. From Liquor King Ponsonby and Hillsdene Wines.
Running With Bulls Barossa Tempranillo, Australia 2012 $28.95
An attractive Aussie expression that's soft and velvety, textured with ripe cherry and strawberry fruit and subtle spice and savoury character. From New World Remuera and Cambridge Fine Wine.
Bodegas Beronia Rioja Reserva, Spain 2008 $39.95
A modern style of rioja, with some weight and complexity to its rich but fresh palate of strawberry fruit, with a spicy, savoury undercurrent and hints of balsamic, sandalwood and mineral. From Liquorland Newmarket and Waiheke Wine Centre.


A TASTE OF TEMPRANILLO
• It often tastes of red fruit, such as strawberry and plum.
• It's a variety that can age well, with its wines developing savoury, meaty notes over time.
• It's often blended with the softer garnacha grape.
• Many are matured in oak, with a minimum period specified in a region such as Rioja, whose longest-aged gran reservas have to spend at least two years in barrel.
• If looking for less oaky examples, "joven" (young) or "sin crianza" styles have little or no time in barrel.
Share this:
More Food & Drink / Wine & Drink