Wine: Lighten up with low-alcohol wines
Low-alcohol wines are exploding on to the scene in increasingly palatable varieties reports Jo Burzynska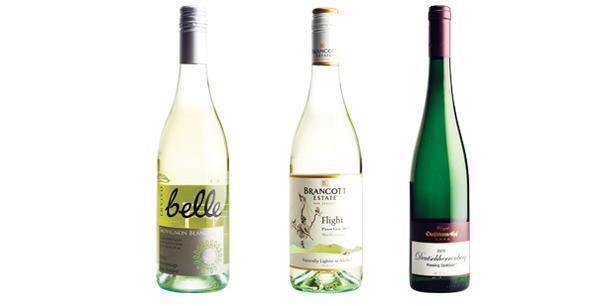 Thursday Nov. 28, 2013
As the season of excess looms large, solutions to keeping our alcohol intake in check and calories under control appear particularly pertinent.
This year, there's been an explosion of low-alcohol/low-calorie wines entering the market to assist in this endeavour. But where are these wines coming from, and do they taste as good as their higher-alcohol counterparts?
Alcohol is the culprit in most of wine's less pleasant side-effects. Consume too much and you could be the one waking up with a horrendous hangover after the office Christmas party, and hazy but horrifying recollections of the indiscretions of the night before.
As alcohol has almost twice the calories of carbohydrates and proteins, as well as delaying the body from dealing with calories consumed via other sources, the wave of food and booze that can so easy engulf one over the festive period can cause kilos to pile on. Given the amount of sugar in your average ripe wine grape, when fermented to dryness, most wines clock in above 12 per cent alcohol.
There are a handful of grape varieties that are naturally suited to making lower-alcohol examples, such as riesling and muscat/moscato, which can make beautifully balanced examples counterpoising their residual sweetness with a crisp acidity. However, new techniques in the vineyard and winery mean that making palatable, low-alcohol wines in drier styles from other varieties is now possible.
Internationally, these lighter wines have become big news. A recent report by Wine Intelligence found that across eight markets selected for study (the United States, Canada, UK, France, Germany, Denmark, Sweden, Switzerland) buyers of sub-10.5 per cent alcohol-by-volume wines now account for 38 per cent of consumers; that's more than 80 million regular wine drinkers.
Here in New Zealand, we've been slower on the uptake of low-alcohol wine. However, we're catching up fast with the category growing by 410 per cent (value sales MAT) between this year and the last, according to figures provided by Constellation Brands New Zealand, one of our largest wine companies whose lighter products - Kim Crawford's First Pick and the recently launched Selaks Breeze - now account for 80 per cent of the local low-alcohol wine market.
"The lower-alcohol and lower-calorie wines have been soaring in popularity in markets such as the UK and US," says Constellation's Nina Stojnic. "Locally, we identified that consumers are increasingly looking to take better care of themselves and embrace products that support their lifestyle choices.
"Based on this information we decided to further test some concepts with consumers in New Zealand and the results were very clear."
John Forrest is the category's Kiwi trail-blazer, producing his first 9.5 per cent sauvignon blanc five vintages ago. I asked him how he managed to make a sauvignon at such a low alcohol level that didn't just taste of unripe gooseberries.
"Through innovative research and development in the vineyard we can slow the rate of sugar production without slowing flavour development," Forrest divulges, "There are also a few winery tricks, by way of yeast selection, but nothing more."
I'd been pleasantly surprised by Forrest's sauvignon and decided to taste my way through most of the locally produced lighter wines on the market to see how they stacked up. This line-up of whites and rose wines - as no one seems to have cracked a local low-alcohol red yet - was definitely a mixed bunch.
As alcohol provides body and carries flavour, lower-alcohol wines by definition tend to be lighter in weight and taste. Some of the examples do indeed taste like thinner and often sweeter versions of their full-strength peers, which I found particularly unsuccessful in the sauvignon blancs.
However, the most impressive possessed true varietal character as well as decent weight and intensity. Although I'd still most often opt for the higher-alcohol version or reach for a riesling that so effortlessly makes low-alcohol wines, if you're looking for more variety at a low ABV, then the best of this new wave of lighter wines are worth exploring.

Top low alcohol picks from across the varieties:
Invivo Belle Marlborough Sauvignon Blanc 2012 - $19.95
My top-ranked sauvignon is made by Invivo, a winery on to its fourth vintage of this low-alcohol label. Its 9 per cent sauvignon - which claims to be 30 per cent lower in calories than the winery's standard sauvignon - displays the variety's classic flavours of passionfruit, herb and lime, and feels considerably drier and more mouth-filling than most of the other low-cal sauvignons. 
Available from Glengarry, Caro's, The Good Wine Co, Farro Fresh, New World, Liquor King, Point Wines and Cambridge Fine Wine.

Brancott Estate Flight Marlborough Pinot Gris 2013 - $26.99
With a hint of sweetness less out of place in pinot gris, the examples in my line-up looked better than the sauvignons. This 9 per cent example was in pole position thanks to its attractive notes of pear, spice and herb, and a pleasant viscosity. 
Widely available from leading liquor retailers.
Deutschherrenhof Trier Riesling Spatlese Mosel 2010 - $25.50
On the slight 9 per cent alcoholic frame of this naturally low-alcohol medium-style German riesling hang intense notes of nectarine, honeysuckle and marmalade, and fresh grapefuity finish. If you're looking for something with lower calories, choose a "Kabinett" style, made from grapes containing less sugar at harvest. 
Available from wineimporter.co.nz
Share this:
More Food & Drink / Wine & Drink