Wine: Lightning Strikes Twice
A century apart, brave pioneers have twice struck pinot gold at this stony patch of Wairarapa riverside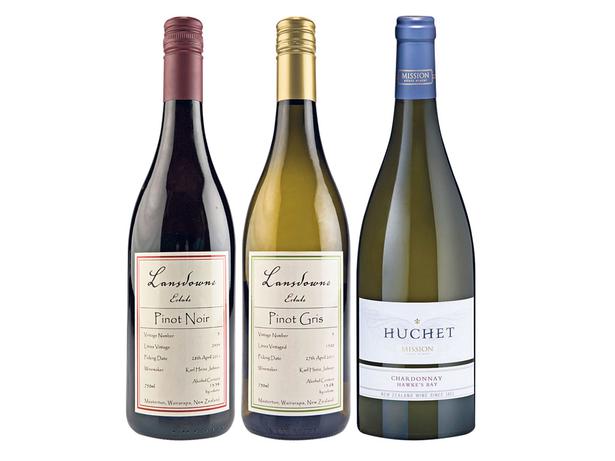 Saturday Aug. 8, 2015
When the International Wine and Spirit Competition announced its top pinot noir trophy had been awarded to a New Zealand winery, the name of the winner left me nonplussed: Lansdowne Estate. I'd never heard of it. However, on further investigation I tracked down the Wairarapa winery and uncovered a bittersweet tale of a world-beating pinot with a fascinating provenance.
Rewind about 130 years and British settler William Beetham and his French wife, Marie Zelie, planted a vineyard on land in the vicinity of their Lansdowne Homestead in Masterton. It contained some of the country's earliest plantings of pinot noir and was the first successful vineyard in Wairarapa. But its vines fell victim to prohibition in the early 1900s.
Almost a century later, in 1998, Derek Hagar found what he considered to be the perfect property to which his parents Margaret and Derek Hagar snr could retire — on the banks of the Ruamahanga River.
While there were no vineyards for miles, Derek jnr considered its land had potential for vines. This was confirmed by local viticultural expert, Linton McGill. What the Hagars didn't realise at the time was that his was not the first vineyard on the site.
"I read the history of Beetham's pioneering work and the clues were that he planted about a half mile from his house, towards the river, a description that applies to where we are," says Derek snr.
The deeds for his neighbour's property confirmed both properties were once owned by Beetham. Then, when he dug up a Victorian pump in the middle of the family's proposed vineyard site, it offered the final proof that the Hagars' land was "definitely over, or at least partly over, the original site".
After tasting the ethereal and savoury trophy-winning pinot and hearing about its historical site, I finally met up with Derek snr there, along with McGill.
As I looked down over the 2.4ha site, Derek snr told me of the family's struggle to establish pinot noir, pinot gris and syrah on this stony site, which sometimes required crowbars to remove the rocks. "It took us three to four years to plant, then seven years to get our first crop."
It became a joint project for father and son following a violent assault on Derek jnr in the UK, which saw him return to his family home to recuperate from a serious head injury in 2002.
"His health, both physical and mental, improved from day one," Derek snr says. "And for the past couple of years, he was making all the decisions, preparatory to taking over sole management, and he was thriving and relishing it."
However, tragedy struck on the night before the 2013 vintage, when Derek jnr suffered a brain haemorrhage connected with the attack and died instantly.
"I had to go on, as I had no one to turn to," Derek snr explains. "Also, I would have wanted Derek to go on had it been me. Our shared dream, our 11 years of hard, profitless work, had to be brought to completion.
"Imagine then, my thoughts, when told that we had won the trophy, and the gold medal, that Derek alone had the vision, the confidence and the hope to aim for."
While he says that the bitter outweighs the sweet, he has continued to tend this significant site.
"Derek said that we had the climate, the terroir and the will to produce the best wine in the Wairarapa and I think this has the potential to be known as one of the best vineyards, not only in the Wairarapa, but possibly the world," says Derek Snr. 
"If Derek had lived I would have handed the vineyard over to him. But as things stand, I'll continue to work with his legacy."

HISTORIC SIPPING
Lansdowne Estate Wairarapa Pinot Noir 2011 $45
Though the 2010 pinot has sold out, the 2011 is also impressive, sharing the vineyard's silky and savoury signature. It's an elegant, lighter style of pinot with an attractive freshness, delicate red fruits and notes of forest floor.
From Glengarry, Fine Wine Delivery Company.
Lansdowne Estate Wairarapa Pinot Gris 2011 $23
The Hagars like to release all their wines with some bottle age, and this is a great example of an older gris that still possesses plenty of freshness to its palate of crisp apple and pear, with a waxy hint and nutty nuances.
From Glengarry, Fine Wine Delivery Company.
Mission Estate Huchet Hawke's Bay Chardonnay 2013 $89
Another wine with a historic pedigree, this time from the country's oldest winery. Mission Estate, founded in 1851, celebrates its 30th chardonnay vintage with this limited release. It's opulent but elegant, with a creamy texture, ripe peach and rich notes of vanilla, toast and nut, tempered by a fresh undercurrent of citrus and mineral.
From Caro's, Fine Wine Delivery Company, missionestate.co.nz
Share this:
More Food & Drink / Wine & Drink