Wine: Liquid Luxe
The proud history of Mouton Rothschild is as impressive as its wonderful — if at times rather expensive — wines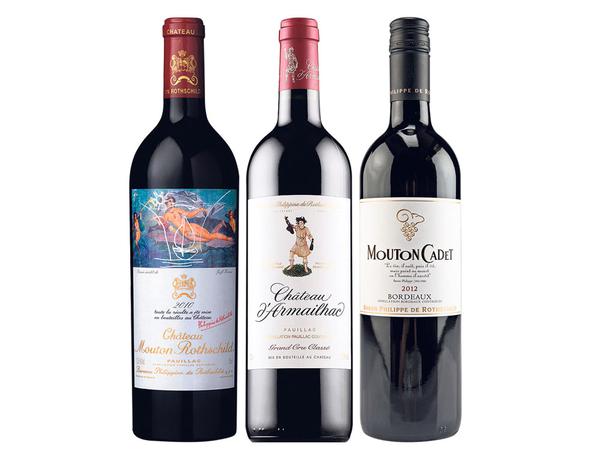 Saturday July 4, 2015
I recall feeling like Alice in Wonderland the first time I was offered a taste of one of the world's "great" wines.
"Drink me", it seemed to say, like the bottle Alice discovered, promising access to some kind of vinous Arcadia via a liquid of a quality I had never before experienced and could ever afford.
Although that experience two decades ago wasn't quite the epiphany I was expecting and I've since found much pleasure in far humbler wines, I'm always intrigued to enter these almost otherworldly echelons of wine and discover the stories behind them.
So I jumped at the chance to attend a tasting of one of the top Bordeaux chateaux, Mouton Rothschild.
As the lucky few filed into the tasting room of Glengarry's Victoria Park branch we were greeted by Erwan Le Brozec of the Baron Philippe de Rothschild group that owns the famed "First Growth", along with other respected chateaux. For someone responsible for sales of a wine the demand for which means it sells itself every year at a four-figure sum, he was affable and engaging, giving us a potted history of the group and its legendary labels.
Mouton Rothschild came into being in 1853 when Nathaniel Rothschild, son of a Frankfurt banker, bought the Brane Mouton chateau in Bordeaux's Pauillac subregion. He renamed it Mouton Rothschild and here its modern story begins.
Many assume the mouton in the name is a lowly sheep, as implied by the literal translation. Brozec set us straight: it comes from the Old French word for "little hill". The hill in question is certainly of petite proportions, a mere 28m, which is high in the flat terrain of Pauillac.
When the great 1855 classification of Bordeaux was made, which ranked the region's best chateaux into five classes — or "growths" as they are known — Chateau Mouton Rothschild missed out on the top "First Growth" classification. This was something Nathaniel's grandson, Philippe Rothschild, was keen to redress when he took over the company's reins in 1922.
Though this larger-than-life character dabbled in other pursuits — including grand prix racing and film production — he is best known for his achievements as a wine grower. In his quest to improve quality he was the first to bottle all wines on the estate, and in 1973 achieved his goal of seeing Mouton Rothschild become the first and only chateau to be promoted to First Growth.
Rothschild, a great art lover, left his flamboyant stamp on the look of Mouton Rothschild, which cuts a very different figure to the traditional labels of other top Bordeaux wines. Rothschild commissioned an artist to design a label for his flagship wine in 1945 to commemorate the end of the war, and that practice remains to this day.
Every vintage, works by artists who have included Pablo Picasso, Andy Warhol, and Jeff Koons, have graced its label — apart from the 1993, which saw the nude of the original design replaced by a blank on bottles sent to the prudish United States market.
Under Philippe Rothschild, then his daughter, Baroness Philippine de Rothschild, the company developed into an empire, buying the Bordeaux chateaux, d'Armailhac and Clerc Milon, establishing the Opus One joint venture with the Mondavi family in California and teaming up with Concha y Toro in Chile to produce the Almaviva label.
However, the jewel in the group's crown remains Mouton Rothschild, one of the world's most highly rated, highly priced wines. And it was this, along with its "second" wine, Le Petit Mouton de Mouton Rothschild, and vintages of the Clerc Milon and d'Armailhac, we were to sample.
I tasted a line-up including the beautifully maturing 2005 Mouton Rothschild and the seamless 2010 from this stellar vintage. I was struck by their elegance and depth, finding myself suddenly down the rabbit hole once more. However, unlike on that first occasion, these were wines that gave me the key to unlock that door.

Chateau Mouton Rothschild Pauillac Premier Cru Classe Bordeaux 2010 $1850
Still very tightly wound, this cabernet-dominant blend from a great vintage combines elegance with power. Unfurling to reveal brooding, rich cassis fruit infused with fragrant notes of sweet spice, liquorice and a subtle hint of violet, it's a seamless wine lifted by a vibrant undercurrent of acid and grounded by its firm but velvety tannins. From Glengarry.
Chateau d'Armailhac Pauillac Grand Cru Classe Bordeaux 2009 $140
From another chateau in the Baron Philippe de Rothschild group, this is another cabernet-dominant blend from a standout vintage, but with more merlot than its First Growth cousin. It is elegant and pure with an attractive freshness and a supple fruit profile that starts with blackcurrant and ends with a touch of kirsch-like richness on the finish, all underpinned by well-integrated spicy oak. From Glengarry.
Baron Philippe de Rothschild Mouton Cadet Rouge Bordeaux 2012 $20.45
If the two previous wines are beyond your budget or you're looking for a good everyday quaffer, then this entry-level red from Baron Philippe de Rothschild is a good option. It's smooth and juicy with blackberry and blackcurrant fruit and a hint of mint. From selected branches of New World, Pak'nSave and West Auckland Licensing Trust outlets.


WHAT MAKES A LUXURY WINE?
High quality: That goes without saying, but wines need to have more than just a wow factor to achieve luxury status.
Traditional provenance: Most are from long-established wine-growing regions in the Old World, often with hundreds of years of history behind them.
Long established names: Although cult wines can issue from lesser-known sources, luxury wines will hail from estates and makers that have built up their reputation over many years.
Rarity: Demand regularly outstrips their often very limited supply, although some top Bordeaux are produced in far higher volumes than New Zealand's most respected labels.
Expensive: As with other luxury products, their desirability sees them sporting price tags way above what they cost to make and market.
Share this:
More Food & Drink / Wine & Drink