Wine: Manna From Heaven
The Molloy family's faith in their winemaking venture has been rewarded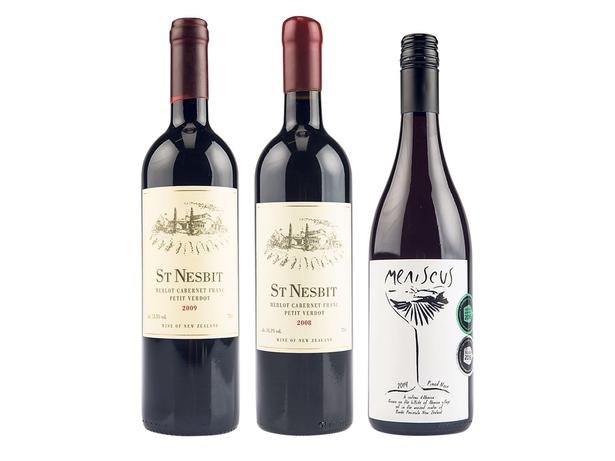 Saturday June 25, 2016
"In the canon law of the Catholic Church three miracles are required of a prospective saint," notes St Nesbit founder Tony Molloy. "We got things a little back-to-front, in that we canonised Nesbit and then waited for the miracles to turn up by way of confirmation. They duly did — our first three vintages produced two gold medals plus the trophy for the top high-priced red wine at the Royal Easter Show."
This was back in the 1980s, after wine loving lawyer Tony Molloy, QC, decided to make a great New Zealand red at a time when these were thin on the ground. Planting Bordeaux varieties on his property on the Manukau Harbour at Karaka, the patron saint of this enterprise was Molloy's late grandfather, the NZ cricket captain Nesbit Sneddon, after which the label and its single wine were named.
"It has always been a family affair. Right from the start Petra and our children have been involved in all aspects, from vine to bottle, both full and empty," he says. "The rigours of law often meant I would have to ask one or other of them to clear birds from the nets, do the plunging, topping up, etc. When it came to bottling, five children was quite a handy number as that's exactly how many it takes to run our simple, and slow, bottling line!"
"The greatest joy has been the sheer fun we have had as a family," reflects Molloy. "It was also very satisfying to have grabbed the opportunity we perceived in 1980 to participate in developing the then still largely unrecognised potential New Zealand had as a winemaking mecca."
It was a process that saw them study French viticulture and commune with international winemaking experts. In their quest for the best vine material, they imported their own rootstocks and become the first to bring in the petit verdot variety. They also developed their own unique fermentation tanks and experimented with and then embraced the vineyard's indigenous yeasts for their ferments. "We learned much, and had a ball doing it," says Molloy.
Times were not always heavenly though, such as when an initial misdiagnosis of leaf roll virus meant it spread across the vineyard. This resulted in much of the early block being grubbed up and several years of production being lost just as the label was really starting to hit its straps.
There was also one final blow to come that will sadly prove fatal. Though Molloy envisaged passing the estate down to his vinously engaged offspring for it to continue through future generations, St Nesbit has become a martyr to urban sprawl. The expansion of Auckland has seen the property forcibly rezoned as an "urban intensive" housing site, which means skyrocketing rates and neighbours unlikely to appreciate the sounds of a working vineyard.
The last wine was made in 2011, which the family may well keep for themselves. This makes the 2010, released at some point in the future, probably St Nesbit's final manifestation. "The fruit from the 2010 harvest was perhaps the best we've ever seen, and… has resulted in something, we think, is quite magnificent," says Molloy.
"Whatever happens, we'd like to go out on the same note we started on: with something bold, and expressive of the season and our place: with a wine that's long-lasting and alive, and most importantly, pays tribute to the kitchen table, family, and hospitality.
"Good wine is food. It's cost us a lot of money, but sustained us very well."

St Nesbit Merlot Cabernet France Petit Verdot 2009 $65
The current release of St Nesbit shares an Old World elegance with all the vintages I've tasted. It's a complex savoury style with velvet-textured dark berry fruit, notes of spice, tobacco and hint of chocolate. From Great Little Vineyards, The Village Winery, Liquid Experience, Finer Wines and Hamilton Beer & Wine Company.
St Nesbit Merlot Cabernet France Petit Verdot 2008 $75
St Nesbit's distributor, Great Little Vineyards — for which Molloy's son Sam works — also have small quantities available of previous vintages, such as the impressive 2008 with its plush cassis and black fruits laced with notes of roasted spice, mint and tobacco, supported by supple tannins. From Great Little Vineyards.

Meniscus Akaroa Pinot Noir 2014 $35
Another impressive wine from an artisan producer, from a 2ha hillside vineyard in Akaroa set up by missing millionaire Graham Vanstone. After Vanstone mysteriously disappeared before its first vintage in 1999 it was purchased by David and Gay Epstein and managed by French vigneron Renan Cataliotti. When I judged it at the Canterbury Wine Awards, I was impressed by its beautiful perfumed character — redolent of roses and exotic spices — which along with its fresh cherry fruit and silken texture, saw it awarded a top trophy. From meniscuswines.co.nz
Share this:
More Food & Drink / Wine & Drink