Wine: Pick of the Crop
Viva wine editor Jo Burzysnka selects the best wines of 2016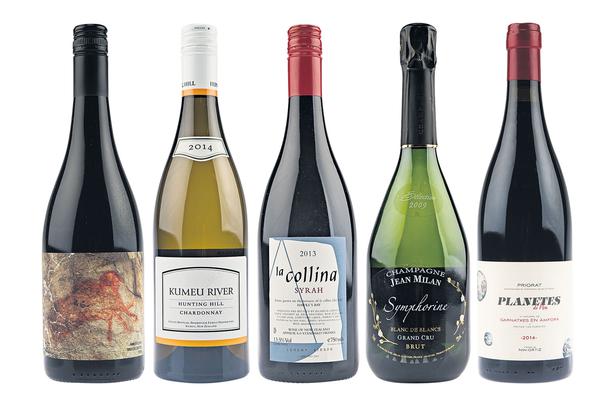 Wednesday May 11, 2016
Mammoth Nelson Pinot Noir 2014 $65
This first New Zealand release of the Mammoth pinot noir and only second vintage ever has thundered straight into this year's top 10. It's the personal label of Michael Glover, who after two decades making some of Australia's most compelling wines, returned to his Nelson roots last year to take up the position of winemaker at Mahana and pursue his own Mammoth project. The pinot hails from the "most masculine parcel of Mahana Vineyards", explains Glover, where it's dry-grown organically and made with minimal intervention. On first tasting it reveals itself to be a powerful style with opulent black cherry fruit and aromatics of peppery herb, sweet spice and cocoa over notes of earth, dried meats and mineral, supported by firm but velvety tannins. Decanted, it softens and fragrant notes of violet florals appear. A pinot with the structure to ensure it's in no danger of extinction in the decade to come. (Certified organic.)
Kumeu River "Hunting Hill" Kumeu Chardonnay 2014 $60
Consistently one of the best chardonnays in New Zealand, Kumeu River's single vineyard Hunting Hill is in pole position once again, which is no mean feat given the escalating quality of chardonnay made and available in New Zealand. Hailing from a site overlooking the winery's Mate's Vineyard, it's from a "generous" vintage that Kumeu River winemaker Michael Brajkovich considers to be "just about perfect". As always, the combination of this site and Brajkovich's well-judged winemaking has resulted in a chardonnay with great purity and intensity to its subtle white peach fruit infused with aromas of white flowers, well-proportioned notes of flint and nutty oak and propelled by a taut line of citrus. (SWNZ.)
Bilancia "La Collina" Hawke's Bay Syrah 2013 $130
The precipitous slope, "La Collina" in Hawkes Bay is home to one of the country's finest syrahs. Add a stellar vintage into the mix and the result is a stunning example of one of New Zealand's most promising up-and-coming varieties. This flagship wine is made in extremely low quantities, with the whole vineyard fitting into one open-top fermentation tank. Hand-picked and 100 per cent whole bunch fermented, the resulting wine is highly perfumed with notes of rose and star anise on both nose and palate, where its joined by dense but juicy plum fruit and muscular tannins. After seeing how well previous vintages have aged, with its structure and intensity, this will definitely be a vintage to cellar. (Organic — not certified.)
Champagne Jean Milan "Symphorine" Selection Blanc de Blancs Grand Cru Brut 2009 $118
A newcomer to New Zealand, but with a history dating back to 1864, Jean Milan is a small Champagne house based in the Grand Cru village of Oger in the Cote de Blancs. Making notable wines from grapes that were once sold to the likes of Krug, Jean Milan's refined vintage blanc de blancs is made from a 6-hectare estate from vines averaging 45 years of age. It's linear and fine with crisp citrus, green apple and white fruits, a light yeasty undertone and a chalky minerality.
Familia Nin Ortiz "Planetes de Nin Garnatxes en Amfora", Priorat 2014 $59.80
One of the most thrilling international finds of the year is this newly imported garnacha/grenache from the Nin-Ortiz family. Largely made from vines between 80 to 100 years old grown in one of the highest vineyards in Spain's eminent Priorat region, its wines are aged in traditional ceramic amphorae to which no sulphur has been added. An enthralling mix of bright, fresh and fragrant blackberry and raspberry fruit overlaid with hints of rose pot pourri, sweet spice and balsamic, with a rich savoury undercurrent and notes of leather, earth and mineral. (Biodynamic.)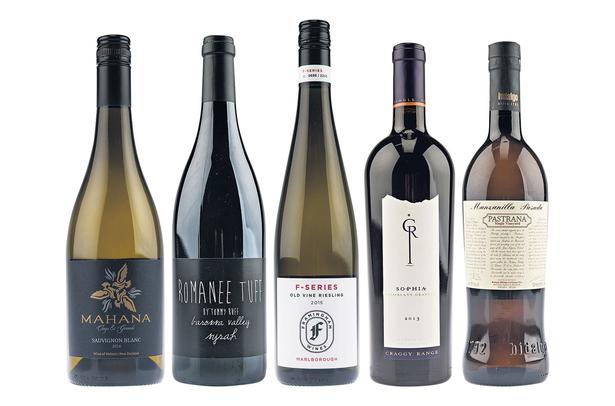 Mahana "Clays and Gravels" Nelson Sauvignon Blanc 2014 $35
It's exciting to see more wineries starting to push the boundaries of our flagship variety and take it into interesting territory. Mahana (formerly Woollaston) is one producer at the forefront of these explorations, with its reserve sauvignon again making it into the top 10. Though most sauvignon has its grapes' skins removed early in the winemaking process, in this example, they were retained throughout its wild yeast fermentation. This, along with time in old French oak barriques and new acacia puncheons, followed by further maturation on its yeast lees, has made for a remarkably textural example. Intriguing aromatics of smoked Earl Grey tea mingle with notes of herb, spice, flint and lemongrass that infuse a palate juxtaposing green fruits with tropical guava and papaya, underpinned by taut lime. (Certified Organic.)
Romanee Tuff by Tommy Ruff Barossa Valley Syrah 2014 $47
The choice of the French name syrah, rather than the shiraz used on most Australian versions of the variety is a clue to the style of this seductive example. Picked two weeks earlier than most in the region, prominent natural wine proponent Tom Shobbrook has created a wine with a fresh and edgy profile that flies in the face of the Barossa's traditional ultra-ripe oaky examples. Redolent of rose, anise, herb and peppery spice, this perfumed and super-silky syrah boasts vibrant fruits in the redder spectrum of sour cherry, cranberry and red plum, over hints of earth and mineral. An Aussie shiraz for pinot lovers. (Organic — not certified.)
Framingham "F-Series Old Vine" Marlborough Riesling 2015 $40
Framingham has a history of producing first rate rieslings, with its top F-Series range all about pushing the envelope. Its Old Vine Riesling is made from grapes sourced from the winery's organically grown 34-year old vines, something that's likely behind some of the sheer intensity of this characterful and complex dry riesling, cut from a more textural European cloth. Notes of apple and florals, nut and savoury are wrapped around its powerful steely citrus mineral core in a wine of real depth and elegance. (Made from organic grapes.)
Craggy Range "Sophia" Gimblett Gravels, Hawke's Bay 2013 $72.95
Craggy Range winemaker Matt Stafford was so excited by the potential of the merlot, cabernet sauvignon, cabernet franc and petit verdot he'd harvested in 2013 for the winery's flagship Bordeaux blend, he literally couldn't wait to show us. In 2014, I attended a media tasting at which he presented its components before the final blending, and now, having tried the final wine, I can report that the sum of these parts have indeed combined to create a very special wine. A captivating combination of richness and restraint, Sophia layers dense but elegant blackcurrant fruit with notes of savoury, herb, hints of sweet spice and sandalwood wrapped in fine tannins. Stafford thinks it's the best thing to come out of Craggy Range's cellars to date, and I'm inclined to agree. (SWNZ.)
Hidalgo Manzanilla Pasada "Pastrana" Sherry NV $44.95
This year I was lucky to try an amazing array of sherries and am thrilled to put one in the Top 50. The sherry tasting was in London, but I hope one day there will be enough appreciation of this fine fortified to see something similar happen here. Though there's not a huge amount of true sherry — from Jerez in Spain — available locally, thankfully one of my favourite manzanillas from Hidalgo is imported in small quantities. A single vineyard sherry made from the best juice, it's matured for around a decade in a solera then bottled "en rama" (unfiltered). Bone dry, it's a particularly richly textured and savoury manzanilla with notes of vegemite and bitter almond, hints of iodine and brine, and a fresh apple tang.
Share this:
More Food & Drink / Wine & Drink