Wine: Poppin' Bottles
Jo Burzynska looks at the myths and cliches of fashion's favourite drink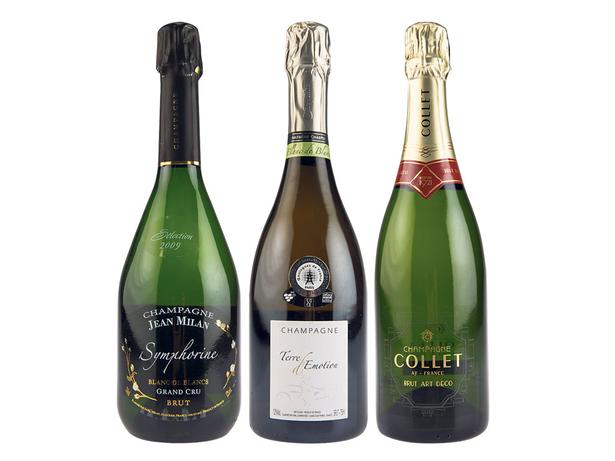 Saturday Aug. 22, 2015
"I only drink Champagne when I'm happy, and when I'm sad. Sometimes I drink it when I'm alone. When I have company, I consider it obligatory. I trifle with it if I am not hungry and drink it when I am. Otherwise I never touch it — unless I'm thirsty."
This was the famous response of Champagne house doyenne Lilly Bollinger to the question of when she drank Champagne. However, for most people, it's solely consumed at celebrations, one of the worst times to appreciate a good glass of bubbly.
Champagne is a subtle creature that can easily be overshadowed by the special occasions at which so many of its corks are popped. Its complexities are arguably better enjoyed on an occasion of its own, overturning the idea that it's essentially a celebratory beverage. This is just one of the many myths and cliches surrounding France's great sparkling wine, and here are a few more.

IT'S AN APERITIF
Champagne's high acidity may make it a refreshing pre-dinner drink, but it can be enjoyed throughout the meal. Classic combinations include with oysters, smoked salmon and caviar, but its crispness cuts through the fat of fried foods, such as fish and chips, with which it's a great match. Its savoury character and hint of sweetness pairs well with soy-dipped sushi and sashimi and it can even work with egg dishes, cheeses and meats — the London restaurant Bubbledogs is devoted solely to Champagne and hotdogs! It's fabulous with berry fruit and sweeter demi-sec and doux styles are suited to many desserts.

THE FRENCH MAKE THE BEST BUBBLES
Though some of the world's finest sparkling wines remain Champagnes, other countries are increasingly giving the region a run for its money, producing great examples. Cool climates, such as New Zealand's, have what it takes to produce impressive fizz and, as global warming takes its toll on Champagne, even chillier regions such as southern England might come into their own.

ONLY SERVE FIZZ IN A FLUTE 
Narrow flutes are a good glass for bubbles, but not the only option. The shallow Champagne "coupes" of yore may have been discredited for their tendency to flatten sparkling wines, but don't be afraid to experiment with different stemware. I personally prefer richer styles, such as vintage Champagnes, in a larger vessel.

SPARKLING WINE IS A FRENCH INVENTION
Though the French monk Dom Perignon is widely credited as being the man who put the fizz into Champagne, it appears the Brits beat him to it. Over two decades before Dom Perignon's "discovery" in the late 1600s, the scientist and physician, Christopher Merret documented how sugar and molasses were being added to wines to make them sparkling at a time when only England made bottles strong enough not to explode under the pressure.

GRAND MARQUES MAKE THE BEST CHAMPAGNE
This group of the most famous Champagne houses make some first-rate wines, but there are some exciting lesser known labels and "Grower Champagnes" being made, more of which are becoming available in New Zealand. These are made by smaller growers who make their own wines, often from single vineyards or areas, rather than selling grapes to go into the big blends of the larger companies.


These exciting Champagnes are worth creating an occasion of their own to enjoy:
Champagne Jean Milan Symphorine Selection Blanc de Blancs Grand Cru Brut 2009 $118
A newcomer to New Zealand, but with a history dating back to 1864, Jean Milan is a small Champagne house based in the Oger Grand Cru village, making impressive wines from grapes that were once sold to the likes of Krug. This vintage wine is linear and fine with crisp citrus and white fruits, a light yeasty undertone and chalky minerality. From Great Little Vineyards, Hamilton Beer & Wine Company, Cambridge Fine Wine, Send A Bottle.
Champagne Charpentier Terre d'Emotion Blanc de Blancs NV $82.95
A larger, but still lesser known Champagne house, Charpentier has 72 vineyards spread across the Marne Valley. Its Terre d'Emotion juxtaposes rich notes of almond cake with a fresh line of citrus and mineral. From The Village Winery, Fine Wine Delivery Company, Macvine International.
Champagne Collet Art Deco Brut NV $99
Another newly imported Champagne house, Collet's Brut Art Deco is an elegant and beautifully balanced Champagne, which combines notes of citrus, green apple and brioche wrapped in a creamy mousse. From Accent on Wine, Glengarry.
Share this:
More Food & Drink / Wine & Drink