Wine: Rise and rise of the riesling
Wine awards reveal intriguing local trends, writes Jo Burzynska.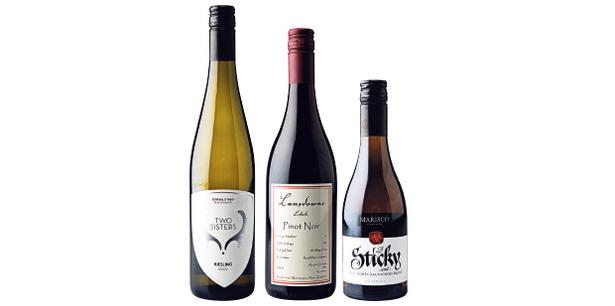 Thursday Oct. 30, 2014
With rieslings in pole position, a mature pinot noir from a historic site winning a top trophy and only one straight sauvignon blanc scoring a gold medal, the New Zealand results from the British-based International Wine & Spirit Competition (IWSC) released this month shone a spotlight on some interesting trends and stories.

Alternatives to sauvignon
New Zealand made its name through sauvignon blancs, but most are arguably not its finest wines. This was reflected in the results from the IWSC, whose international panels have no parochial leanings, and in which the only sauvignon that struck gold - apart from Marisco's two dessert expressions - was the Ara Select Blocks Marlborough Sauvignon Blanc 2012.
Although it was great that a slightly older sauvignon was rewarded, it was also interesting to see a sauvignon gris gain a gold, with Brancott Estate's Marlborough Sauvignon Gris 2014 becoming the first New Zealand example of this lesser-planted variety to win this top medal.
The breadth of varieties winning awards at this year's competition highlighted that New Zealand is no one-trick pony, and this greater diversity is something I welcome. This was reinforced by the fact two rieslings were also awarded gold: Framingham's Ribbonwood Marlborough Riesling 2013 and the Two Sisters Vineyard Central Otago Riesling 2009, the latter of which scooped the Single Vineyard White Trophy and the Jancis Robinson Trophy for Riesling.
Riesling revolution
I've said it before and I'll say it again, with the weight of the IWSC's results behind me: New Zealand is producing world-class rieslings, even if local drinkers haven't truly caught on to this yet.
"I'd like trophy awards, such as these, to stimulate New Zealanders to drink outside the square. To taste around a bit and see what's out there," says Two Sisters' Adam Peren, and I'd agree.
New wine from historic site
Another intriguing story that the results brought to my attention was prompted by Lansdowne Estate winning the Bouchard Finlayson Pinot Noir Trophy. I knew little about its wines and background before the award. Keen to learn more about this rela-tively new Wairarapa winery, I discovered that the pinot noir that went to make its trophy-winning wine was likely grown on the site of one of the country's earliest plantings of the variety from the 1800s.
Although it's widely assumed pinot noir is a relatively recent phenomenon in New Zealand, its history can be traced back to the 19th century. British settler William Beetham and his French wife, Marie Zelie, planted pinot on land that Lansdowne Estate's Derek Hagar has reason to believe is now part of his estate.
"No one can prove the exact delineation of the old vineyard, but we are definitely over, or at least partly over the original site," Hagar tells me. "We have long admired Beetham for his pioneering foresight and think it would have pleased him that Lansdowne Estate is reborn in the image of his original vineyard."
Coming of age
Bottles of Beetham's historic wines are still in existence, and one tasted in relatively recent times was pronounced as surprisingly fresh. Lansdowne's award-winning 2010 pinot noir is only the estate's second vintage, but in an age when many wines are not made to mature, I was heartened to see that they'd entered and achieved success at the IWSC with an older year.
Only one of New Zealand's highest-awarded wines at the IWSC was from the current vintage, with a notable dominance of slightly older years. New Zealand was initially known for wines best enjoyed in their youth, so making wines that age gracefully will garner greater respect as a premium wine-producing nation.
"Our policy is to hold each white for at least two years and each red for at least three years before selling," says Hagar. "Witness the wine from the original Lansdowne Estate which, a couple of years ago, was found to be eminently drinkable although over 100 years old."

INTERNATIONAL WINNERS
Two Sisters Vineyard Single Vineyard Central Otago Riesling 2009 $24
A riesling with great balance and intensity to its palate of white peach and zesty grapefuit that's also displaying delicious toasty honeyed mature notes. From Glengarry and twosisters.co.nz
Lansdowne Estate Wairarapa Pinot Noir 2010 $50
Beautifully scented and complex pinot noir with a silky gossamer-like texture whose elegant strawberry fruit is threaded with notes of forest floor, spice, dried meats, herb and violet florals. From lansdownewine.co.nz
Marisco Vineyards A Sticky End Marlborough 2011 $39.99
One of two delicious dessert sauvignons from Marisco that were awarded gold at this year's IWSC. There's a huge concentration to its decadently rich palate of passionfruit edged with citrus zest, which balances its sweetness with a vibrant freshness. From Liquor King and selected Super Liquor stores.

• Jo Burzynska is the New Zealand judge and representative on the IWSC.
Share this:
More Food & Drink / Wine & Drink