Wine: Screwy Logic
Jo Burzynska writes in defence of the screwcap closure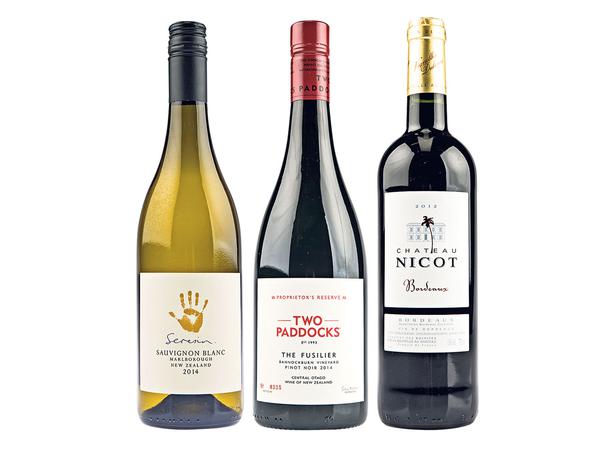 Thursday June 2, 2016
I'm always interested to hear feedback from readers, but was surprised by an email sent to Viva following the publication of my Top 50 Wines. In it, the author berated me for the inclusion of three of the wines in my top 10 due to their having what he appeared to regard as a fatal flaw… a screwcap.
"How can Bilancia's screw-top bottle of syrah and Mammoth's screw-top bottle of pinot noir, another ordinary screw-top bottle of chardonnay from Kumeu … be in the top 10?" he asked. Because they're truly great wines, is my response. To which I'd further add that to date the screwcap offers one of the best guarantees of preserving a wine's quality, which is why an estimated 95 per cent of New Zealand's wines now sport this closure.
Once upon a time screwcaps were mainly found on cheaper wines, hence some negative associations. However, growing dissatisfaction with corks led New Zealand to spearhead a modern screwcap revolution, underpinned by scientific trials and empirical evidence that highlighted them as one of the most reliable closures available. In 15 years this once-humble closure has come not only to be found atop most of our wines, but many of our finest.
My critic appeared to be au fait with New Zealand wine — informing me where I should have looked to find my top bottles — but I noted that he was actually based in Switzerland. This appeared somewhat ironic given that country ran some of the earliest screwcaps trials in the 1970s — spurred by issues with cork taint that affected their delicate local variety, chasselas — after which they were widely adopted there.
A reaction to widespread cork taint was one of the main catalysts of change here in New Zealand. The taint is caused by a compound called TCA that imparts musty characters to a wine and mutes its flavours — new research has found the latter is due to its suppression of olfactory channels. Another issue was the variability of cork — given it's made from a natural product, tree bark — that can lead to premature oxidation resulting in a wine losing its freshness and fruit and developing sherry-like flavours.
When the cork industry had a virtual monopoly on closures, it was slow to tackle the issue of TCA, its companies appearing to focus more on PR than R&D. However, the rise of the screwcap has prompted a recent wave of improvements.
These include technical corks — a consistent plug made of particles from which it appears most TCA can be removed — to natural corks processed using better methods. This has prompted some local wineries to return to cork on their red wines in particular, where the jury is still out over whether screwcaps are the best for the long-term ageing of these styles.
Despite winemakers professing confidence in their new cork supplies, I have experienced that tell-tale musty whiff emanating from a couple of top local reds under natural cork. This first-hand evidence keeps me in the screwcap corner for now.
However, advances are being made all the time. Major cork producer Amorim have just announced a "major technological breakthrough" in developing a system that it claims screens corks individually for TCA before they're sent out into the world. Previously, gas chromatography examinations took up to 14 minutes, so were too long to be used on an industrial scale. The system has been independently validated by Germany's Geisenheim University, so appears promising.
I certainly celebrate the improvement in closure quality and wouldn't be averse to cork if I were confident its issues had been fully addressed. In the meantime, I'd implore my Swiss correspondent to embrace the screwcap as a signal that the winemaker is using it in the pursuit of quality for his or her wines, rather than something signifying their lack.

Seresin Marlborough Sauvignon Blanc 2014 $26
A richly textured sauvignon — with a hint of semillon — from this organic and biodynamic producer, with notes of mineral, honey, praline and restrained green fruits underpinned by a fresh line of citrus. From Caro's, Advintage, Liquorland, Super Liquor and seresin.co.nz
Two Paddocks Proprietor's Reserve "The Fusilier" Bannockburn Vineyard Central Pinot Noir 2014 $75
The first single-vineyard wine from Two Paddock's new vineyard on Felton Road named after proprietor Sam Neill's father, who was a soldier in the Royal Irish Fusilier Regiment before becoming a wine merchant in Dunedin. It's a stunning debut with lifted aromatics of fresh rose and violet, greenery and spice, over silken and intense morello cherry fruit and savoury notes, supported by fine tannins and great acid drive. From Village Winery, Fine Wine Delivery Company and Hamilton Wine Company.
Chateau Nicot Bordeaux 2012 $17.99
Made in a modern sweetly-fruited style this great-value Bordeaux is packed with plush and juicy blackcurrant fruit infused with notes of earth and spice. The only wine under cork in this week's selection. From Glengarry and glengarrywines.co.nz
Share this:
More Food & Drink / Wine & Drink