12 Wines to Drink on Christmas
Festivities and warmer weather call for a special drop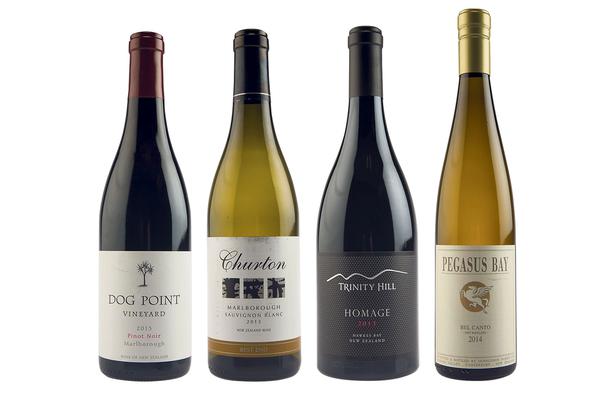 Saturday Dec. 5, 2015
Christmas is the time to splash out on special wines and these bottles are crackers. This delicious dozen is made up of wines that came top in my recent tastings and offer sensational seasonal drinking.
Dog Point Vineyard Marlborough Pinot Noir 2013 $45
Given the local love affair with pinot noir, most of us will be opening a bottle or two during our Christmas dining and Dog Point is one of the best. The recently released 2013 is another world class wine in which silken and fresh dark berry fruits are interwoven with fragrant strands of rose incense and herb, plus hints of savoury and game. A wine of great purity, poise and complexity. From Caro's Wines, Farro Fresh, Glengarry, New World Devonport, Liquorland: Newmarket, Forrest Hill, Massey Ave Pukekohe, Bacchus Cellars, Hamilton Wine Company, Grantley's Liquor Merchants.
Churton "Best End" Marlborough Sauvignon 2013 $47
Those seeking a very special sauvignon to grace the Christmas table would be well-served by this sensational debut from the "best end" of Churton's Waihopai Valley vineyard. It's a wonderfully creamy textured barrel-fermented example in which rich green fruits, notes of honey, nut, spice, blossom and herb are underpinned by a fresh note of lime. From Crafters & Co: orders@craftersand.co or mandy@churton-wines.co.nz
Trinity Hill "Homage" Hawke's Bay Syrah 2013 $120
Power and prettiness combine in Trinity Hill's flagship syrah from Hawke's Bay's top 2013 vintage. Aromas of rose florals and cracked black pepper on the nose go on to permeate its tightly knit palate of dense and satiny dark berry fruit with fine tannins and an elegant line of acid. One of the most impressive syrahs from an exceptional year. From Glengarry, Caro's Wine, Fine Wine Delivery Company.
Pegasus Bay "Bel Canto" Waipara Valley Dry Riesling 2014 $33
Dry riesling is one of the most versatile styles to have on hand — it not only makes a refreshing aperitif, but pairs well with seafood, shellfish, pork and spicy dishes. This powerful example from Pegasus Bay is one of my top picks, with opulent tropical notes of ripe guava counterpoised by fresh notes of grapefruit zest wrapped around an intense flinty mineral core. From Glengarry and all fine wine stores.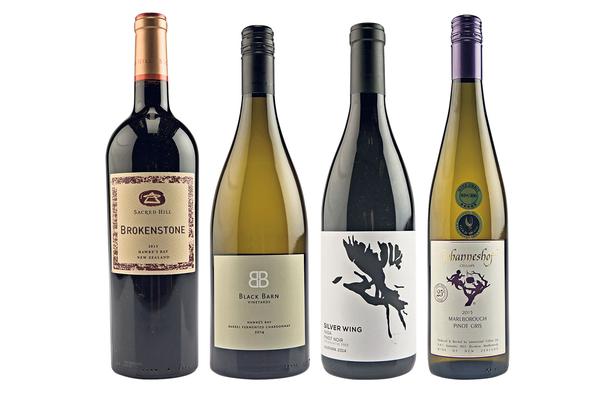 Sacred Hill "Brokenstone" Hawke's Bay 2013 $49.99
Another standout wine from Hawke's Bay's great 2013 vintage is this rich, ripe merlot-dominant blend (which also contains soupcons of malbec, syrah, cabernet sauvignon and cabernet franc). It's a super-concentrated wine with brooding dark berry fruit, notes of dark chocolate and aromatic spices supported by big but velvety tannins. Enjoy this now with red meats or lay down for Christmases to come. From Fine Wine Delivery Company, Caro's Wines, First Glass Wines and Spirits, Advintage.
Black Barn Barrel Fermented Hawke's Bay Chardonnay 2014 $35.99
Local chardonnays have been hitting real highs with the likes of this harmonious barrel-fermented example from Black Barn. There's depth and finesse to its weighty but taut palate of restrained stonefruits, fresh grapefruit, flinty mineral and a discreet and well-integrated sandalwood oak character. From Caro's Wines, First Glass Wines and Spirits.
Silver Wing "Nada" Preservative-Free Pinot Noir Waipara 2014 $29
If you or your guests have a sensitivity to the sulphur used in most wines, then this preservative-free pinot noir may be just what the doctor ordered. Even those without allergies will still enjoy this bright and supple Waipara wine with its black plum and berry fruit and notes of sweet spice, earth and mineral that's unfined, unfiltered and has no sulphur added. From Caro's Wines, Point Wines.
Johanneshof Marlborough Pinot Gris 2015 $28
A beautifully pure pinot gris from one of our pre-eminent aromatics producers. It's a cut above many of the rest with a real richness and elegance to its fresh palate of apple and quince fruit, notes of spice and fennel and touch of soft honeyed sweetness. From fine wine stores nationwide.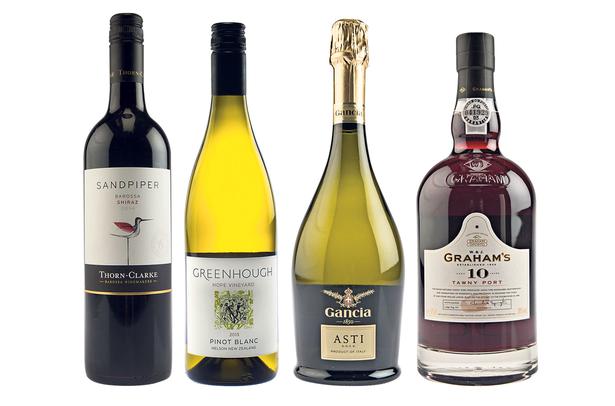 Thorn-Clarke "Sandpiper" Barossa Shiraz, Australia 2014 $18.99
With barbecues aplenty over the holiday season, it's good to get in some robust reds to pair with chargrilled flavours .Thorn-Clarke's Sandpiper is a great value shiraz with more depth than most at this price to its plush black plum and berry fruit, with hints of char and spice and meat-friendly tannins. From all fine wine stores.
Greenhough Nelson Pinot Blanc 2013 $34.99
An alternative to the ubiquitous pinot gris worth exploring is its white cousin, pinot blanc. Greenhough is one of just a handful of wineries working with the variety and makes an attractive example that's rich and creamy textured with notes of apple, white fruits, spice and nut and finishes with a fresh zing of citrus. From Caro's Wines, Point Wines, Glengarry.
Gancia Moscato d'Asti, Italy NV $19.99
Perfect with Christmas pud or mince pies, this medium-sweet Italian sparkler is a foil for their richness with its lemony fresh, floral and bright grapey character. It also makes for an excellent aperitif. From all fine wine stores.
Grahams 10 Year Old Tawny Port $77.40
Port may seem better suited to Northern hemisphere Christmases, but with its ability to be served lightly chilled, tawny is a style that translates well to warmer seasons. Graham's is a classic, with its notes of walnut, fruitcake, sweet spice and tobacco. From all fine wine stores.
Share this:
More Food & Drink / Wine & Drink