Wine: Sparkling Activity
Pop the cork on a fine bottle of bubbles and let the festivities begin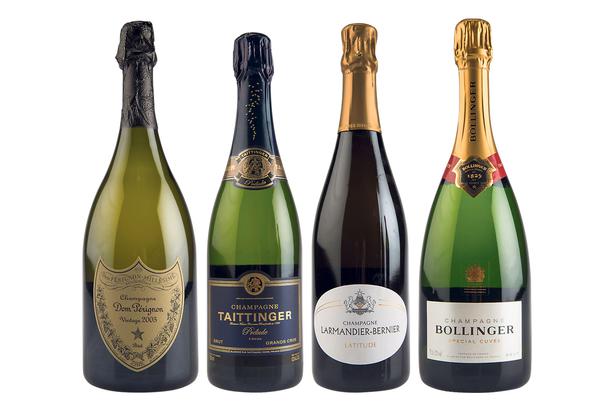 Saturday Nov. 7, 2015
"Every time you open a bottle of Champagne, it's a celebration, so there's no better way of starting a celebration than opening a bottle of Champagne," notes one of the protagonists in the entry on "Champagne" in David Levithan's The Lover's Dictionary. "Every time you sip it, you're sipping from all those other celebrations. The joy accumulates over time," she says, aptly evoking the strong associative powers of France's most famed sparkling wine, which will see it grace many a glass over the summer's festivities.
However, it's not just corks popping at parties as this connection has increasingly been made with sparkling wine more generally. So again in this party special, as well as recommending some top Champagnes from my annual blind tasting of bubbles, I've selected some stellar sparkling wines from outside this acclaimed region. Spanning a price range to suit all budgets, some are from elsewhere in Europe, while many hail from here in New Zealand.
Our own home grown examples are going from strength to strength, which joined by increasingly exciting imports, means there's never been a better and more diverse array of sparkling wines available. This ebullient enviroment is a product of the increased sophistication of our sparkling wine makers and importers, which should add even more to the joy of the country's sparkling wine drinkers this festive season.

CHAMPION CHAMPAGNE
Champagne Dom Perignon Vintage 2005 $240
Despite 2005 being a more challenging vintage in Champagne, Dom Perignon's quality shines through in its latest release. A taut and powerful wine in which subtle yellow fruits and notes of herb and incense are underpinned by a rapier-like grapefruit acidity that propels this impressive prestige cuvee to its long minerally finish. From fine wine retailers nationwide.
Champagne Taittinger Prelude Grands Crus NV $110
Made exclusively with the first pressings from Grand Cru vineyards and aged for over five years on its yeast lees, this equal part blend of Chardonnay and Pinot Noir layers notes of white flowers, nut, honey and spice, supported by crisp lemon and wrapped in a fine mousse. From The Fine Wine Delivery Company, Glengarry, Point Wines, Caro's.
Champagne Larmandier-Bernier Latitude Extra Brut NV $89.99
Grower Champagnes are made by vineyard owners from their own plots, rather than those made by the larger Champagne houses that blend grapes purchased from across the region. This beautiful biodynamic example from one of the region's top artisan producers is very dry (as indicated by its Extra Brut classification), taut and linear, with a chalky texture, crisp citrus fruit and a great mineral intensity. From Caro's.
Champagne Bollinger Special Cuvee NV $116
For lovers of more powerful and fuller bodied Champagne, Bollinger remains on top form. Rich notes of ripe apple and toasted hazelnut are juxtaposed with its fresh lift of citrus and mineral, resulting in a bold but harmonious Champagne. From Liquorland, First Glass Wines & Spirits, Gilmours, Liquor King, New World, Glengarry, The Fine Wine Delivery Company.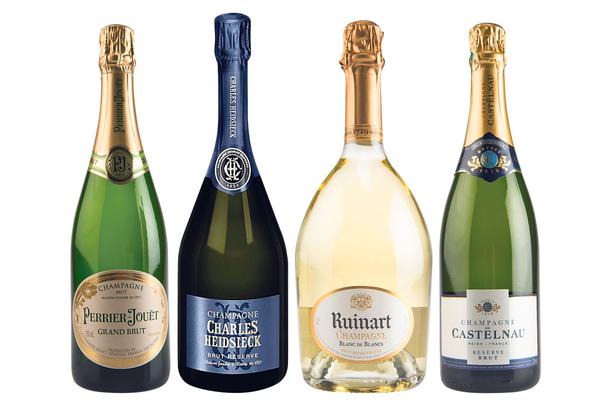 Champagne Perrier Jouet Grand Brut NV $106.49
Notes of apple tart and lemon are joined by an attractive yeast and praline undercurrent in this fine Champagne that finishes with a flourish of mineral and nut. From selected retailers nationwide including fine wine stores.
Champagne Charles Heidsieck Brut Reserve NV $94.99
A silky smooth Champagne that unfurls to reveal layers of apricots, flowers, lifted citrus and mineral, as well as some rich savoury and bread crust undertones. From Glengarry.
Ruinart Champagne Blanc de Blancs NV $100
From the oldest Champagne house, established in 1729, comes this ever-refined example. A restrained and creamy textured wine, with subtle notes of vanilla, apple and hazelnut. Available at fine wine retailers.
BEST BUY: Champagne de Castelnau Brut Reserve NV $59.95
New to our shores is this classy Champagne from Castelnau, which offers some of the best value drinking you can find from the region at this price. An opulent style, whose notes white fruits, rye bread and rich vegemitey savoury element are underpinned by a fresh citrusy acidity. From fine wine stores including Advintage, Centre City Wines and Spirits, Wine Villa Te Atatu, selected Auckland branches of New World.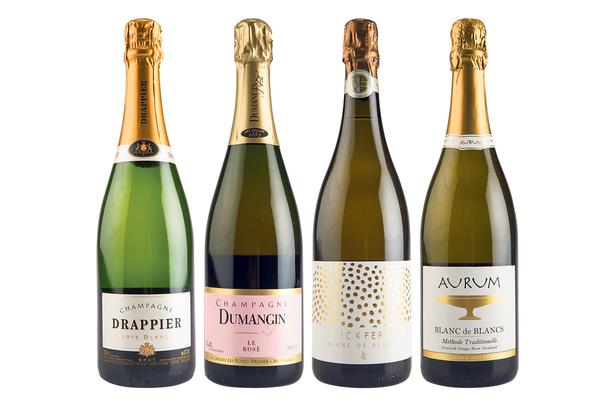 Champagne Drappier Carte Blanche NV $46.99
Drappier's Carte Blanche emerged as the best under-$50 Champagne in my sparkling tasting. There's a finesse to its creamy mousse, ripe apple fruit, notes of brioche and almond that belies its keen price tag. From Glengarry.
Champagne Dumangin Le Rose Premium Cru NV $75-$65
Dumangin's is a gorgeously gusty rose Champagne with complexity to its full-bodied palate with its notes of baked apple, raspberry and strawberry fruit that's threaded with fragrant notes of spice, herb and rose florals. From Village Winery, Liquor Quay, Hamilton Wine Company.

SUPERLATIVE SPARKLING
Rock Ferry Blanc de Blancs Marlborough 2009 $40
Impressive bubbles from this Marlborough-based organic producer made in a complex, rich and full bodied style in which robust notes of nut, rye grain and spice are cut by a vibrant line of grapefruit acid. From Great Little Vineyards.
Aurum Blanc de Blancs Methode Traditionelle Central Otago NV $34.50
Given the finesse of this Chardonnay-based sparkling, it's perhaps no surprise to find that there's a Frenchwoman behind it. Lucie Lawrence has crafted an example in which intensity and elegance are expertly combined, with richer almond notes counterpoised by a lifted citrusy freshness. From aurumwines.com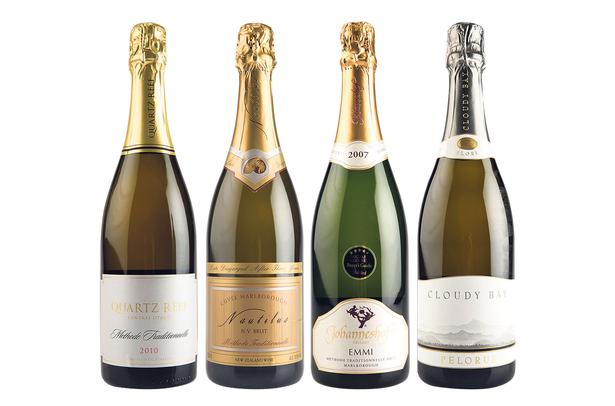 Quartz Reef Methode Traditionelle Vintage 2010 $45-$48
The latest vintage wine from one of Central Otago's great sparkling producers is another stylish release. Once again there's an appealing delicacy and purity to its palate with its notes of brioche, mineral and tight line of citrus that would give many a Champagne a run for its money. From Glengarry, Caro's, Point Wines, quartzreef.co.nz
Nautilus Cuvee Marlborough Brut NV $39
Many non-vintage (NV) bubbles are best consumed when fairly young and fresh. However, given there's no vintage date, it's often near impossible to know just how old any bottle is. Nautilus has helpfully overcome this by specifying the date it was disgorged — when the final yeast sediment is removed from the bottle which in this release's case, was May this year. It's another excellent iteration, where three years of beneficial maturation on its yeast lees has given it a nutty intensity married to notes of crisp apple, lemon and mineral. From Glengarry and selected wine stores.
Johanneshof Emmi Methode Traditionnelle Brut 2007 $38
A bolder but well balanced style of bubbles that's creamy, savoury and toasty with a racy note of tart apple and citrus. From Glengarry, Fine Wine Delivery Company.
Cloudy Bay Pelorus Rose NV $40
A seriously good rose that's understated in style with a lovely fresh lift to its delicate palate of raspberry and green apple fruit and hint of almond. From fine wine retailers.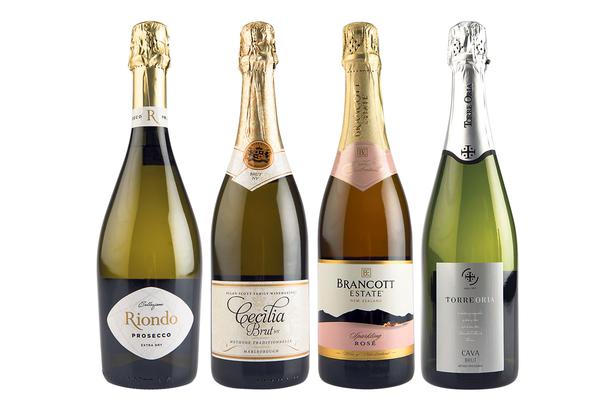 BARGAIN BUBBLES
BEST BUY: Riondo Collezione Extra Dry Prosecco $16.95
Already an international hit, we're seeing a growing array of Italy's most popular fizz, Prosecco available here; most of which are made in a crisp dry fruity style, rather than having the yeasty character seen in methode traditionelle wines. Despite its modest price tag, the Riondo is a first-rate example, with its creamy mousse and fresh palate of bright lemon, melon and acacia blossom. A pretty, pure Prosecco that's phenomenally well priced. From Blanc, Point Wines, advintage.co.nz, finewinedelivery.co.nz
Cecilia Methode Traditionnelle Marlborough Brut NV $23
Allan Scott is something of a sparkling specialist, with a range of examples including the Cecilia label, which seriously over delivers at its price. It's a wine with some good intensity to its toasty edged palate with its notes of tangy grapefruit and ripe apple fruit. From Glengarry, Big Barrel, Super Liquor and supermarkets.
Brancott Estate Sparkling Rose NV $17.29
A sparkling rose that consistently displays more richness and character than other examples under $20, with weight and freshness to its red berry fruit and savoury undercurrent of mushroom and vegemite. From leading liquor retailers nationwide.
Torre Oria Cava Brut NV $9.99-$12.99
For another year in a row this fresh little Spanish sparkler is one of my party picks. It's light and dry with notes of lemon curd and apple and a touch of yeasty complexity that few wines at this price can match. Amazing value. From Wine Direct stores and winedirect.co.nz, blackmarket.co.nz
Share this:
More Food & Drink / Wine & Drink