Wine: Special bottles to see you through the festive season
It's time to start stocking up on the wines that will be gracing your Christmas table. Jo Burzynska selects some special bottles to see you through the festive season.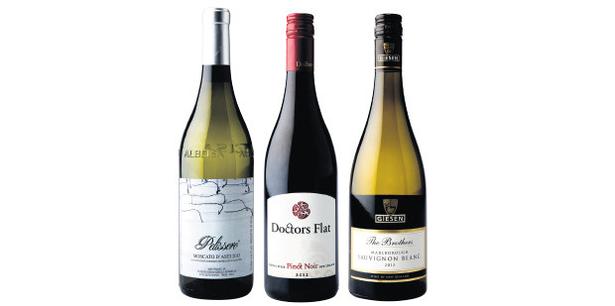 Wednesday Dec. 3, 2014
Pelissero Moscato d'Asti, Italy 2013 $25
Ease into Christmas Day with a glass of this great 5.5 per cent bubbly, with its gently sweet but fresh palate of grape, white flowers and sherbet lemon wrapped in a soft creamy mousse. It also makes a great aperitif and is the perfect match for mince pies and Christmas pudding. Find it at The Village Winery.
Doctor's Flat Central Otago Pinot Noir 2012 $46
Steve Davies has been crafting some stunning pinots from his Doctor's Flat vineyard since his first release from the 2008 vintage. Celebrate with his best to date, a silky, fresh and supple wine that unfolds to display layers of bright black cherry fruit, spice, earth, herb and mineral. Savour with roast duck, game or cold meats. Available from Caro's, Farro Fresh, Point Wines, Wine Circle, Blanc, West Harbour Wines, Kingsland Liquor, Cambridge Fine Wines, Liquorland Napier and Village Wine Trader.
Giesen The Brothers Marlborough Sauvignon Blanc 2013 $24.99
If you're seeking a stylish sauvignon for the festive season then this example from Giesen's premium tier "The Brothers" range should rise to the occasion. It's a sophisticated expression with some good weight to its palate of gooseberry and crisp citrus fruit fused with notes of jalapeno, savoury dried herb, smoke and flinty mineral. Enjoy with the season's salads, asparagus and seafood dishes. Available from New World supermarkets and specialty wine stores.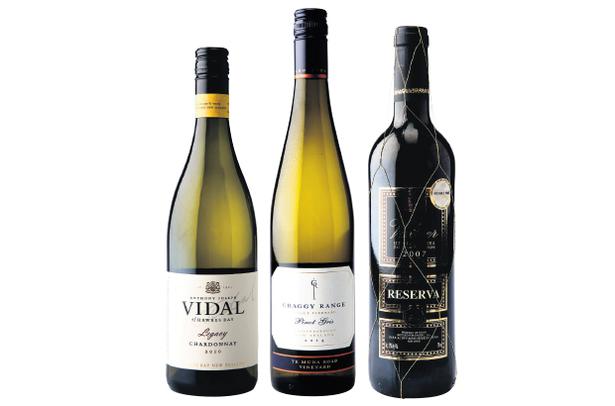 Vidal Legacy Hawkes Bay Chardonnay 2010 $60
When turkey's on the table, or chicken for that matter, a chardonnay should suit. At Christmas it's worth splashing out on something special, with this impressive chardonnay from Vidal's recently released ultra-premium Legacy range a refined choice for a festive feast. It's a powerful style with notes of white peach, spice, smoke and flint underpinned by a vibrant line of zesty grapefruit. Find at Glengarry, Caro's, First Glass, DFS Auckland and vidal.co.nz.
Craggy Range Te Muna Road Vineyard Martinborough Pinot Gris 2014 $26.95
Pinot gris fans looking for a real treat will be well served by this elegant new limited release from Craggy Range that's the result of three years of trials. It rates as one of my highest ranked gris of the year, with its wonderfully balanced crisp but creamy textured palate of fresh pear and quince laced with sweet spice and supported by an undercurrent of citrus and mineral. Great with roast pork and apple or vegetable dishes. Available from Caro's, Fine Wine Delivery Company, Point Wines, Glengarry and Wine and More.
Valtier Reserva Utiel Requena Tempranillo Bobal, Spain 2007 $16.99
It's great to be able to pull out a bottle of beautifully matured wine over the festive season and even better if it doesn't blow the entertaining budget. This incredibly well-priced and velvety textured 7-year-old from Spain certainly doesn't pull hard on the purse strings and delivers a mellow, savoury and strawberry-fruited mouthful that would be a marvellous accompaniment to roast lamb. From First Glass, Liquorland Forest Hill and Point Wines.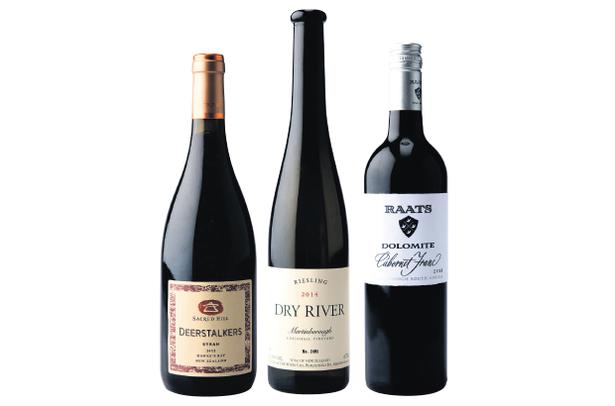 Sacred Hill Deerstalkers Hawke's Bay Syrah 2012 $59.99
Notes of exotic spices thread this fragrant wine and are joined by notes of black pepper and rose incense over a base of elegant, dense and fresh black plum fruit. A top local syrah befitting a top cut of beef or venison. From Fine Wine Delivery Company.
Dry River Craighall Vineyard Martinborough Riesling 2014 $44
Drier rieslings are one of the most versatile styles to get in over the entertaining season, given they'll go with seafood to spicy fare, salads to pork. The latest release from Dry River is highly impressive: taut, pure and refined with juicy notes of lemon and white peach, mineral and an attractive nuance of jasmine-like florals. Available from Caro's or mail order from dryriver.co.nz.
Raats Dolomite Stellenbosch Cabernet Franc, South Africa 2012 $32
Cabernet Franc is usually found as part of a Bordeaux blend, but in this fine example from South Africa it stands alone in all its glory. With its supple and juicy fresh red and dark berry fruit, and gentle savoury undertone, this food friendly style will work wonders with herb crusted or sauced red meats and hard cheeses. 
Find at Great Little Vineyards, Wine Direct, Village Winery and The Wine Barrel.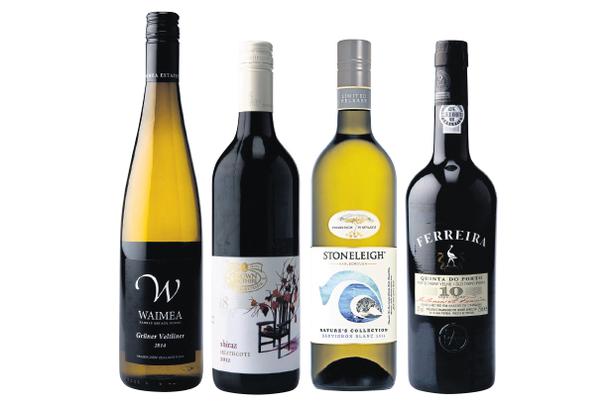 Waimea Nelson Gruner Veltliner 2014 $23
If you're looking for something different that can pair with a dizzying array of dishes, then why not give Waimea's gruner veltliner a go? It's an Austrian variety that's a relative newcomer to the country, with Waimea's crisp and intense expression displaying notes of white peach, citrus zest, mineral and herb. These are characters that mean it can handle Asian spice, salads with bitter greens, seafood and ham. Available from waimeaestates.co.nz.
Brown Brothers 18 Eighty Nine Heathcote Shiraz, Australia 2012 $18.95
Most of us will be firing up the barbecue over the summer break, with the charry character it bestows upon food requiring feisty but soft wine. A shiraz like this fruit-filled version from Brown Brothers is a classic barbie bottle, with its succulent and vibrant plum and dark berry fruit, laced with liquorice spice and cocoa. At supermarkets and liquor stores.
Stoneleigh Nature's Collection Marlborough Sauvignon Blanc 2014 $17.99
For those preferring their sauvignons in the more pungent spectrum, this example from Stoneleigh's new limited early release "Nature's Collection" range will not disappoint. It's packed with punchy green herbs, blackcurrant leaf, grapefruit and mineral with a zesty lift of lime. Sip with asparagus, salads and seafood. From liquor retailers nationwide while stocks last.
Ferreira Quinta do Porto 10 Year Old Tawny, Portugal $50
Tawny is the perfect summer port: it can be served lightly chilled and is not too heavy, like this tasty 10-year-old with its notes of nut, dried fruit and spice. Drink with Christmas cake, blue cheese, nuts or even a meat terrine. Available at The Village Winery.
Share this:
More Food & Drink / Wine & Drink