Wine: Spitting image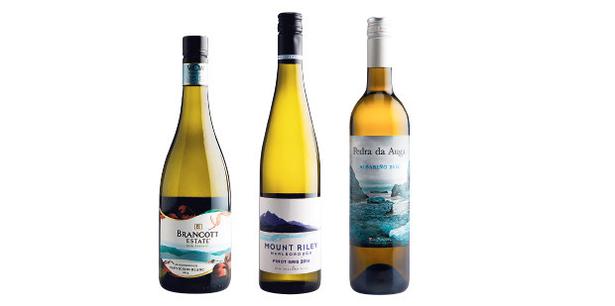 Friday Oct. 10, 2014
There's a sickening scene in American movie Sideways when the main character, Miles, picks up the spittoon in a winery tasting room and skulls its entire contents. This is most definitely not correct spittoon etiquette. However, for those visiting cellar doors over summer, when used correctly, this humble vessel can be a real asset.
There are good reasons why in some cases it's better to spit not swallow. As a professional wine writer and judge, if I consumed all the wine I tasted, I'd not only be doing a major disservice to my liver, but to my readers too as my judgment would certainly become clouded by the effects of alcohol. In some wine competitions judges can taste more than 200 wines (often twice), which makes the maintenance of sober judgments crucial if credible results are to be achieved.
Spitting may seem a little gross, but given the alcoholic content of wines, it's a practice that's generally accepted and indeed encouraged among wine professionals. You don't actually need to swallow a wine to appreciate its qualities.
After having a good sniff of its bouquet, take a mouthful that's enough but not too much, to swirl around your mouth so it makes contact with all your taste buds. Try to pass a little air over the liquid through your lips to take its aromas up to the olfactory receptors in your nose responsible for discerning the subtleties of taste. Then when your palate's got a good impression of the wine, purse your lips, aim and discharge into an appropriate container.
It's always good to have made a note of where the spittoon is before you take your first sip as asking questions with a mouthful of wine can prove messy. I must also admit to have embarrassingly erred in my expectorations - on a few occasions mistakenly using a water jug and ice bucket that were not being employed for the purpose.
However, at a good cellar door, spittoons shouldn't be that hard to spot and it's worth getting over any yuk factor and use them. If you're the designated driver, then it means you don't have to miss out on tasting the wines on your travels. Even if you're not driving, if you plan to visit a number of wineries in one day it's still a good idea and will ensure any wines that you buy will have been chosen with a clear head.
It's still possible to absorb alcohol through the mouth and ingest small quantities left after spitting, something worth noting if you're trying a lot of wines. However, a recent Dutch study showed that when subjects spat wine then rinsed their mouths with water, they absorbed only about 5 per cent of the alcohol of the wine.
So, when next confronted by a spittoon, although I would definitely not advise sipping from it like Miles, please don't be afraid to spit.

SIX FRESH WINES FOR SUMMER
Brancott Estate Marlborough Sauvignon Blanc 2014 $17.29
The World of Wearable Art is in full swing in Wellington and its winery partner, Brancott, has created a special label for this year's celebration. It's redolent of oregano with an attractive weight to its punchy palate of lime and blackcurrant leaf. 
From leading liquor retailers nationwide.
Mount Riley Marlborough Pinot Gris 2014 $16.99
This new vintage of pinot gris is another winner, with intense pear and stonefruit palate, honeysuckle, musk and lemon zest and whisper of sweetness. 
From Fine Wine Delivery Company, Herne Bay Cellars, Liquor Centre Kingsland, New World.
Pedra da Auga Albarino, Spain 2012 $20
Albarino is a Spanish variety whose crisp minerally wines make for perfect summer sipping. This one possesses some nice fleshiness to its palate of white peach and tangy grapefruit, along with the variety's classic briny undercurrent. Great with seafood. 
From Farro Fresh, Fine Wine Delivery Company, Herne Bay Cellars, Accent on Wine, Primo Vino.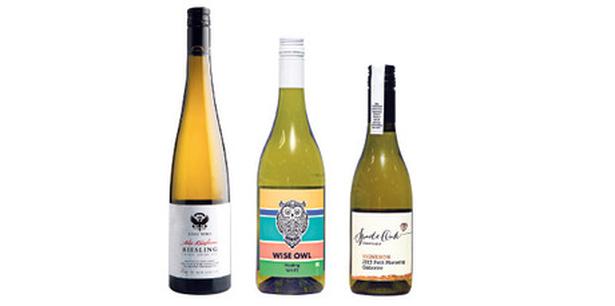 Kalex Wines Alex Kaufman Central Otago Riesling 2013 $29
Riesling is another variety well-suited to summer, especially a crisp low alcohol example such as this. It's a picnic-friendly 9 per cent, with notes of green apple, white peach and citrus combining in this fresh well-balanced wine. 
From Point Wines, Village Wines, Caro's, Blanc.
Wise Owl Hooting White 2013 $12.99
An interesting, affordable white blend from Villa Maria's new lower-priced label that's light and fresh with attractive peach and lemon fruit laced with notes of rose and spice. I'd guess there's some sauvignon blanc, pinot gris and maybe even a hint of gewurztraminer in the mix. 
From Countdown, Pak'nSave, New World.
Spade Oak Vineyard Vigneron Gisborne Petit Manseng 2013 (375ml) $32
Recently released, this is only the second commercially available New Zealand wine made from Southern France's petit manseng grape. This one is richly textured, with notes of stonefruit and honey, white pepper and spice and a sweetness counterpoised by its crisp acidity. 
From Wine Barrel, Primo Vino, Liquorland Gisborne, spadeoak.co.nz
Share this:
More Food & Drink / Wine & Drink