Wine: Summer Lovin'
Drink in the sunshine with Jo Burzynska's pick of summer wines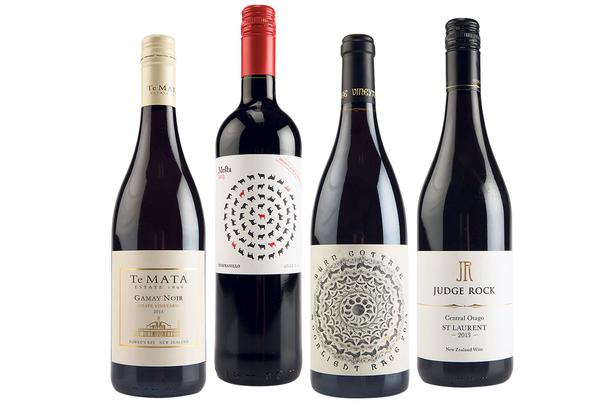 Saturday Oct. 17, 2015
We live in a nation with a climate that's cut out to produce the fresh styles so suited to summer drinking. Add to that a promising vintage in 2015, the wines from which are now starting to be released, and it's a particularly exciting season to be drinking wine in New Zealand.
With some of the more challenging vintages of yore now making way for a run of strong years, there are rich pickings currently to be found in our wine stores and on wine lists. I've tasted a lot of the new 2015 whites over the last few months, especially from the country's powerhouse of Marlborough, and can report that the wine is looking great.
This year the country's wineries harvested 27 per cent less grapes compared with 2014, with all regions bar Gisborne bringing in considerably smaller crops. There might not be so much wine in the system, but many of these have been given added concentration from lower yields in a year that's shaping up as having produced something of a small but perfectly formed vintage.
The weather Gods certainly smiled on the country last summer, let's hope they're kind again this year to allow us plenty of opportunity to enjoy the fruits of this fine season al fresco.

SUMMER SUGGESTIONS:
Astrolabe "Valleys" Awatere Valley Marlborough Sauvignon Blanc 2015 $25
One of my personal favourites so far of the recent crop of sauvignon blancs is this stunning example from Marlborough's southern Awatere Valley. A classic that combines power and elegance in its palate of succulent rock melon fruit overlaid with punchy green blackcurrant leaf, basil and jalapeno flavours, plus a burst of zesty lime. Top stuff! From Caro's.
Te Kairanga Martinborough Pinot Gris 2014 $23
Te Kairanga's latest release is a pinot gris with real personality. Dry, fresh and richly textured, its pear and nectarine fruit is joined by notes of nut, fresh hay and spice wrapped around a rich savoury core. From selected wine stores.
Tesch 'Queen of Whites' Nahe Riesling, Germany 2013 $24.50
Available for the first time in the country are the rock 'n' roll dry rieslings of German winery Tesch, made by music loving biochemist Dr Martin Tesch. In other markets Queen of Whites goes by the name of Unplugged, a musical reference that relates to Tesch's philosophy of making wines without the amplification of excessive manipulation. The result is a wine with a lovely purity and intensity to its notes of white peach, tangy grapefruit and lemon over an undercurrent of mineral. From Great Little Vineyards.
Amisfield Central Otago Chenin Blanc 2014 $20
Chenin Blanc's crisp profile makes it a great variety to explore over summer. Long underrated in New Zealand, it's making something of a comeback as a small but growing winery contingent make high quality expressions of this noble grape. Amisfield sourced fruit for this zingy example from a small area of chenin vines propagated from old Otago cuttings originally imported from South Africa. It's a mineral edged and quite weighty wine with crisp notes of lemon and apple underpinned by a gently savoury and nutty complexity. From amisfield.co.nz.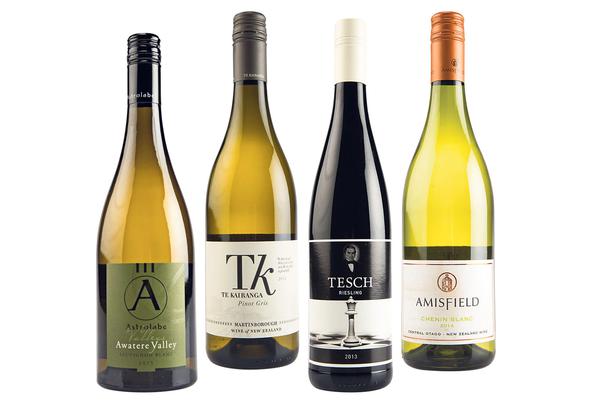 Astrolabe "Valleys" Awatere Valley Marlborough Sauvignon Blanc; Te Kairanga Martinborough Pinot Gris; Tesch 'Queen of Whites' Nahe Riesling, Germany; Amisfield Central Otago Chenin Blanc. Pictures / Supplied.
Stoneleigh Wild Valley Marlborough Sauvignon Blanc 2015 $18.99
While most mainstream sauvignons are fermented with the addition of cultured yeasts, the natural indigenous yeasts in the vineyard have been allowed to work their magic in this new range from Stoneleigh. The result is some real texture to his bold upfront style with its ripe passionfruit character infused with pungent aromas of nettle and green herb. From leading liquor retailers nationwide.
Matua Single Vineyard Hawkes Bay Albarino 2015 $35.99
Albarino has been trending across the world in recent years and now our own New Zealand versions are joining the Spanish benchmarks. While there's not a huge amount being made yet, the quality of the first handful of local examples suggests there's real potential for the variety over here. This was a stand out from the New Zealand albarino class I judged last month at the International Wine and Spirit Competition, exhibiting a wonderful intensity in its notes of crisp citrus, white nectarine fruit, hint of florals and the variety's characteristic briny mineral tang. A sensational pairing with seafood. From Glengarry, Fine Wine Delivery Company, Matua Cellar Door.
Spy Valley Marlborough Pinot Noir Rose 2015 $22.90
Rose comes into its own in the warmer months, with drier versions such as this beautifully balanced example a versatile match with lighter fare such as salads and seafood, as well as an aperitif. This pretty pink has been given extra depth from partial fermentation in oak, but remains light and lifted with its fresh notes of apple and red berry fruit. From Glengarry, Caro's, Farro Fresh, freight-free from spyvalleywine.co.nz.
Folium Marlborough Pinot Noir 2013 $31
Whites may appear the obvious choice for summer imbibing, but there are a number of lighter reds that rise to the occasion, and lucky for us, pinot noir with its lighter body and fresh profile is one of these. Folium's makes a joyful summer drop with its juicy, bright and supple plum and cherry fruit and hint of spice. From Point Wines.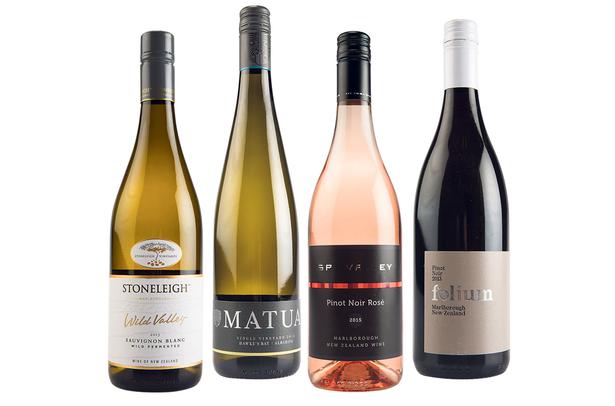 Stoneleigh Wild Valley Marlborough Sauvignon Blanc; Matua Single Vineyard Hawkes Bay Albarino; Spy Valley Marlborough Pinot Noir Rose; Folium Marlborough Pinot Noir. Pictures / Supplied.
Te Mata Estate "Estate Vineyards" Hawke's Bay Gamay Noir 2015 $20
Gamay is another lighter red perfect for the warmer months and can even be served lightly chilled. The latest release from Te Mata is a vivacious wine with soft, juicy and vibrant red berry fruit, hints of bubblegum and florals. From selected fine wine stores.
Mesta Ucles Tempranillo, Spain 2013 $17.99
You can taste the sunshine in this immensely quaffable unoaked organic red from the warm heart of Spain. Made by Kiwi Master of Wine Sam Harrop in collaboration with Bodegas Fontana winemaker, Tomas Buendia, its ripe and bright strawberry and raspberry fruit retains a fresh summer-friendly lift. From Farro Fresh, Kingsland Liquor, Matakana Liquor, Waiheke Wine Centre, Kumeu Cellars, Point Wines.
Burn Cottage Moonlight Race Central Otago Pinot Noir 2014 $45
An auspicious debut, Moonlight Race is a brand new label from Burn Cottage created from a blend of grapes from its own biodynamic vineyard and two other Central Otago sites. It shares an elegance and silken texture with the estate's flagship pinot and exhibits pure raspberry and cherry fruit laced with fragrant hints of thyme, spice and violets supported fine tannins. From Caro's, Point Wines, burncottage.com.
Judge Rock Central Otago St Laurent 2013 $35-$40
St Laurent is an Austrian variety that may have pinot noir a parent. Most of the handful of examples in New Zealand share its likely relative's fresh lighter character, with this rare version from Central Otago boasting bright and juicy blueberry and boysenberry fruit, hints of peppery spice and chocolate. From Fine Wine Delivery Company.
Share this:
More Food & Drink / Wine & Drink