Wine: Swap Meet
A daring experiment by winemakers has reaped rewards, finds Jo Burzynska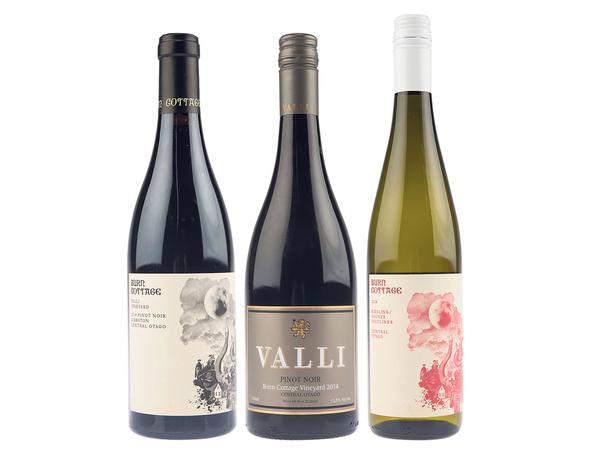 Tuesday April 26, 2016
My aunt and uncle once exchanged their cluttered cottage to live in another couple's picture perfect stately home in a reality TV house swap programme. Watching the video of their opposites poking round her abode, my aunt was incensed when she saw her nick-nacks led the visitors to assume she was considerably older than her actual years.
It was an alternative perspective that she'd rather not have received. But for two Central Otago wineries, another kind of swap is proving far more fruitful.
In recent vintages Burn Cottage and Valli have traded grapes and made pinot noirs from each other's vineyards, which they hope will teach them more about their own sites. It also adds some intriguing examples to the debate about what makes the greatest impact on the character of a final wine: its producer or its place.
"In the 2014 vintage we decided to exchange fruit to open up a dialogue and understand our own fruit better," explains Valli's Grant Taylor at the recent launch of the wines. It was a process that saw him take grapes from Burn Cottage and let its winemakers — and longstanding colleagues — Claire Mullholland and Ted Lemon loose on several tonnes of fruit from his own Gibbston vineyard.
Some years back, Felton Road, Craggy Range and Pyramid Valley engaged in a similar exercise, making pinot noirs from the same Calvert Vineyard in Central Otago. Clayvin in Marlborough is another single vineyard from which a number of winemakers have made their own wines.
However, Valli and Burn Cottage's direct exchange, resulting in commercial releases, was the first in the country of which I was aware. And I was intrigued as to what light the two pairs of wines might shed on the ongoing debate over nature versus nurture, especially given both had such interesting sites and sensitive winemakers.
When it comes to nature, many consider the French concept of "terroir" crucial in dictating a wine's style. It's an idea that relates to the influence of the entire natural environment in which a vine is grown, which includes a site's soils, topography, climate, the grape variety and the way these all interact.
Humans also undeniably shape the wine through the decisions they make on how the grapes are managed, from the date they're picked to how they're handled in the winery. Winemaking intervention has the potential to improve perceived quality, but if too heavy-handed can stifle the expression of a wine's terroir and make it more about the stylistic stamp of the winemaker.
I first tried the duo from Valli's Gibbston Vineyard. Harvested just a day apart, both were fresh and fragrant wines from this cool site, which shared an intense mineral core. However Mullholland and Lemon's expression was more delicate and silky, while Taylor's more dense and structured.
The difference was more marked in the pinots from Burn Cottage's Pisa vineyard, which this time were picked two weeks apart. Both possessed an earthiness and savouriness, but again Mullholland and Lemon's earlier harvested version was lighter and lifted, while Taylor's was more tannic and intense. "In Burn Cottage's wine from the Valli site, I saw my vineyard first," noted Taylor. "However, I saw it through slightly different eyes."
"There's an earthiness to the Burn Cottage site that I see in our wines, but also in Grant's wine from there," commented Mullholland.
The signatures of the vineyards could definitely be detected in all the wines, but the touch of their makers, albeit light, also shaped the final style.
Unlike my aunt, Mullholland and Taylor found it such a positively enlightening experience they're continuing their exchange, the results of which are now available to be pondered over or quite simply enjoyed.

Burn Cottage Valli Vineyard Central Otago Pinot Noir 2014 $63
A delicate a perfumed pinot with fragrant notes of rose florals, herb and sweet spice threading a lifted acid-driven palate of silken red cherry fruit and mineral. From Caro's, Burncottage.com
Valli Burn Cottage Vineyard Central Otago Pinot Noir 2014 $65
Black cherry and plum fruits combine with notes of florals, herb, roasted spice, earth and a hint of smoke in this midweight pinot propelled by fresh acid and supported by structuring tannins. From Great Little Vineyards, valliwine.com
Burn Cottage Central Otago Riesling Gruner Veltliner 2014 $55
Also making its debut at the tasting was Burn Cottage's impressive riesling gruner veltliner blend, whose concentrated notes of tangy lemon, apple skin, herb and mineral salts make it one of the few local gruners to demonstrate the variety's intensity and complexity. From Burncottage.com
Share this:
More Food & Drink / Wine & Drink