Wine: Sweet Success
Churton celebrates a very well-deserved vintage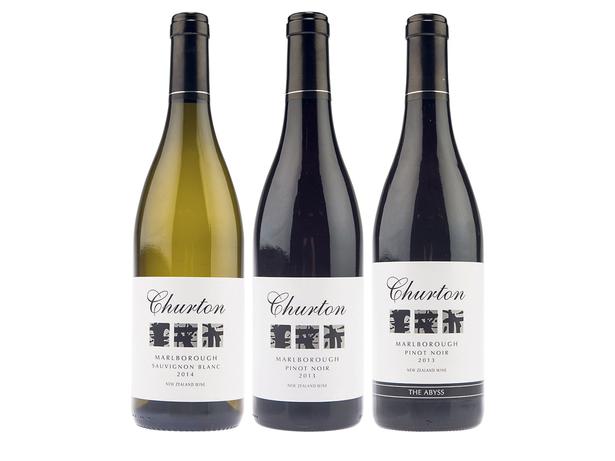 Saturday March 19, 2016
Churton's Sam and Mandy Weaver are busy preparing for their 20th vintage. For most wineries it would be a milestone worth celebrating. But for the couple, who established their organic hillside vineyard in Marlborough's Waihopai Valley, it's particularly sweet given that last year it was an anniversary they feared they might never see.
Churton was the name of Sam's grand-father's farm in the UK, where both Sam and Mandy come from. Sam had been a wine merchant there, responsible for buying top-quality single-domaine burgundies, before the couple decamped to New Zealand.
Here, he became a winemaker and went on to apply his European wine knowledge when he started Churton with Mandy, who became its manager.
"We very quickly decided that if we were going to be serious about Churton we wanted to create real quality-driven wines with individuality, that were site-driven, terroir wines with a strong emphasis on our environmental ethos," he recalls. "We wanted to create wines that followed a European single-domaine type philosophy."
That site was a 22.5 hectare tract of land 200 metres above sea level on which they close planted the vines burgundian-style for fruit quality rather than ease and economics at a time when most of Marlborough's vineyards were in wide-spaced rows on the valley floor. In 2006 they embraced biodynamic farming in the quest to better express the vineyard's character and were certified organic in 2013.
"We are beginning to achieve the style of wines we set out to make," Sam says of Churton's achievements to date with sauvignon blanc, pinot noir, viognier and most recently, the first local release of a petit manseng. "These are wines that are intense and balanced with length and texture, rather than wines that depend on fruit-forwardness. This is getting better as each vintage passes and we harvest fruit from vines that have started to get some good age."
This success did not come without it challenges, however. Setting up the vineyard was the easy part, says Sam.
Far harder was running a wine business on loans and business cash flow alone, especially after land values dropped following the 2008 downturn that prompted the banks to exert pressure on over-extended wineries.
This meant Sam and Mandy had to look for alternative investment, with the situation escalating in 2014 when they lost 40 per cent of their crop to hail and then had a small harvest in 2015.
"We were forced to conclude we had to sell the vineyard. This was pretty devastating," says Sam. "We were convinced that we had everything right. We were making increasingly interesting wines of fantastic quality that were highly regarded."
Knowing the huge effort the Weavers had poured into Churton and the compelling vineyard-driven wines that had resulted, I was really sad when I heard Churton was on the market. So I was overjoyed when they told me last month that they'd found a solution that would allow them to continue.
"Through very positive help and support from our bank, some investors and our professional support, we were able to save Churton," Sam confirms. "We remain the majority shareholders and retain control of every aspect of the business."
He puts this positive denouement down to "sheer grit, a high level of integrity, being very open with everyone we deal with, while at the same time sticking to our commitment to the overall plan of producing exceptional terroir-driven wines".
"We have always known is that ours is a multi-generational business, which is another reason it's so important to work closely and sympathetically with our environment," says Sam, who has now been joined by sons Ben, in the vineyard, and Jack in sales.
"Our next 20 years looks really good," he concludes.
"We still have the same vision to create a wonderful home for our wines on the property. And most importantly, these will evolve and each bottle encapsulate the story of the Churton terroir to that date."

Churton Marlborough Sauvignon Blanc 2014 $27
Churton releases its sauvignon later than most, its textural style developing beautifully with more time in bottle. Green fruits combine with grassy notes, a hint of mineral and an attractive savoury undercurrent, all supported by silky citrus.
Churton Marlborough Pinot Noir 2013 $44
Fine and focused, with damson fruit overlaid with hints of spice, earth and cured meat, supported by lacy tannins and fresh acidity.
Churton "The Abyss" Marlborough Pinot Noir 2013 $75
"The Abyss is the nearest thing we have to a Grand Cru site at Churton," says Sam of the first block planted in the Churton vineyard. Released as a "single block" wine, the 2013 combines power and elegance in a complex, well-structured palate that layers dense dark fruit over an earthy, savoury undercurrent and lifted notes of licorice, cocoa and roasted spice rising to a flourish of florals on a very long finish. One to cellar.
• All wines available through churton-wines.co.nz
Share this:
More Food & Drink / Wine & Drink