Wine: The Good Egg
Jo Burzynska finds an ancient winemaking technique is having its renaissance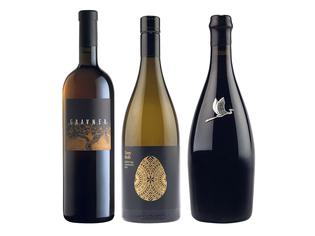 With a history of holding wine spanning 4000 years, clay amphorae are making a comeback and inspiring a new wave of similarly egg-shaped fermenting vessels. As some of the most compelling wines to cross my palate in the last month happen to hail from ovoids, I decided to touch base with some of their makers to find out whether this ancient winemaking model could be the shape of things to come.
"I have a background in classical Greek philosophy and remember well painted amphora and their use in carrying wine around the Mediterranean," notes David Hoskins of Italian grape variety specialist, Heron's Flight. "As the most ancient way of making wine, amphorae have a history about which I was excited to learn."
This opportunity to explore amphorae arose from Hoskins' appointment of Stefano Guidi as as winemaker at Heron's Flight. Guidi had made wine in amphora during his time in Tuscany and offered to pop one in the container he was using to ship his furniture from Italy to New Zealand.
"Having no oak nor stainless steel gives the wine a purity," observes Hoskins, touching on something that wowed me in his inaugural amphora sangiovese. "Stainless steel is inert, oak breathes but imparts a character, while terracotta breathes but is different again and I think, allows the wine to age more quickly."
Guidi and Hoskins also embraced the traditional technique of leaving the wine with its skins in the amphora for six months, far longer than modern macerations, which Hoskins feels gives the wine "an almost 'grapey' feel and a more floral note".
Use of amphorae and associated vessels is growing out of a small but expanding international movement to make wine more naturally. It was on a trip to South America that Hawke's Bay winemaker, Tony Bish first spied a concrete egg — the modern cousin of the amphora, first developed by France's Michel Chapoutier in 2001, which has since spawned copies across the globe.
"On a trip to Mendoza and Chilean wine regions, many of the more interesting wineries were working with concrete eggs," says Bish, who opted to manufacture his own in New Zealand, from which he has just released his first "Golden Egg" chardonnay. "I knew of them prior but hadn't tasted the wines, so after seeing the results and listening to the winemakers, I was motivated to get my own."
He explains that the shape and rough interior means they're great for keeping wines in maximum contact with their texture-giving yeast cells, far more so than a straight-sided steel tank or barrel. Many of the wines I've tried, from all kinds of ovoid vessels — traditional clay Georgian kvevri buried in the ground and amphorae, to concrete and ceramic eggs — display a rich and supple texture. Combine this with a purity of fruit from being an inert container — something Bish also notes — and the result is often beguiling.
"Oak is a 'non-vineyard' flavour and aroma, so with eggs you produce the richness usually on developed in barrel — only more so in an egg — and you still have the choice of incorporating barrel ferment portions or not into your wine to bring other characters," he adds. "I love the resulting wine, it is quite different from any thing else I've made before," notes the veteran chardonnay maker who plans to add more eggs to his clutch for next vintage and has sold a number to fellow local winemakers.
As the eggs proliferate and more wineries import amphorae, used well these will surely add exciting extra dimensions to our country's wines.

Gravner Bianco "Breg" Friuli, Italy 2007 $129.99
Josko Gravner, maker of natural wines, has helped lead the amphora's modern renaissance, making all his wines in them from 2001. These wines are now commercially available in New Zealand and include the Breg, a blend of chardonnay, sauvignon blanc, pinot grigio and welschriesling. They are initially fermented with their skins in Georgian amphorae buried in the ground, which has imparted a deep amber hue to an intriguing savoury wine that's wonderfully rich, mellow and complex with notes of truffle oil, spice, apricot and nut. From Village Winery, truffle.net.nz
Tony Bish "Golden Egg" Chardonnay 2015 $34.95-$37.95
The first wine Tony Bish has released from his new concrete eggs is also the first from a locally built concrete fermenter. Peach, pineapple and lemon fruit are infused with floral hints joined by a savoury almost briny character in an attractively soft and rounded palate. An impressive new launch. From Caro's, selected Glengarry stores, Point Wines, Merchant of Taupo, Liquor King Napier, tonybishwines.co.nz
Heron's Flight Amphora MMXV $120
There's a ravishing purity to Heron's Flight's inaugural amphora-made sangiovese. Dense but so beguilingly supple, the bright and primary blackberry and blueberry fruit of this Matakana wine is lifted by a fresh line of minerally acidity. Another delicious debut. From heronsflight.co.nz
Share this:
More Food & Drink / Wine & Drink