There's Something About Sherry
Jo Burzynska discovers the diverse delights of fortified wine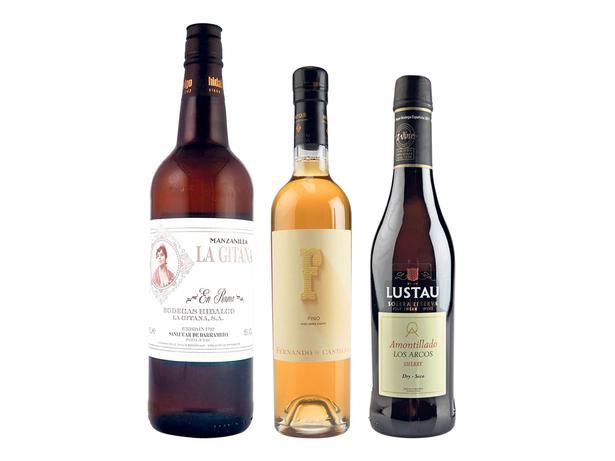 Saturday Oct. 31, 2015
"I thought there were just two types of sherry: dry or sweet," says the man next to me as he surveys the lengthy line-up of glasses set out for the masterclass we're attending at The Great Sherry Tasting in London. By the end of this exploration of just one type, he's been initiated into the diverse delights of true sherry. It's something I'd encourage everyone interested in wine to do, with next week's International Sherry Week the perfect opportunity.
I'm confident that there's a sherry style to suit most tastes, dishes and occasions. True sherry that is, not the sickly copies that have spoiled its name around the world. The sherry I'm talking about is the real deal, which largely dry and can only come from the "Sherry Triangle" in Cadiz, southwestern Spain.
Let's start with the dry stuff, which is what most sherry is intrinsically and traditionally, given all that's made with the region's dominant palomino grape starts out as a dry wine that's been fortified.
Fino and manzanilla are the lightest styles. These started life under a blanket of flor yeast which preserves their freshness, leading to a white with a briny tang and yeasty notes. They're gorgeous as an aperitif with nuts, olives and cured meats, and sensational with seafood and sushi.
Next up is amontillado, a wine that started off as a fino, but saw the protective yeast layer die off making it become a nutty amber style, but which can still retain some of fino's yeasty tang. This can handle more robust foods, such as meatier and smoked fish, mushrooms, game, spicy dishes and even the artichokes that are nigh on impossible to pair with almost any wines!
Oloroso is the richest dry style, a deep brown coloured wine with oxidative notes of leather, spice and walnut, with a savoury character that pairs well with slow cooked and roasted meats. I often find this is the style that whisky-lovers most warm too, given its stylistic similarities.
The region's moscatel and Pedro Ximenez grapes are behind the naturally sweet styles. Moscatel's citrus peel note matches well with fruit dessert, while the rich and unctuous "PX" wines with their notes of dried fruit and coffee can stand up to chocolate dishes or are delicious poured over icecream if you're feeling decadent.
This compatibilty with food is something that's been well promoted in sherry's major markets such as the UK by sherry's regional body, which was also behind the major London tasting that I attended. It's a policy that's seen sherry embraced by some of the most hip dining and drinking establishments and at long last shrugging of its image as something sipped by septuagenarians.
Here in New Zealand, spreading the word has largely been left to a band of sherry-loving professionals, such as Dariush Lolaiy and Rebecca Smidt of Cazador, who always offer at least 14 by the glass.
"It doesn't quite flow like chardonnay, but because Dariush and I are so into sherry, we share our enthusiasm with our diners," says Smidt. "I make an extra effort to explain it, offer one or two to taste, and suggest an appropriate food match."
"We don't serve cocktails," she adds, "because we think sherry is the perfect aperitif, so if you're having a pre-dinner drink at Cazador, it's inevitably going to be a manzanilla or an amontillado, most likely alongside our fino pan-fried poussin hearts and pancetta."
Back over in London at the masterclass, we're sampling en rama sherries, a growing subset of fino and manzanilla bottled directly from cask with minimal filtration. These fantasically fresh and pungent wines the closest thing you get to enjoying wines fresh from the "bota" in Jerez itself, and are just starting to be seen here in New Zealand.
There's still a long way to go in New Zealand to get drinkers switched on to sherry. But hopefully more folk will give them a try this sherry week and discover as did my masterclass companion that there's so much more to sherry than dry or sweet.

GET FORTIFIED
Hidalgo La Gitana Manzanilla En Rama 750ml $48
Bottled fresh from the cask, this is a wonderfully vibrant manzanilla that's salty and savoury with notes of tangy apple, hazelnut and a yeasty undercurrent. From Wine Direct.
Fernando de Castilla Antique Fino 500ml $62
A special older fino similar to an en rama in that it's not been filtered, in this case as it's been double fortified to 17 per cent alcohol. It's attractively pungent with notes of nut, rye and an attractive gently bitter edge. From Fine Wine Delivery Company.
Lustau Los Arcos Amontillado Dry Sherry 375ml $23.99
A great value introduction to the joys of amontillado with some of its youthful tang counterpoised by appealing mature notes of walnuts, caramel and spice. From fine wine stores.
• International Sherry Week runs November 2 to 8.

SHERRY IN THE MIX
I must admit to liking most of my wines unmixed, but an opportunity to try some sherry cocktails at The Great Sherry tasting proved something of a revelation. The umami-rich flavours of the sherries work wonders in more savoury cocktails, while their lower alcohol levels than spirits make for some highly drinkable mixes. Ask your bartender to mix up some of these cocktails or try them at home this sherry week:
She & T — Fino and tonic is a tangy take on the G&T
Bloody Sherry — the savoury flavour of an oloroso as an alternative to vodka in a spiced tomato juice is sensational
Bamboo — a successful manzanilla inspired Martini, serve with an olive
Sheroni — a shot of sweet raisiny PX creates an amazing bitter-sweet combination in a Campari-based Negroni.
Share this:
More Food & Drink / Wine & Drink