Wine: Top of the Class
Waiheke's vintages are up there with the world's best, discovers Jo Burzynska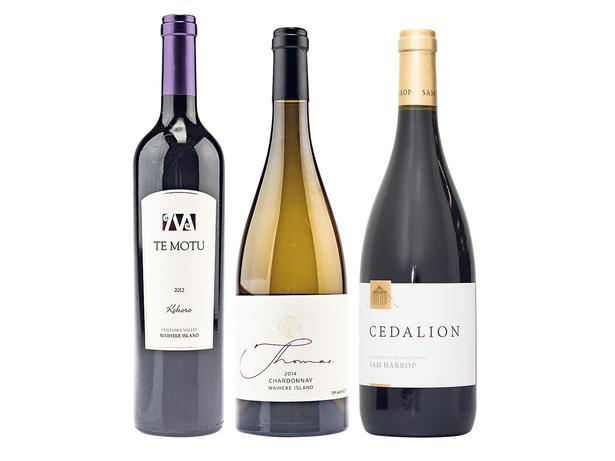 Tuesday March 22, 2016
Heading out on a ferry into the Hauraki Gulf always makes a visit to Waiheke feel like an adventure. It's been a while since I moored in Matiatia, but in the wake of some exciting vintages and new wineries, and on the eve of the reinvented Waiheke Wine and Food Festival, the time seemed ripe for an island expedition.
It's an unsealed road that takes you to Poderi Crisci, a little piece of Italy situated in one of the Island's idyllic and further-flung valleys. Founded in 2008 by Antonio Crisci, the Neapolitan behind Toto and then Non Solo Pizza in Auckland, I catch up with winemaker, Herb Friedli at the onsite restaurant where chefs are busy kneading fresh pasta.
As we taste the estate's wide array of varieties — which include an Arneis, which will be joined from the 2016 vintage by a rare New Zealand Nebbiolo — we're treated to delicious morsels from the kitchen, matched to its European-influenced, food-friendly wines.
There are few wineries here without a great view. I climb the quirky mosaic-clad steps to Miro's elevated "Bond Bar" cellar door overlooking the sea to meet its proprietor, Bond. Barnett Bond.
This doctor turned self-taught winemaker has been involved with wine on Waiheke for over two decades and takes me through Miro's food and wine tasting experience. We then retire to Casita Miro, the winery's relaxed Spanish-influenced restaurant for great tapas washed down with some of the sherries that Bond and his partner Kat Vosper personally import.
Food is never far away from wine on Waiheke and is part of recent arrival Batch Winery's proposition. After opening its laidback holiday house-themed cellar door three years ago, this now includes the Thomas's Bach café serving modern twists on traditional Kiwi cuisine. However, as I talk with winemaker, Daniel Struckman and try the rebranded "Thomas" range of Waiheke wines, it becomes clear these impressive wines are of a more serious profile.
Another newcomer of sorts is Frenchmans Hill, the venture of Luc Desbonnets, a vigneron of French descent. Desbonnets trained in the vineyards of France and made wine all over the world before coming home to New Zealand for a stint with Waiheke's Man O' War. He then established his own vineyard from which he's released a string of well-structured and expressive wines since his first vintage in 2010.
"After being in Bordeaux I was attracted to the potential of Waiheke's extreme maritime climate and its red wine terroir, which had already started to be proved by the likes of Stonyridge," says Desbonnets, while also acknowledging the challenges the island's droughts, storms, cyclones and tropical mists can throw at its winemakers.
"In 2005 I felt ready to have a go on my own. It takes courage to work with these conditions, but it's rewarding."
Another New Zealand winemaker recently making Waiheke his home and the base of his business is Master of Wine, Sam Harrop. He returned from a high-profile career in the UK and started his Cedalion label.
"We are blessed with the geology and climate to make world-class wines, there is no question about that," he states. "The potential is enormous and we are only just seeing the start of it. The island has always had a great reputation with the international wine trade for producing excellent, cool-climate wine styles, but this hasn't necessarily translated to consumer awareness or access to the wine."
However, Harrop feels this is changing with the huge growth in national and international tourism that the island has experienced in the last few years.
As I board the boat back, I reflect that it's been a fascinating trip and vow not to leave it so long between visits. And for those keen to make their own explorations, a taste of its vinous attractions will be offered at the Waiheke Wine and Food Festival next month.

Te Motu Kokoro Onetangi Valley, Waikeke Island 2012 $75
Established in 1989 by the Dunleavy family, Te Motu is one of Waiheke's pioneering wineries, developing over the years to include its award-winning rural restaurant, The Shed. It specialises in Bordeaux-style reds, such as this elegant blend of Merlot, Cabernet Sauvignon, Franc, Malbec and Syrah. Dense black fruits combine with fragrant notes of herb, spice and tobacco around a structure of firm but plush tannins and lively acidity. From Glengarry, Te Motu Cellar Door.
Thomas Waiheke Island Chardonnay 2014 $45
A refined Chardonnay with a taut citrusy palate of grapefruit, hints of nut and attractive undercurrent of flinty mineral. From batchwinery.com
Cedalion Block 31 Eastern End Waiheke Island Syrah 2014 $55
Bright and fresh plum fruit is dusted with notes of black pepper, sweet spices, earth and mineral supported by fine tannins in this sensational Syrah. From Waiheke Wine Centre, samharropwine.com
Share this:
More Food & Drink / Wine & Drink